Original URL: https://www.theregister.co.uk/2011/06/21/wtf_are_connected_appliance/
WTF are... connected appliances?
I want my automated kitchen, and I want it now
Posted in Personal Tech, 21st June 2011 06:00 GMT
The 'internet fridge' is a much-loved staple of futurologists. In some rosy and not-too-far-off future, many kitchens will have one, magically replenishing itself so that you never need run out of black pudding or milk.
When you're low on such essentials, the fridge will automatically order new ones from the supermarket, and fresh supplies will arrive in the nick of time.
Or perhaps it'll tell you what you can make for dinner, based on your dietary preferences and what it's containing, taking into account when things need to be eaten by.
Never again will you find a decomposed cucumber lying forgotten at the bottom of the salad drawer.
That's the theory, at any rate. Clever appliances can help us eat better, reduce waste and make life simpler. So why aren't our kitchens – and the rest of our homes – full of intelligent connected appliances?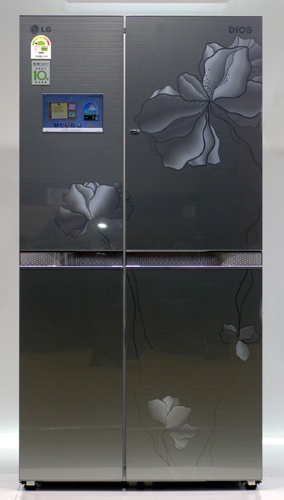 'Buy some milk on your way home'
LG's net-connected refridgerator
Always find me in the kitchen at parties
While a fridge that automatically orders food might sound interesting, actually making one that works is fraught with difficulty. Many of the technologies used to work out what's going in and out - RFID (Radio Frequency ID) chips, for example - make more sense in a warehouse than they do in a kitchen.
It's simple to count the number of packets of sausages on a palette, for example, but RFID won't tell you when some sneaky so-and-so's decided to put the box back in the fridge with just one left. Without widespread deployment of RFID, you'll have to scan barcodes, effectively checking things in an out of the fridge like some bored shop-worker.
Even with RFID, unless you have sensors everywhere, how will the fridge know it's milk, not water, that it's weighing in a half-full bottle in the door-rack? What if you lie the bottle flat on the shelf? Will you remember to scan dry food you take from the cupboard as well?
And without a common online shopping API, what happens if the new fridge isn't compatible with your supermarket?
All washed up
In short, the fridge that orders its own food might sound like a good idea, but it needs changes to product packaging, to supply chains and, perhaps most difficult of all, to the way we stagger round the kitchen half asleep making breakfast. And who's going to do that, just to please a household appliance?
Another appliance that's been made internet aware – and like the fridge, Korean company LG Electronics is a key player in this area – is the washing machine. A machine that's never going to let you mix clothes with colours that run is boon to the careless, but like the fridge, it suffers from a key problem: to identify what's being put in the drum, clothes need to be RFID tagged.
The other key feature – an ability to download updated wash programmes from the internet – is less revolutionary. Online firmware updates are common now for TVs, disc players and many other devices. And, short of a new wonder-fabric taking the world by storm, it's hard to see much call for it. Yes, you can customise programmes online – but I can't help feeling that for most users, buttons like 'quick' or 'extra rinse' will offer all the tweaks they want.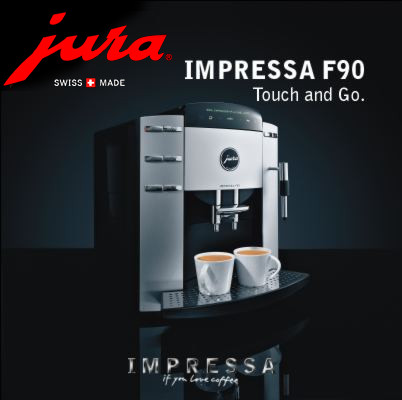 Jura's Impressa F-90: nice coffee, poor internet security
High-end coffee machine maker Jura had a go at the IP appliance game too, with the F-90, which allows you to program your coffee requirements over the network. It unfortunately achieved more attention for a security flaw than for anything else, and the connectivity kit is now no longer available.
Read it and weep There are areas in which connectivity can be useful – but they're not exactly new technology. Telemetry has been around for ages, and using the internet to transmit readings is just the next logical step from dedicated modems or GSM units.
Readers who have oil delivered for their heating may well already have wireless meters, which can be used to trigger an automatic order when the supply is running low.
Home energy meters, too, are increasing in popularity, allowing you to monitor usage online and, when you strip away the hype, LG's own latest "THINQ" generation of connected appliances, unveiled at CES this past January are, ultimately, much more about telemetry than anything else, with the focus more on saving energy and money than on fridges that shop for themselves.
Keep up at the back
Scanning food in and out is replaced by dragging icons on the fridge's touch screen display, which can also display weather information and notes from family members, or help you look up recipes - actions you're as likely to use your smartphone for.
The fridge may still be failing to live up to its potential, but fortunately some other devices are starting to make better use of connectivity. One that we've looked at before on Reg Hardware is the Withings internet scale, which can upload daily readings to the web.
And this year's evolution of Panasonic's IPTV front-end, VieraCast, into VieraConnect saw more fitness-related connectivity, including ICON's iFit application. With iFit and a treadmill, you can stare at the TV and imagine you're running around locations like Central Park, while your health and performance are monitored and recorded.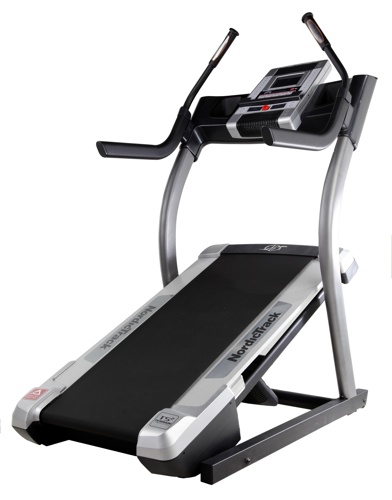 Internet connected treadmill: you jog, it logs
Using the TV as the basis of the connected home is also something on the agenda for 3View, whose set-top box includes a controller chip for the Z-Wave home automation protocol. So far, Z-Wave hasn't made a massive impact, and it might be about to meet its match too, thanks to devices like NXP's light controller chip, which is will allow every bulb in your home to be individually addressable over an IPv6 mesh network. If every device is capable of being addressed via IP, why invest in a separate home control system, whether Z-Wave, X-10 or anything else? Only connect
Internet appliances have been being hyped for over a decade now, and are still conspicuously failing to change the way we live. In large part, that's because the rest of the world isn't machine readable. Until there are tags embedded in almost about everything, many ideas will remain just that.
But, quietly and stealthily, alongside the overhyped kitchen appliances, there are connected TVs and Blu-ray players, not to mention other devices, bringing us information, entertainment, monitoring and remote control.
It may not be as revolutionary as many had hoped for a decade ago. But it's probably about all we're going to get for now. ®