Original URL: https://www.theregister.co.uk/2011/06/20/kepler_burn_up/
Euro space truck prepares for fiery death
Johannes Kepler set for re-entry burn-up
Posted in Science, 20th June 2011 13:13 GMT
Space truck Johannes Kepler will today undock from the International Space Station ahead of a fiery death above the Pacific.
The European Space Agency's second Automated Transfer Vehicle (ATV) has done its duty and is now packed with 1200kg of waste and unwanted hardware which will be destroyed when the 10-tonne vehicle burns up on re-entry tomorrow.
The Johannes Kepler (seen below, at bottom of ISS structure*) docked with the orbiting outpost back in February, carrying 4,534kg of propellant for ISS reboost and attitude control, 1,600kg of dry cargo, 850kg of propellant for the Zvezda module and 100kg of oxygen.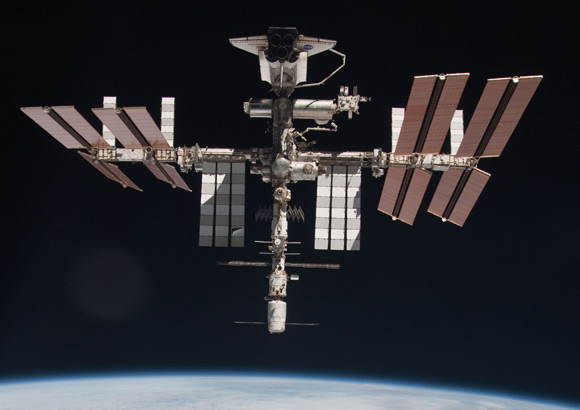 Its last task was to use its thrusters and some of its remaining propellant payload to raise the ISS to an altitude of 380km (236 miles).
The spacecraft will depart the station at 14:51 GMT this afternoon, and gradually distance itself from the structure. Two thruster firings tomorrow will direct it towards an uninhabited patch of South Pacific where any bits which survive the re-entry burn should hit the water at 20:50 GMT.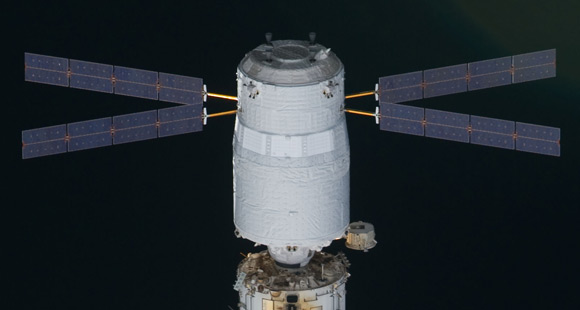 As a precaution, shipping and aircraft have been warned to steer clear of the projected impact footprint. Kris Capelle, the lead mission director at ESA's ATV control centre, told the BBC: "We know there are a few heavy parts like the thrusters, obviously, which will hit the South Pacific; they're built to withstand very high temperatures. The ATV's Russian docking system is also a very substantial piece of hardware, and part of that will probably fall into the water as well."
A third ATV, dubbed Edoardo Amaldi, is under construction ahead of a 2012 launch to the ISS. The fourth will be called Albert Einstein, the ESA recently announced. ®
Bootnote
*NASA elaborates: "This image of the International Space Station and the docked space shuttle Endeavour, flying at an altitude of approximately 220 miles, was taken by Expedition 27 crew member Paolo Nespoli from the Soyuz TMA-20 following its undocking on May 23, 2011."