Original URL: https://www.theregister.co.uk/2011/06/18/games_review_infamous_2/
Infamous 2
Mutant ninja circles
Posted in Personal Tech, 18th June 2011 07:00 GMT
Review When it comes to superhero videogame sequels, it pays to be honest about your expectations. With the most compelling elements exhausted in the original – namely the collection and mastering of superpowers – all you can realistically hope from a sequel is one of two clichés. Will it go for the cheap shot and rob you of your powers, forcing you to rebuild your toolset from scratch? Or will it leave them untouched, presenting you instead with fresh challenges and more powerful foes?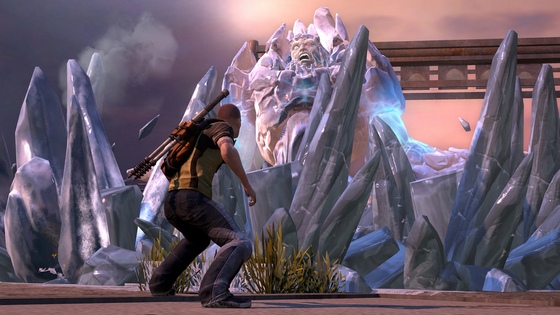 "Are we clear?" Crystal mate
Infamous 2 settles for the latter. And it's a decision that has mixed results. Starting out with most of Cole MacGrath's electric superpowers intact, the game relies on a change of scenery and a new, seemingly invincible nemesis called The Beast to drive interest.
After failing to prevent The Beast from destroying Empire City – the New York-alike setting for Infamous – Cole flees south to New Marais (New Orleans) to prepare for a final showdown. As The Beast rampages down the Eastern seaboard, you begin a desperate race to augment Cole's powers sufficiently to master the Ray Field Inhibitor, a device that will weaken The Beast and provide you with a chance to defeat it.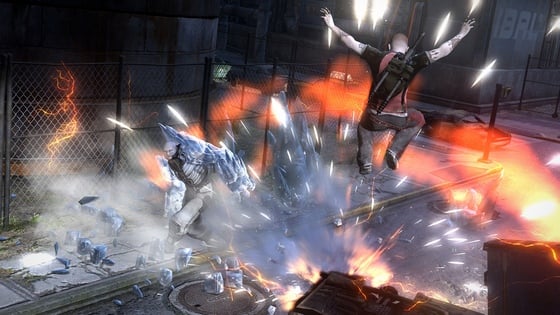 Who said white men can't jump?
Complicating matters – while providing the foundations of the sandbox gameplay – New Marais is a raging battlefield in which you're caught in a bewildering triangular crossfire. On one side are grotesque mutant freaks risen from the surrounding swamplands. On another, the Conduits, a mysterious super-powered army. And finally, there's the Militia, a group of well-armed locals hell-bent on purging the earth of all mutants.
Mission creep
Okay, so the impenetrable plot and confusing mishmash of enemies mean you'll probably pay little attention to Infamous 2's story after an hour or so, but it doesn't feel incongruous amid the hotchpotch Mardi Gras backdrop of New Marais. What it lacks in coherence, it makes up for in providing a varied narrative playground for Cole's spectacular powers.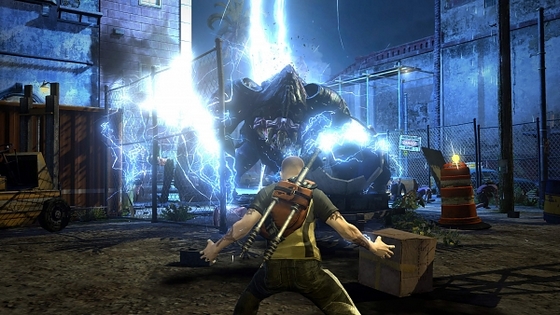 Electric ball room
Main missions and sidequests mix up situations and enemy types in a constant stream of novelty, from rooftop races and assaults on Conduit strongholds, to covert Militia tailing and defensive stand-offs against swarms of mutant freaks. This diversity proves not only the game's greatest triumph, but also sustains you throughout, despite its greatest flaw.
Where Infamous was guilty of taking too long to make Cole feel super, the sequel suffers from the exact opposite. By carrying over his original powers and constantly drip-feeding new ones throughout, Cole quickly out-muscles the confines of combat. He's too powerful and his enemies too weak. And although use of his most devastating abilities, such as sticky grenades, is curtailed by a charge meter, recharging it is a simple case of siphoning more electricity from an abundance of street furniture.
Even if you do die – often simply because occasional camera problems and a cacophony of neon and explosive pyrotechnics conspire to obscure threats – checkpointing is just too forgiving. You're respawned mid-mission with only the remaining enemies left to defeat.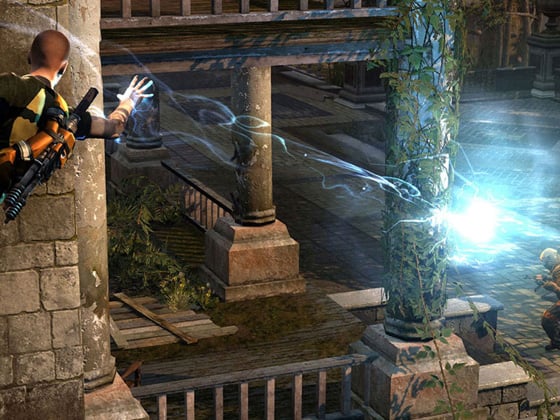 Column-blind
It's a pity, because Cole's rich toolbox yearns for a sterner test than even the game's giant boss battles provide. Once you realise these imposing behemoths are equally as susceptible to his formidable powers, even these encounters soon devolve into a simple button-mashing frenzy.
Making good
The game's ethical choices prove equally as facile. Although more meaningful than the original's, the system of good and bad karma works simply as a binary branching narrative determining which missions are available to you. With no repercussions other than at the Star Wars Force Unleashed-style ending, the karma system offers little more than the option to replay the game through the alternative moral path.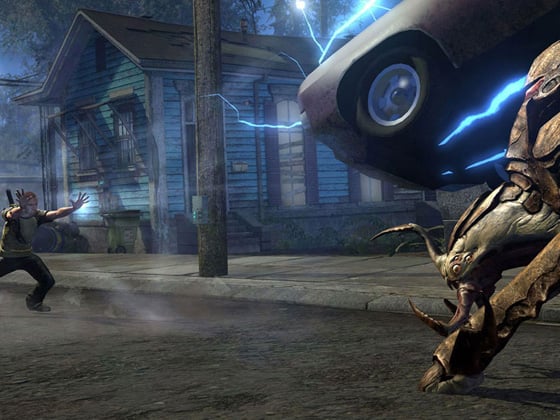 Need a jump start, y'say?
If an entire replay doesn't appeal, Infamous 2 has one unique superpower that just might. In a first for open-world sandbox games, you can create and play User Generated Content (UGC). A powerful visual scripting language helps you create an infinite variety of content, from setting up complex parkour races through rings, to creating combat engagements with specific rule-sets. There's even a clever filter and voting system to determine which UGC appears in your world.
It's a system of huge potential, one that compensates for increasing repetition in the campaign's latter stages. Even at this early stage, I managed to find content that surpassed developer Sucker Punch's own missions, so it will be interesting to see just how much the game develops as the community of modders improve their art.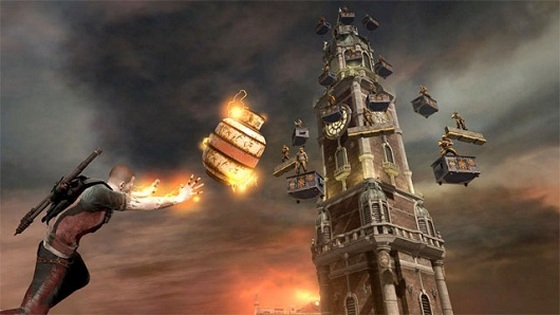 Die full-tower
Verdict
The irony is that for all its electricity, Infamous 2 lacks magnetism. It's a highly polished, beautiful looking game. Cole MacGrath is an awesome superhero, and his powers are always a joy to control, but he's let down by a lack of worthy enemies. As his powers increase, the challenge fizzles out. The glimmer of hope, then, is that where developer Sucker Punch fails, the modding community will replace that missing spark. ®
More Games Reviews

Duke Nukem
Forever
Red Faction:
Armageddon
Hunted:
The Demons Forge
LA Noire
Dirt 3