Original URL: https://www.theregister.co.uk/2011/06/17/review_apple_imac_27in/
Apple iMac 27in
Don't try this at home, kids
Posted in Personal Tech, 17th June 2011 12:38 GMT
Review For those of you who revel in Mac versus Windows shouting matches, click the Comments link now. You've already made up your minds, so feel free to dive into the debate without reading the review. That's what you normally do, anyway.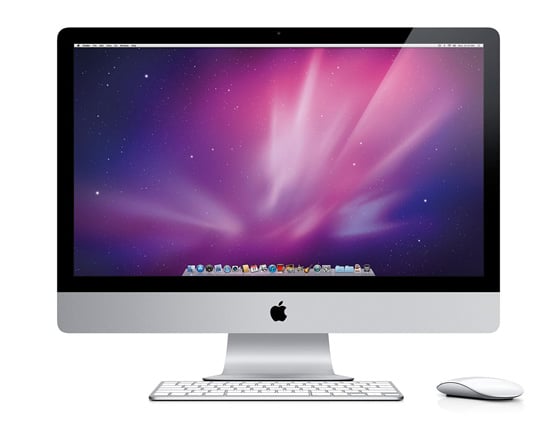 Widescreen viewing: Apple's iMac 27in
If you're still with me, let me confirm the worst: Apple's iMac range continues to be the most preposterously expensive series of home computers known to man. Towards the top-end, the 3.1GHz quad-core i5 edition with 27in display is one of the most pernicious offenders, setting you back in excess of £1,600 for the shallow glam of brushed aluminium, unnecessary space-age design and the kind of performance that's wasted on its target domestic buyer. In other words, it's god-damned gorgeous.
Now, before I go any further, there is a 3.4GHz quad core-i7 build-to-order model available, which, if you went with all the possible hardware extras (16GB RAM, SSD etc), would set you back in excess of £3k. Silliness aside, this review is of the off-the-shelf core i5 model.
Unpacking the product is a disquieting experience in itself. I try to imagine what it must be like to have splashed out your hard-earned, only for it to turn up in a slim box containing just four things: iMac, keyboard, mouse, power cable.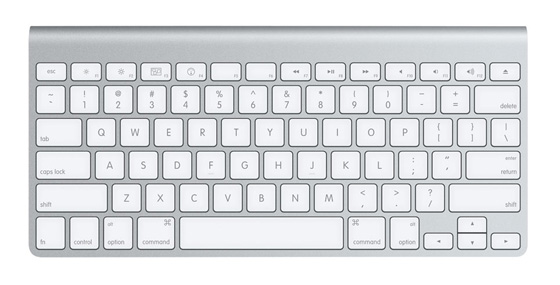 The Bluetooth keyboard lacks a numeric keypad, but retains the function keys
Despite its manageable 13.8kg, getting the unit out of the polystyrene and onto my desk is a potentially hernia-inducing task that might have been more safely achieved by two pairs of hands. And once I've stripped away the protective plastic, the depthless black of the 27in screen dominates my desk like the monolith at the foot of Dr Bowman's deathbed.
Think big
If your previous experience of widescreen is a 22-to-24in display, those 27 inches really do come as a surprise. With all-in-ones, the screen size determines the overall size of the computer, and this one comes across as bloody enormous.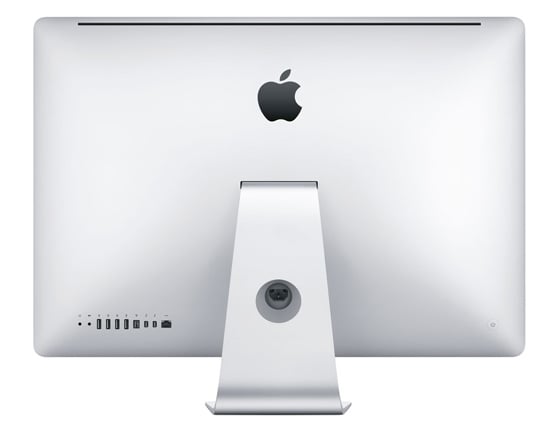 Surely real computers are supposed to look hideous at the back?
The dark, almost mirror-like front contrasts with the slightly curved, almost featureless rear of the case. There are no ribs, grilles or recesses, just a single, smooth piece of aluminium. It's beautiful but arguably also a frivolous waste of money and effort in construction. You want Apple? Then you pay handsomely for the handsome.
The minimalist row of ports at the rear will be familiar to anyone who has seen iMac designs since Apple ditched the short-lived angle-poise lamp concept. Clean though it is, I wish Apple would insert more space between the ports, since some of my USB device connectors are pretty fat.
New to this latest range of iMacs is the recently developed Thunderbolt port; in fact, the top-end 27in model sports a pair of them. Basically, Thunderbolt is an Intel PCI Express port using an Apple DisplayPort connector, providing the potential of two channels of 10Gbit/sec external data throughput with 10W of power running down the cables.

There are two Thunderbolt ports on this model, so use one for an external display
Oh joy, I hear you say, another port standard to buy peripherals and adapters for. You're not wrong, although you can at least continue to use one Thunderbolt port with your existing DisplayPort adapter for attaching an external display, leaving the other port for other duties. Apple's rush to build in two Thunderbolt ports probably means we'll never see USB 3.0 on a Mac, although the company still insists on including a Firewire 800 port. What is it for?
Key conditions
Switching the iMac on, the huge screen comes to life and it is quite extraordinary in quality. Big, bright, contrasty and with a very wide viewing angle, the built-in display is likely to make any third-party external displays that you attach look dismal in comparison.

Oh, and the wireless keyboard lacks any USB ports, of course
It was a shame, then, to find that the Apple wireless keyboard in the box suffered from poor manufacture, its wonky construction causing it to wobble and rattle on my desktop as I typed. This did seem a bit of a one-off though as I've used identical keyboard with no issues. Indeed, Apple's keyboards are normally a joy to use, so if I had bought this, I would have insisted on an immediate replacement.

The wonderful/infuriating Magic Mouse: insert your Marmite cliché here
I won't dwell on the pros and cons of the bundled operating system, Mac OS X 10.6.7: it's one of those love-it-or-hate-it things. I could say the same for Apple's multi-touch Magic Mouse. Personally, I think they're brilliant but many people have trouble with them because of their sensitivity: the slightest accidental brush of a stray finger can cause your work to scroll off-screen.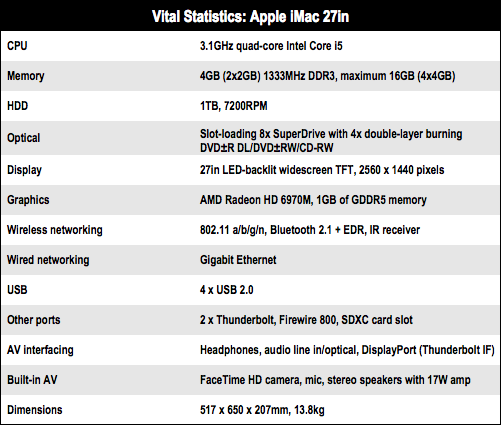 Benchmark Tests
Register Hardware's current testing methodology for Mac computers is to instal 64-bit Microsoft Windows 7 natively (remember, you can dual-boot a Mac) and run our standard PC tests. When I last did this on one of Apple's previous range of 27in quad-core iMacs, it turned out to be the fastest PC I had ever tested.
PCMark Vantage Results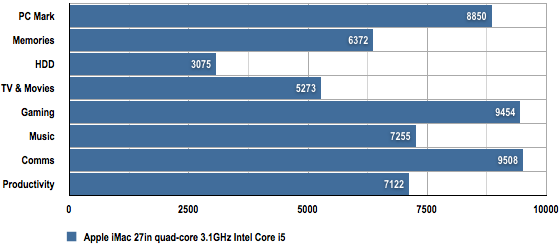 Longer bars are better
Results for this latest 27in iMac are outstanding too. One exception is HDD performance, which simply confirms every benchmark of Mac computers since 1984: they always seem to have slow hard disks. Just don't think about swapping it out for your own, since Apple's firmware will cause the new hard disk to spin at maximum, cause the Apple Hardware Test to fail and slice your knackers off. OK, your knackers are probably safe but Apple never designed its iMacs to be user-serviceable, and now it's official.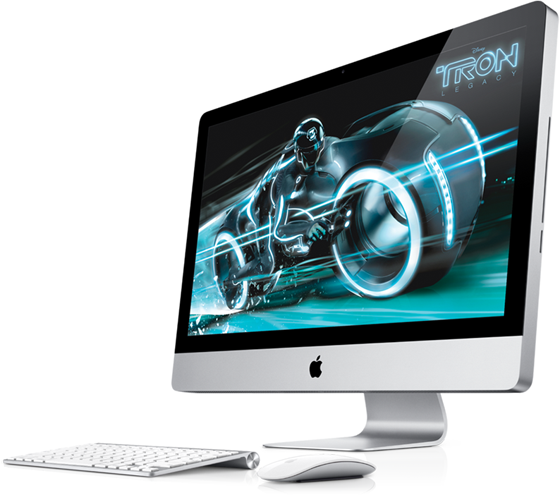 The creative option?
Verdict
The new 27in iMac might be great fun but is it really worth £1,600+? That kind of money could buy you a damn hot 3D games machine, a pretty decent workstation, a touchscreen marvel… or even a mid-range MacBook Pro. But factor in the beautiful screen, superb performance, top-quality input devices and (let's face it) minimal support downtime, this 27in 3.1GHz iMac is the ideal affordable workstation for the creative professional. Frankly, if you're in the market for a home computer, forget it – it's too good for you. ®
Many thanks to Square Group for the loan of the review unit.
More Desktop PC Reviews

Sapphire
Edge HD
Dell
Inspiron
Zino HD 410
Acer
Revo
RL 100
Sony
Vaio
L13
Apple
Mac
Mini