Original URL: https://www.theregister.co.uk/2011/06/17/baby_b_named/
NAME that DONKEY: Bella bests Barbarella
Inadvertent Twilight moment at Reg Asinine Affairs Bureau
Posted in Bootnotes, 17th June 2011 11:30 GMT
I'm pleased to report that after a not inconsiderable amount of pondering, and some behind-the-scenes third-party lobbying, my daughter has finally decided on a name for the latest addition to the El Reg Iberian bureau's asinine fold.
Since the fine jenny was born during our second year of breeding operations, we asked readers to suggest names beginning with "B", as local custom dicatates. The final shortlist was: Barbarella, Bathsheba, Bea, Beatrix/Beatriz, Belinda, Bella, Bellamy, Bluebell, Booty and Bunty.
As I previously noted, my son demanded "Banksy", since Baby B was born on the UK's Spring Bank Holiday. I rejected this on the grounds of gender, so the lad simply went and had a quiet word with his sister. She'd already made her decision, but between the two of them they were able to strike a dad-busting deal.
So, ladies and gentleman, I give you "Banksy Bella", seen this morning enjoying the spring sunshine with mum Ruperta: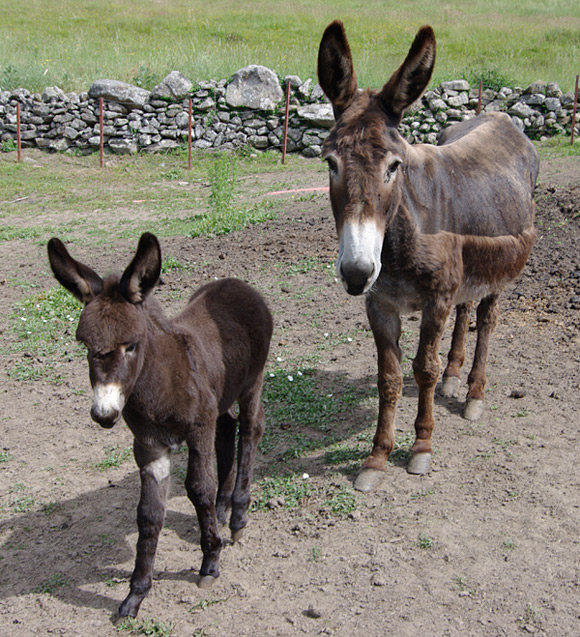 Thanks to all of you who participated in this non-IT-related tomfoolery. Thinking caps on for next year's "C" event...®
Vampire disclaimer
I'd like to make it clear that my daughter has not seen the Twilight movie series. Banksy Bella's name is, therefore, purely coincidental and in no way a comment on Kristen Stewart's acting skills.