Original URL: http://www.theregister.co.uk/2011/06/16/retro_gamer_day_of_the_tentacle/
LucasArts Day of the Tentacle
So long, suckers!
Posted in Personal Tech, 16th June 2011 12:29 GMT
Antique Code Show Dr. Fred: I think I've made myself totally clear. Step one, find plans. Step two, save world. Step three, get out of my house! Let's get cracking!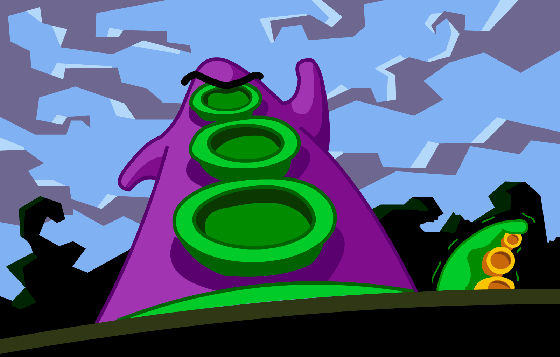 Day of the Tentacle: suck it and see
Day of the Tentacle generates a lot of good will and happy memories. The reason this was my first choice for a retro review is because it's all about the funny. Developed and published by Lucasarts, the game is the sequel to the 1987 title Maniac Mansion.
Indeed, Day of the Tentacle is based on LucasArts' SCUMM interface (Script Creation Utility for Maniac Mansion). For those who never played this type of game, the way it works is that in order to make Bernard pick up a pile of fake vomit, you would click on the text that says "Pick Up" and then click on the vomit on the screen. Yes, SCUMM was basic, but a really strong foundation for the game.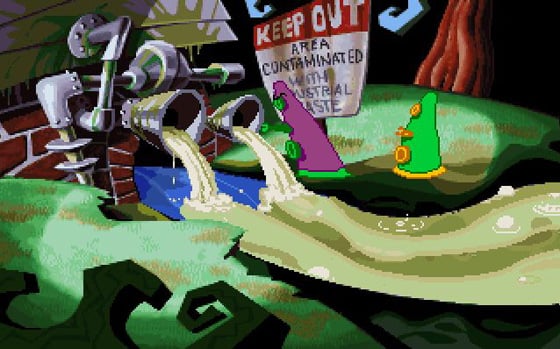 Environmentally aware?
The storyline, unfortunately, is not as simple, but doesn't detract from the fun. Purple Tentacle has become obsessed with world domination upon drinking polluted water from the river next to the mansion.
Out on a limb
Bernard and his two friends, Laverne and Hoagie try a bit of ill-informed time travel to shut off the toxic waste pipelines that have sent Purple Tentacle mad. Spread through time, the three friends must work together to reunite and thwart that fanatical Tentacle's evil plans.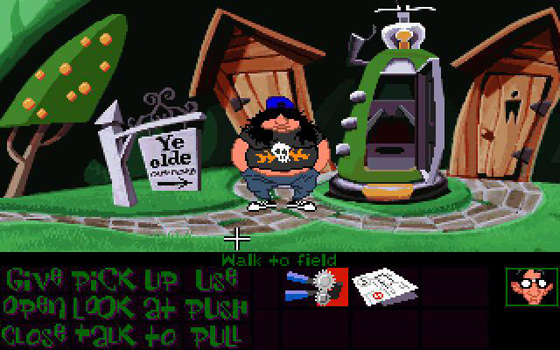 Time on the Chron-O-John gets you going
Much like Monkey Island this whole game is about solving puzzles, usually temporal puzzles. There's plenty of fun to be had flushing items other characters need in another time down the toilet – a makeshift crappy time machine, the Chron-O-John.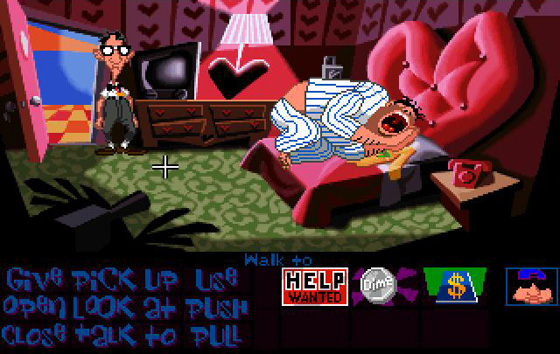 Sweating it out
My favourite was the hamster puzzle. First of all, in the present day, you put a hamster into an ice box and then remove a soggy sweater from underneath a huge sweaty man in one of the motel's rooms by using the vibrating bed. Next you steal a ton of quarters from a candy machine and use them to feed a tumble dryer with the sweater inside.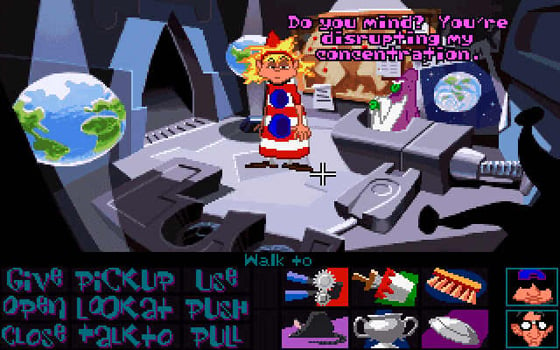 Pause for thought
Moving on to the future, you take out the cryogenically frozen hamster from the ice box. As you walk into the laundry room the dry cycle finally finishes and you remove the tiny shrunken sweater. Now comes the fun bit; put that hamster into the microwave. Don't try this at home kids! Aww, doesn't he look soggy? Better put that tiny sweater on him to keep him cosy.
LucasArt deco
Want your games looking like Scooby-Doo!? Day of the Tentacle was the first game with a real cartoon style and, although some might have seen the graphics as childish with their bold colours and blocky shapes, I have to admit I'm all about the toon.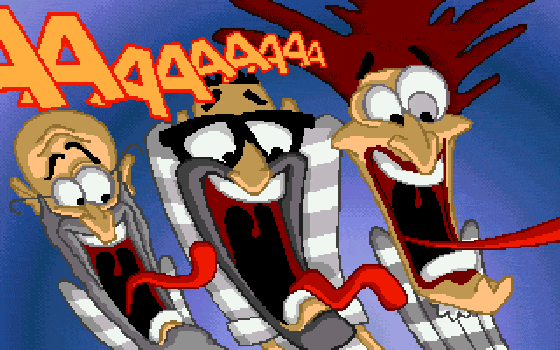 Cartoon-style artwork endures in the memory
As well as striking graphics, like many other LucasArts games from the same era, Day of the Tentacle has brilliant voice acting. Purple Tentacle sounds despicable, and the housemates come across as comical and eccentric.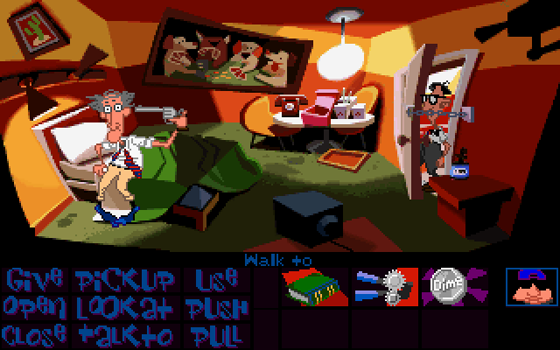 Single person shooter?
Indeed, the graphics and voice acting are what makes this game so memorable. This, combined with its profusion of demented puzzles, makes Day of the Tentacle one of LucasArts' gaming masterpieces and worth a replay for any adventure gamer.
Bernard: You know what they say, 'To save the world, you have to push a few old ladies down the stairs'. ®
Every month, Reg Hardware will be revisiting memorable titles from gaming's illustrious past.
Developer LucasArts
Year of release 1993
More Info Original copies of Day of the Tentacle can still be found for ready money on eBay for around £15, with collectible editions showing at silly prices. A virtual machine version of SCUMM can be found here.