Original URL: https://www.theregister.co.uk/2011/06/15/review_asus_eee_pad_transformer/
Asus Eee Pad Transformer Android tablet
Tabtop computing at its best?
Posted in Personal Tech, 15th June 2011 06:00 GMT
Review Billed as the year of the fondleslab, 2011 has so far failed to deliver on the hype. With sales of Motorola's Xoom sluggish at best, the BlackBerry Playbook too idiosyncratic for most and the Samsung Galaxy 10.1 tantalisingly conspicuous by its absence, Asus looks to steal a march on the competition with its Eee Pad Transformer TF101.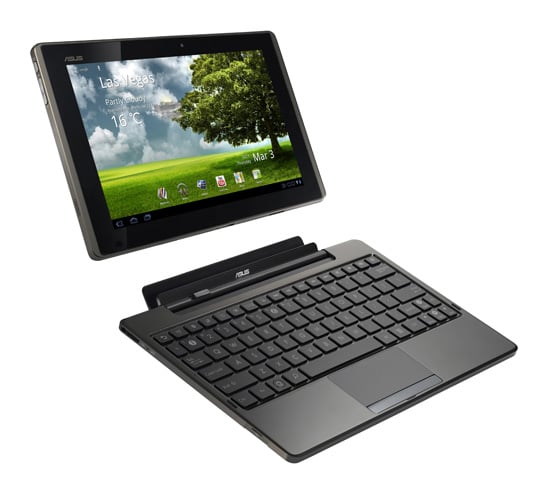 Key feature: Asus' Eee Pad Transformer TF101
Asus might just nibble at Apple's core, too, with the 16GB and 32GB versions of its dual-core, Wi-Fi-only tablet positioned at the iPad 2-busting prices of £379 and £429 respectively. But it's the optional Eee Station keyboard which most distinguishes the Transformer from its competitors. And if you're pondering on this, Asus helps galvanise the mind with a bundle price, which works out at around £50 more, instead of paying the £119 to buy the Eee Station separately later.
Those base prices might prompt Apple to look over its 'biggest-brand-in-the-world' shoulders, but it will do so with sniggering contempt. At 271mm x 175mm x 12.95mm, the Transformer is the largest tablet available. While significantly lighter than the Xoom, at 675g it's far from the one-handed holy grail that is the iPad 2, although it's comfortable in two hands over long periods of time thanks to an attractive, textured plastic backing and even weight distribution.
Elsewhere, the Transformer's aesthetics are firmly utilitarian. In a distinctly vintage Casio-style, the 10.1in screen and bezel is bordered by a brown metal edge that houses a raised power button and volume rocker. Also along the line is headphone/microphone jack, mini-HDMI port and a microSD card slot – which, incidentally Motorola, actually works.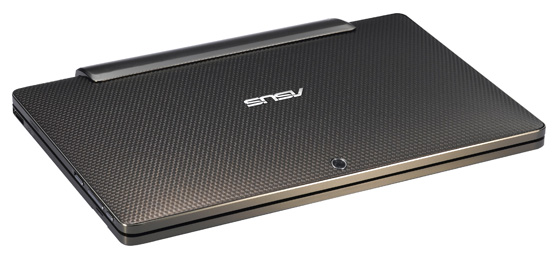 Docking expands the port count adding an MMC card slot and USB
There's also a reasonable on-board speaker housed in the right-hand side. Naturally, it's not great for bass, but the SRS virtual surround sound tech manages to conjure up an acceptable sound at a good volume, should you find yourself sans cans.
Latching on
A proprietary 40-pin port connects the included cable for USB data transfer and charging form an AC adaptor. While the Transformer can be charged over USB when switched off, the sixteen hours required for a full charge makes the option impractical. Fortunately, the diminutive USB to AC Adaptor has no 'dead rat' transformer, making it far more bag-friendly than the Xoom's.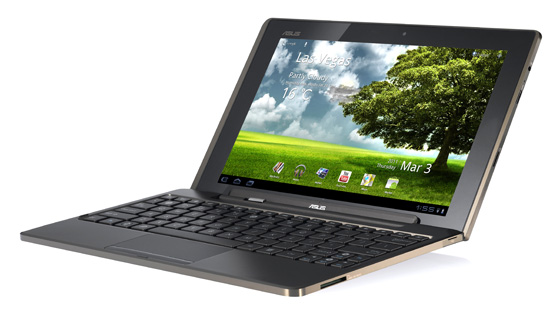 Looks the part, but makes for an expensive netbook
The 40-pin port also connects the optional keyboard, with sockets either side clamping the units together. With a little practice, the tablet slots into the keyboard's clasps with minimal effort, locking securely with a single latch, and holding firm despite reasonable tugging and twisting.
Although the Transformer's looks are suspect, its 1280 x 800 screen is anything but. The combination of Gorilla Glass and IPS panel technology means it's as tough as it is beautiful. Viewing angles are incredible, as is the backlighting, which keeps the screen visible even in direct sunlight. The capacitive tech impresses too, outperforming the Xoom in accuracy when browsing, minimising the need to zoom – every pun intended – when selecting small objects and links.
Just edging out the Xoom in AnTutu System Benchmark tests with a score of 3739, the Transformer is the best exponent yet for Android 3.0 Honeycomb. Backed up by 1GB of RAM (of which around 250MB is allocated to the GPU and around 100MB to Android) the Nvidia Tegra 2 chip chews through application switching, multitasking and tabbed browsing. There's some occasional image and banner pop-in when scrolling fast through web pages, but it's down to the ludicrous speeds you can scroll at, rather than hardware constraints.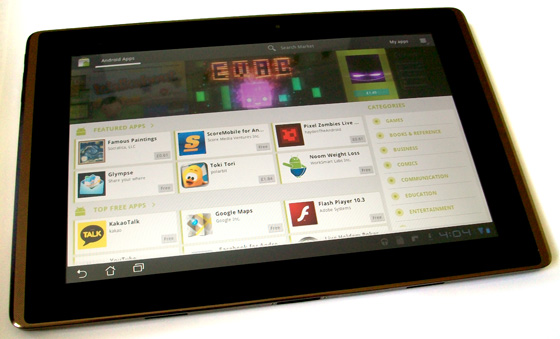 Not much Honeycomb fare in the Market as yet
With Honeycomb firmly in its nascency, Android Market has few optimised apps capable of pushing the Tegra 2. The present batch of games in Nvidia's dedicated Tegra Zone aisle also fail to provide a stringent test, although incoming titles promise to do so, as developers get to grips with the hardware. Existing Android apps work well, with only one or two crashing unexpectedly on occasion. And all apps scale up beautifully on the 10.1in screen with minimal pixellation.
Screen idle
Video playback largely confirms Tegra's muscle. Supporting Flash 10.2 out of the box, the Transformer handles streamed 720p with ease. But although YouTube, BBC iPlayer and 4OD all play fluidly, Nvidia's codec support underwhelms at present. While many 720p MP4 files ran smoothly on full screen, others were choppy, irrespective which video player was used.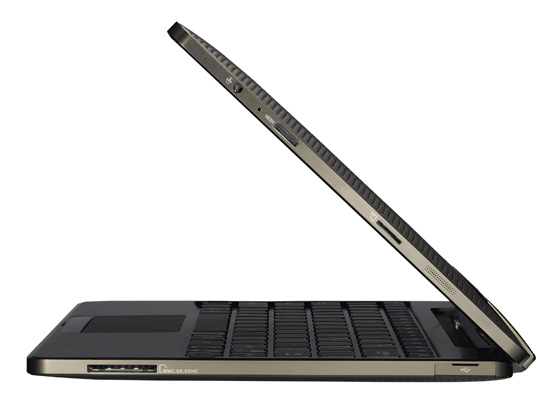 The docking mechanism take a bit of getting used to at first, but then it all slides into place
Video capture is also far from perfect – the camera records in 720p, yet sluggish auto-focusing and low frame rates spoil the view. The quality of still pictures is about average for a 5Mp camera, as is video capture from the forward facing 1.2Mp camera. Of course, capturing pictures and video on a 10.1in tablet makes as much sense as trimming your toenails with garden shears, so I'm not overly concerned by the Transformer's questionable performance here.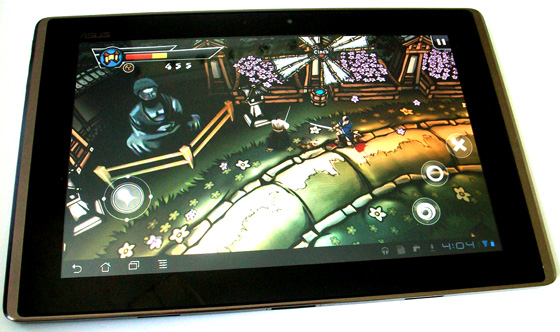 The battery lasts long enough for a good day's gaming
The Transformer's battery performance raises no such concerns. Continuously browsing with the brightness cranked up, the battery lasts well over 8hrs, supporting the 9hrs 30mins claims from Asus for average use. Throwing gaming and video into the mix reduces it to a still respectable 6hrs 30mins. Yet, the real ace up the Transformer's sleeve is the keyboard. When docked, this supplies an additional 7hrs charge through its internal 24.4Wh lithium polymer battery.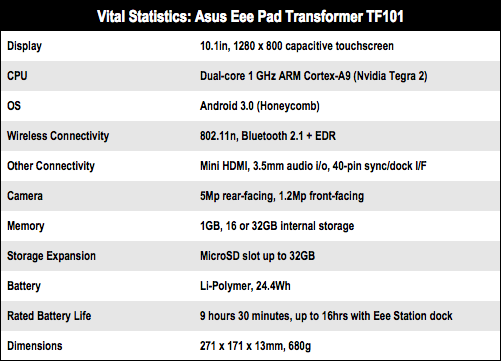 Keyboard shortcuts
Power boosts aside, the keyboard also provides an SD card slot and two USB ports for attaching a mouse (soon to be supported) or mass storage devices. Testing raised some slight concerns over the keyboard's overall usefulness, however. The extra battery is certainly beneficial, but, as a touch typist, I experienced slight, but appreciable lag when using the keyboard to browse, and quickly reverted to the on-screen keyboard.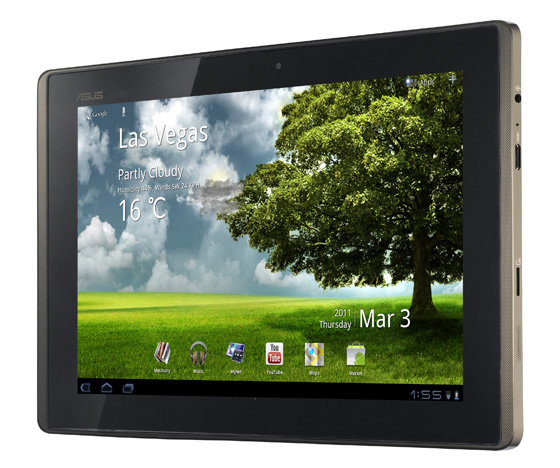 First and foremost an Android tablet, but the Eee Station integration is well thought out
With Android presently optimised for touchscreen controls, the keyboard's most obvious advantage came during prolonged text entry in the included Polaris Office suite applications. Due imminently, Honeycomb 3.1 will introduce full mouse support and increased editing capabilities. All being well – assuming Asus updates the keyboard drivers to improve responsiveness – the Transformer should be ideally placed to exploit Android's ever-broadening scope.
Verdict
The Asus Eee Pad Transformer is the Wayne Rooney of tablets. It might be aesthetically challenged, and its video playback and keyboard performance inconsistent at present, but there's no denying its versatility or skill. Likely to prove just as divisive as football's most famous orc, this hybrid tablet-cum-netbook will surely be dismissed by some as a novel chimera and likewise appreciated by others for its raw power and standout screen. ®
More Tablet Reviews

HTC
Flyer
Hannspree
Hannspad
Acer
Iconia Tab
A500
Archos
70
Motorola
Xoom