Original URL: https://www.theregister.co.uk/2011/06/15/nokia_closes_online_store_in_uk/
Nokia nukes online store in UK
Direct sales all but Finnish
Posted in Personal Tech, 15th June 2011 12:13 GMT
Nokia's UK online store is set to shut, following recent closures in France, Spain and the Netherlands.
Nokia's UK page has allegedly struggled to generate sales and as a result, will be shut down, continuing the company's push to overhaul the business.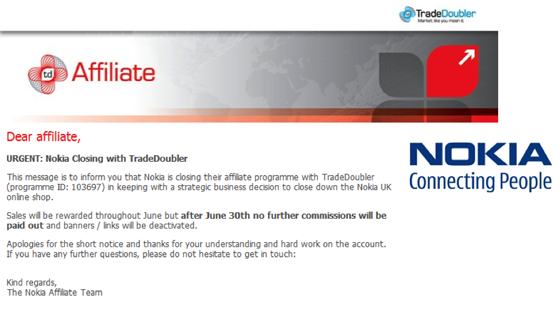 Source: Omio.com
Confirmed in an email to affiliate network TradeDoubler, the Finnish outfit says UK customers have until 30 June to grab a handset directly. Full support through the website is likely to remain available, though.
And a company spokesman said: "Nokia is planning to close down its UK online store, although no date has been confirmed. The closure is not only in the UK but will also include our online stores worldwide... Closing our online stores is part of a wider company strategy."
Recent financial results have been troubling and Nokia shares have dropped. This has led to the company slashing jobs and being overtaken in the smartphone pecking order by Korean rival Samsung.
While Nokia's venture into the Win Pho 7 platform will hit shelves later this year, its immediate future is far from bright.
It did, however, win a legal battle with Apple this week, which should keep the greenbacks flooding in, for now. ®