Original URL: https://www.theregister.co.uk/2011/06/15/lenovo_ts_xeon_e3_servers/
Lenovo chases SMBs with Xeon E3 towers
One socket to me
Posted in The Channel, 15th June 2011 02:35 GMT
Server maker Lenovo is one of the first vendors out the door with entry tower servers aimed at small and medium businesses based on Intel's "Sandy Bridge-DT" Xeon E3-1200 processors.
The Xeon E3 chips are designed for single-socket servers and workstations. They were previewed by Intel back in March and started shipping in early April for both servers and for workstations with Intel's HD Graphics 3000 GPUs embedded on certain models of the chips.
All of the chips have four cores except for the 20 watt E3-1220L, which has two cores. The remaining Xeon E3 models run at between 2.4GHz and 3.5GHz and have power draws of between 45 and 95 watts. The chips make use of the "Cougar Point" series of chipsets from Intel.
Lenovo was initially reselling selected models of IBM's System x tower and rack servers in the wake of acquiring IBM's PC business a few years back, but has been doing its own server design and manufacturing more recently. The company is also partnering with Intel to be an early adopter of the AppUp Small Business Service, which was announced in May and which brings cloud-style utility pricing for servers and applications to x64 servers installed at SMB shops.
Return of the tower
Oddly enough, Lenovo is using an earlier ThinkServer TS200v tower server as the basis for its AppUp offering rather than the new TS130 and TS430 machines – and you can probably chalk that up to the delays in deliveries of Sandy Bridge entry servers in the wake of the bug that was discovered in the Cougar Point chipsets back in January.
The TS130 tower server is based on the C206 version of the Cougar Point chipset, and like other Xeon E3 machines, only has four DDR3 memory slots on its system board. At this time, Lenovo is only support 2GB or 4GB memory sticks in the box, for a maximum of 16GB of memory. But there is no reason you can't quadruple that memory using much more expensive 16GB memory sticks if you have a lot of cash laying around. Lenovo is putting ECC memory in the box for increased reliability, and is also using the RAID data protection cooked into the C206 chipset and SATA disk ports to provide mirroring for disks.
The TS130 has two 3.5-inch media bays (and supports up to 4TB of capacity) and two SATA-III ports running at 6Gb/sec and two SATA ports running at 3Gb/sec on its system board. Lenovo is peddling 7,200 RPM SATA drives with 250GB, 500GB, 1TB, and 2TB capacities. Lenovo is also offering internal USB or external RDX data backup cartridges with 160GB, 320GB, or 500GB capacities as well as de-deuplicating backup software to make use of these RDX cartridges, which have 2.5-inch disks embedded inside of them.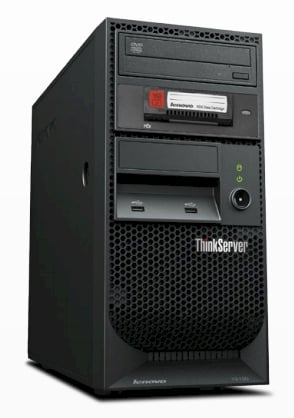 The Lenovo TS130 tower server
The system has two PCI-Express 2.0 slots – one x16 and one x1 – and two legacy PCI slots from the dawn of time; it also has a single Gigabit Ethernet port on the system board. The TS130 has two 5.25-inch, half-height bays for adding peripherals such as DVDs and tape backup units. The machine also makes use of Intel's Advanced Management Technology (AMT) 7.0 system management tools, including remote keyboard-video-mouse (KVM) support. The box comes with a 280 watt power supply rated at 85 per cent efficiency.
Lenovo is supporting Microsoft's Windows Server 2008 R2 in its Foundations, Standard, and Enterprise Editions on the TS130 server as well as Windows Small Business Server 2011 in Essentials, Standard, and Premium Editions. Prices for the base TS130 start at $499.
Here's the beef
The beefier new SMB server using the Xeon X3 processor from Lenovo is the TS430. It supports the 80 watt variants of the Xeon E3 processors, which all have four cores and have speeds ranging from 3.1GHz to 3.6GHz. There's so much more other stuff in the TS430 box that Lenovo has to be careful to not let it overheat.
The TS430 supports 2GB and 4GB memory sticks today, with 8GB sticks coming in October when the product is "refreshed". The system includes an out-of-band baseboard management controller (BMC), a service processor that will let remote administrators take over the machine and fix it even if the operating system has gone nuts.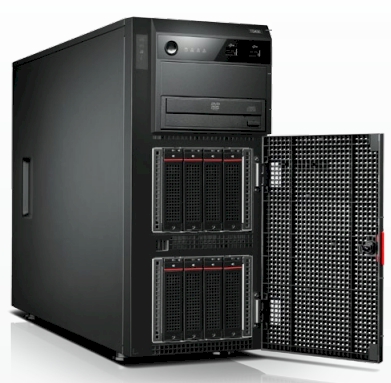 The Lenovo TS430 tower server
As you can see, the chassis has room for up to eight 3.5-inch SATA disks, providing up to 16TB of disk capacity using 2TB drives. The TS430 also supports 3.5-inch SAS drives spinning at 15K RPM if you need more performance, and these come in 450GB or 600GB capacities, topping out at 4.8TB across the eight hot-swap drive bays. The Cougar Point chipset implements RAID 1 mirroring, but another RAID adapter can snap into the mobo as an option, providing RAID 10 data protection. RAID 5 data protection can be implemented with a software patch to this adapter.
The system board comes with two Gigabit Ethernet ports. For peripheral expansion, there are three PCI-Express 2,0 slots – two x8 and one x4 – plus one legacy PCI slot. The machine has two 5.25-inch media bays like the TS130 as well, which can house DVD drives, RDX units, or LTO tape drives. The machine comes with a 405 watt power supply, and you can add a second 420 watt unit for extra availability. (It is not clear why these are not matched, but they are not.)
The TS430 supports the same Windows variants as the TS130 announced today, but also supports SUSE Linux Enterprise Server 11 SP1 and Red Hat Enterprise Linux 6.0. VMware's ESX 4.0 and 4.1 hypervisors are also supported on the box. The base machine costs $699. ®