Original URL: https://www.theregister.co.uk/2011/06/14/review_intel_510/
Intel 510 250GB Sata 3 SSD
Performance benefits
Posted in Personal Tech, 14th June 2011 06:00 GMT
Review Having recently covered Crucial's new M4 SSD, it seemed only natural to go further in-depth with it's Intel counterpart, the 510 series. Both of these drives feature Marvell's 88SS9174 controller, with the Intel drive using the BKK2 revision, and a SATA 6Gb/s interface.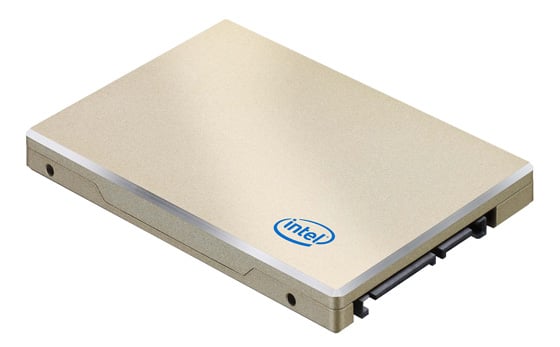 Sata 3 performer: Intel's SSD 510
Intel and Crucial's drive are more similar than just that though. Crucial's drives are manufactured by its parent company Micron, that produces NAND flash with Intel in a joint venture. So how different can these drives be from a consumer perspective?
While Crucial's drives are available in sizes ranging from 64GB to 512GB, Intel is only offering the 510 in 120GB and 250GB capacities. Despite focusing its manufacturing on just two versions, Intel is asking a fair bit more for its kit. You'll find yourself parting with £225 for a 120GB drive and £425 if you want 250GB.
On test is the 250GB drive, which Intel claims is capable of 500MB/s (20K IOPS) reads and 315MB/s (8K IOPS) writes – a considerable increase on what Crucial claimed out of similar hardware.
Before delving into the more complex performance statistics of this drive, the table below offers a quick real-world comparison between Intel's 510 and Crucial's M4.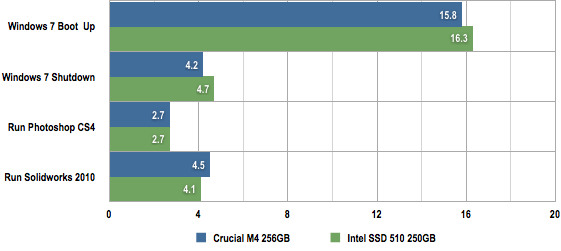 Load times in seconds
Shorter bars are better
While you probably won't notice the difference between these drives in such general operations, they are clearly superior to the old magnetic platters that probably still populate your drive bays. And if you've the cash and don't require an excessive capacity, then surely an upgrade beckons.
Benchmark tests
Picking these drives apart on technical merits, the CrystalDiskMark results while certainly high performance, don't show the Intel SSD 510 coming out on top. With the exception of the 33MB/s lead in the 1GB sequential read, the 510 lags behind the Crucial M4. When it comes to tests using a 32 bit queue-depth with 4KB random operations, the M4 leaves the 510 in the dust delivering read/write throughputs of 168 and 141MB/s respectively, against Intel's 81 and 50MB/s performance.
CrystalDiskMark 3 Results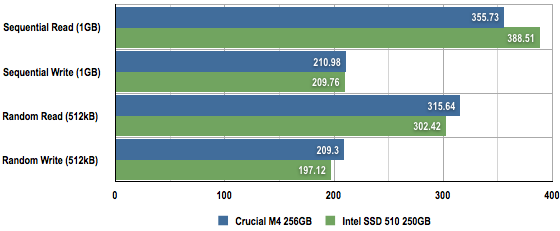 Data transfer speeds in Megabytes per Second (MB/s)
Longer bars are better
In the hope that I might see Intel's claimed performance with another benchmark, I ran AS SSD but nothing I observed was even close to the claimed 500MB/s reads or 315MB/s writes. All is not lost though. Intel does indeed deliver on IOPS. 19,514 is near enough the 20K read IOPS and when it comes to writing, the 510 blasted past the expected 8K all the way up to and beyond 12K IOPS.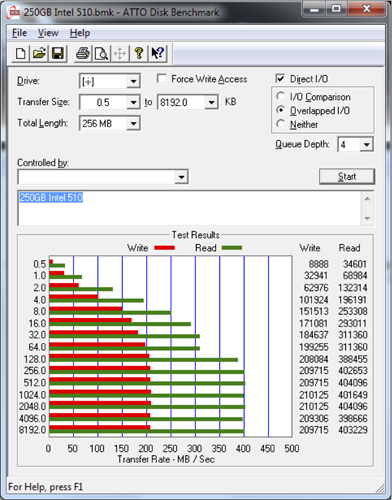 ATTO test results
In the interests of completeness, I put the 510 through its paces with ATTO Disk Benchmark, which did manage to produce some rather impressive read speeds of 400MB/s. Writes remained the same at around 210MB/s though.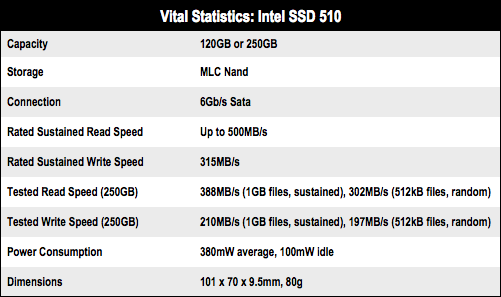 Compare and contrast
All in all, it appears the Intel 510 is a drive that costs more and benchmarks as somewhat slower than its almost identical counterpart, with minor exceptions. While the Intel drive does achieve 20K/12K IOPS, the M4 is easily capable of 40K/30K IOPS and is rated at 40K/50K.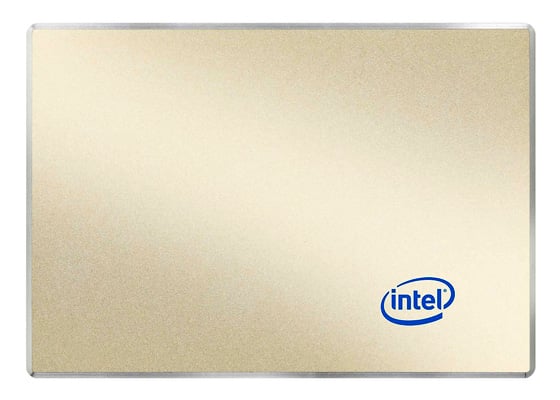 Quick, but not as quick as Intel suggests
Verdict
Despite this, Intel's 510 series is a serious performer and could likely be capable of more under the right conditions. So, if you're a die-hard Intel fan still clinging to your X-25M but wishing it was more, then you'll probably spring for this one.
For those of you who aren't so loyal, you may want to be considering Crucial's offering due to the lower pricing and larger variety of capacity options. Either way, you'll be getting one of the best performing SSDs on the current market. ®
More Storage Reviews

Crucial
M4 256GB
Synology
DS411slim
How I learned
to stop worrying
and love SSDs
Seven...
SSD Sizzlers
Cloud Engines
Pogoplug