Original URL: https://www.theregister.co.uk/2011/06/14/games_review_duke_nukem_forever/
Duke Nukem Forever
What were we waiting for, Christmas?
Posted in Personal Tech, 14th June 2011 12:00 GMT
Review In a game bursting with 1980s macho-movie quotes and in-jokes, one line resonates far beyond Duke Nukem Forever's puerile script. Besieged by an alien invasion, the President of the United States ignores calls to beg the eponymous meathead to save the planet, lamenting, "Duke, you're a relic from a different era."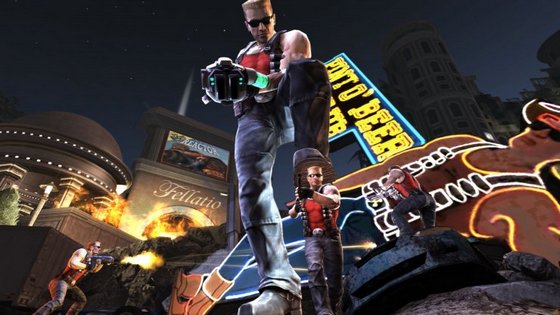 My boot, your face; the perfect couple.
It's not just The Duke himself who's from a different era. His repertoire of foul-mouthed quips might be ripped from the VHS reels of Commando, Total Recall and Aliens, among many others, but it's the painfully dated gameplay that ultimately proves some relics are best left buried.
Everywhere you look, DNF is a testament to its infamously protracted and traumatic development. Long loading times, low-res textures and polygon counts, poor facial animations and lip-syncing, screen tearing, juddering frame rates, basic lighting and reflections, pop-up, jaggies and disappearing assets – you name it, DNF suffers from it. Every gaming advancement of the past thirteen years is undone; every conceivable design flaw evident.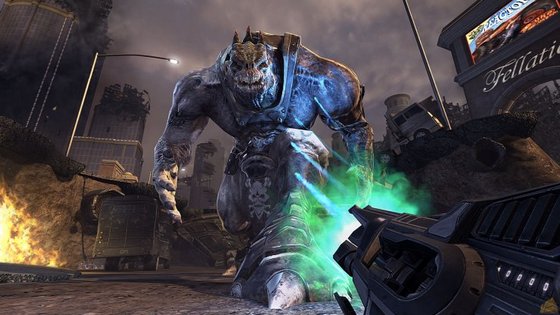 What are you? Some bottom-feeding, scum-sucking algae eater?
A throwback to a bygone age, gunplay is as one-dimensional as Duke's emotional range. Right from the prologue boss battle – a fight against a rocket-wielding Titan – the combat never rises above the simple side-steps and strafing circles of Doom, with enemies displaying all the intelligence and self-preservation of Al Qaeda foot soldiers.
Game for a laugh?
There's nothing wrong with a retro turkey shoot, of course. Serious Sam made a virtue of it by hurling countless enemies at you with varied attack patterns. But DNF's environments are too sparsely populated throughout. Every level consists of fighting half-a-dozen enemies, moving a few hundred metres forward and fighting a half-dozen more.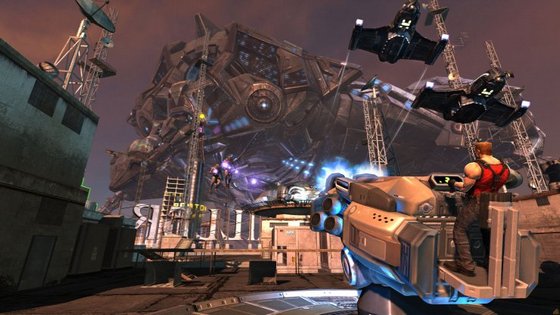 I'm coming to get the rest of you alien bastards!
Attempts to punctuate the monotony only succeed in replacing tedious combat with equally tedious ancillary gameplay. Lengthy driving sections promise open exploration, only to funnel you up makeshift ramps over precipices before corralling you back into combat arenas.
Puzzles never evolve beyond the obvious either. Nowhere more so than when shrunk down by alien technology into mini-Duke, where a go small, find hole, go big, open switch formula is repeated ad nauseum. But the worst of all is platforming – an utterly incongruous mechanic to FPSs that should have died with Turok some fifteen years ago, but is used over and over again here.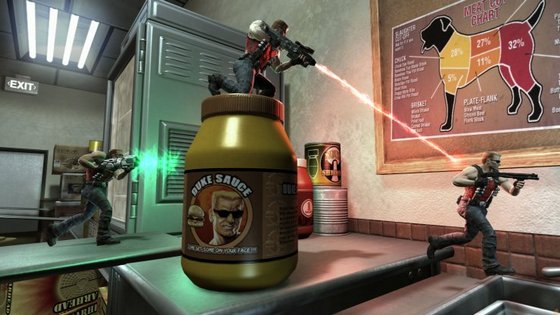 Mental, time for a shrink
Anyone hoping that Duke's legendary humour might enliven gameplay will be sorely disappointed. Granted, the game provides occasional chuckles. Even the most urbane gamer will struggle to keep a straight face during mini-Duke's shootout across the shelves of a diner storeroom, where cover comes in the form of ketchup and mustard tubs and cans of Heinous Anus' Baked Beans. And where else can you increase your health bar by getting sucked off through the glory hole of a squalid strip club toilet? – I have to test everything, you understand.
Are we having fun yet?
Despite not quite being the misogynist everyone makes him out to be (it's impossible to even say the word with this much tongue in cheek) Duke Nukem is nonetheless an embarrassing relic of another time. The profanity, sexism and toilet humour – that once provided a refreshing counterpoint to political correctness and two-fingered riposte to videogame detractors – now comes across as extremely stale and dated.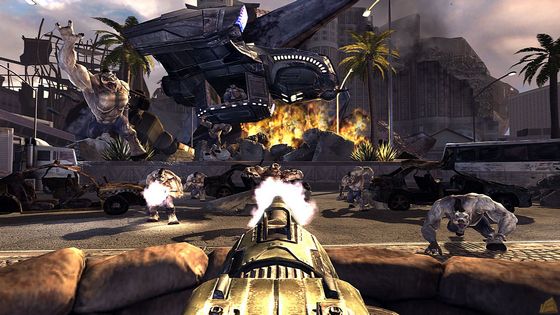 I'm gonna put this smack dab on your ass!
Trapped in the 1980s Zeitgeist, DNF misses an opportunity to instil more contemporary references. After all, unless you're a slobbering, buck-toothed, hillbilly, I'm guessing you're already tired of hearing "squeal Piggy, squeal" well before Duke's done quoting it a dozen times.
DNF also fails to add anything to the on-line play that Duke helped pioneer. Resolutely retro, multiplayer is little more than an unbridled homage to Quake and Unreal Tournament, at the expense of any innovation. Dukematch, Team Dukematch, Capture the Babe, Hail to the King – dress them up in Duke-speak as much as you like, but with tight corridors and cavernous spaces, jump pads, glowing collectible weapons and railguns, you'll feel like you've already played it to death over a decade ago. And if you happen to suffer from a bad case of nostalgia, I still wouldn't recommend it, not when you can head on over to Quake Live for a superior experience for free.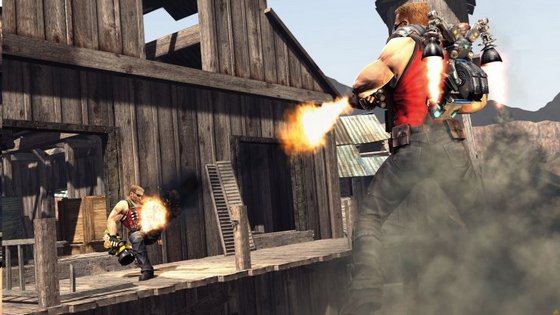 I guess pigs DO fly!
Verdict
Duke Nukem Forever is the sum of all its flaws – a truly terrible game with almost no redeeming features. It's as if Gearbox simply swept the scraps off 3D Realms' development floor and glued them together into this mess. Graphics, gameplay, narrative, innovation, there's simply nothing to recommend this mangled wreck. Put simply, as The Duke might say, "This game is one ugly motherfucker!" ®
More Games Reviews

Red Faction:
Armageddon
Hunted:
The Demons Forge
LA Noire
Dirt 3
Brink