Original URL: http://www.theregister.co.uk/2011/06/11/review_samsung_ue40d6530_led_3d_tv/
Samsung UE40D6530 LED 3D TV
Cut-price super-skinny telly with all the trimmings
Posted in Personal Tech, 11th June 2011 07:00 GMT
Review When it comes to features, Samsung's UE40D6530 40in LED telly doesn't skimp on anything much. Freeview HD, 3D, Video on Demand, Skype, integrated web browser, social media apps, media streaming, PVR recording to external hard drive – it's all here. This isn't so much a TV as an all in one entertainment centre. And priced at £1099, Samsung is clearly planning to shift a lot of these puppies.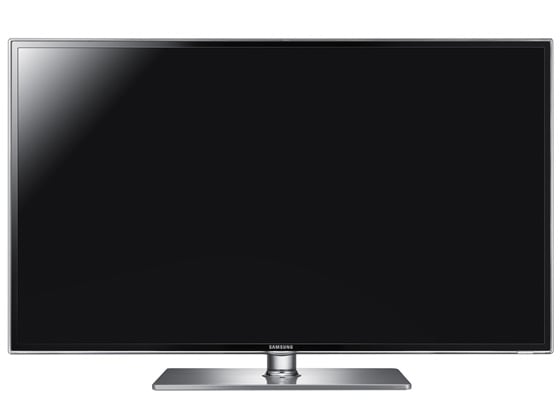 Entertaining concept: Samsung's UE40D6530
Too slim for traditional side-mounted inputs, connectivity is all confined to the back panel. There are four HDMI inputs, a PC input, Scart and component – both of which have to be using supplied adaptors – three USBs, Ethernet LAN and a digital audio optical output. Samsung has conveniently chosen to opt for integrated Wi-Fi, so there's no need for a separate dongle.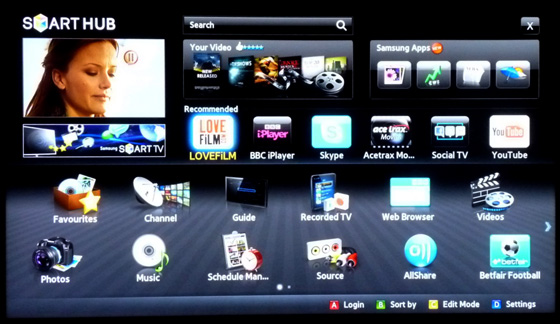 TV portal options
One compelling reason to buy this screen is undoubtedly the connected Smart Hub portal. It's from here you can access VOD services such as YouTube, LoveFilm, BBC iPlayer, Acetrax and PictureBox. This isn't the regular, standard definition YouTube API. This TV supports the new YouTube Leanback service, which delivers the highest quality stream available.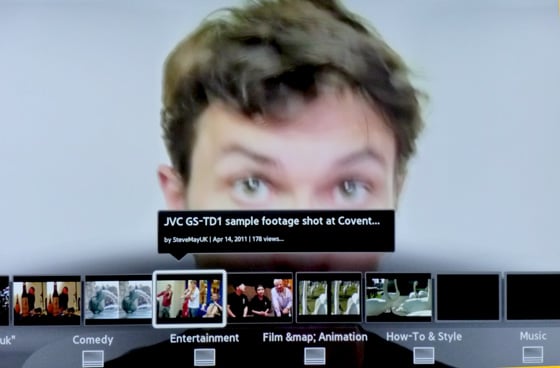 YouTube interface
I did a side by side comparison between the D6530 and Panasonic's rival TX-P42VT30, using the snappily-entitled clip JVC GS-TD1 sample footage shot at Covent Garden. The VT30's YouTube app played the clip in 380p and looked blocky and generally unpleasant; the Samsung's Leanback implementation accessed the 720p stream, giving an altogether smoother and more detailed presentation.
Network health
Media playback support from USB is good. The TV had no problems playing a test selection of AVIs, MOVs and MKV wrapped video content. Subtitle compatibility is also offered. However, as we've seen on other Samsung TVs, network streaming is less reliable. The UE40D6530 prefers you to stream content from a PC, and dislikes negotiating Nas devices. I tried it with an LG, Iomega and Xiva Musicm8, and in all cases the TV failed to recognize my MKVs.
 A smoother image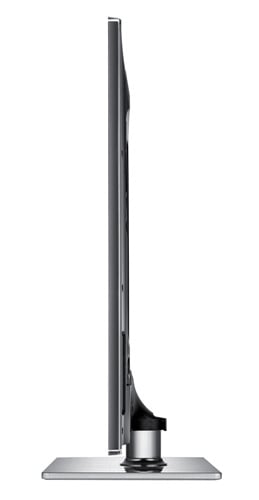 Slim pickings
Samsung has done a grand job managing the uniformity of the UE40D6530's edge-lit LED backlight, and the set delivers a very satisfying black level. Colour vibrancy, a longstanding brand trait, is impressive – new this year is the Wide Colour Enhancer Plus algorithm, which probably helps.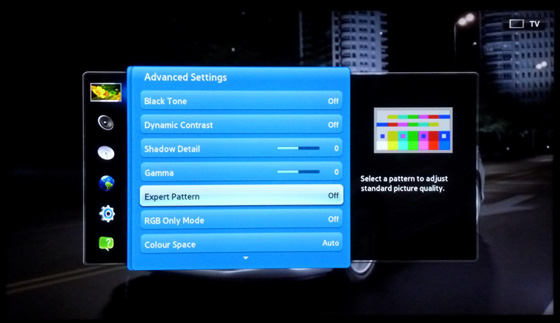 Advanced settings menu
However, what really impressed me about this screen's performance is the extremely low level of noise in its pictures. Night sky Blu-ray test footage which often reveals luminance fizz, looked clean and naturalistic. The set's Digital Noise Filter and MPEG Noise filter were both left to Auto during the audition.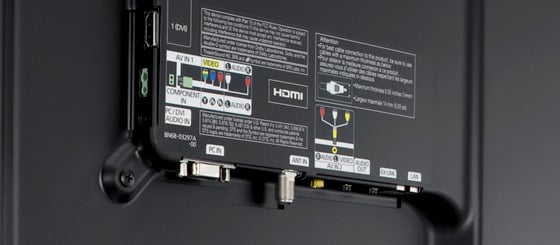 Due to the slimline form factor, break out connectors are needed for most of the interfacing
Overall, the image clarity is high. The native motion resolution of this 'Ultra Clear Panel' is a relatively high 875 lines. To lift this further, Samsung offers optional Motion Plus picture processing. It comes in several flavours: Clear, Standard, Smooth and Custom. When any are engaged, motion resolution climbs to a full 1080 lines.
Seeing double
I found the Clear mode to be the best of these presets. The rest create obvious motion artefacts around certain moving objects, seen as a shimmering shadow. Clear is the least intrusive of the bunch. My preferred option though, would be to choose the Custom setting and then manually set Blur Reduction between five and seven, and Judder Reduction at zero. This effectively removes all motion artefacts.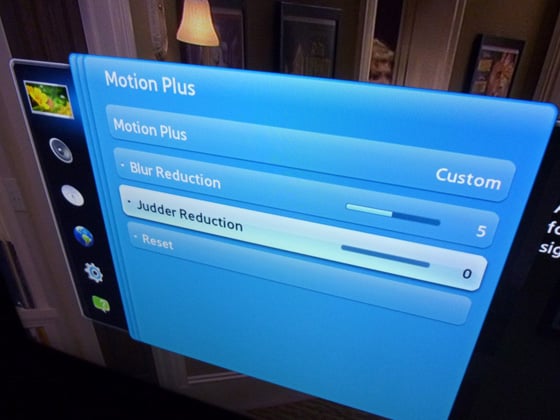 Motion Plus and Judder Reduction tweaks
As a 3D TV, the UE40D6530 is on par with Samsung screens from last year. The TV gets brownie points for good colour fidelity and through-the-glasses brightness, but earns demerits for crosstalk problems.
The severity of this double imaging does rather depend on the source. Blu-ray discs I know to be troublesome looked predictably grim, while better authored fare was more watchable. There are 3D Perspective and 3D Optimisation controls, but they don't really provide any solutions.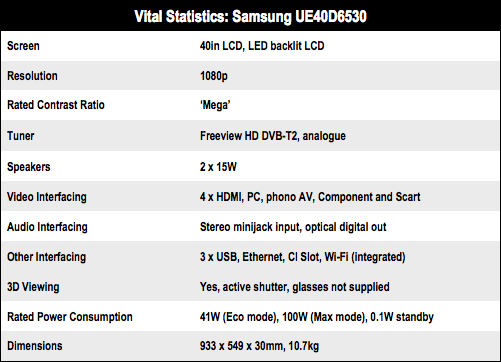 Visual appeal
Samsung does not bundle any 3D glasses with this set. They're an optional extra and these days, the brand's basic Active Shutter models will set you back 50 quid each. For those that want to, you can also convert 2D into faux 3D. I don't really see the point myself, but some folks must be doing it.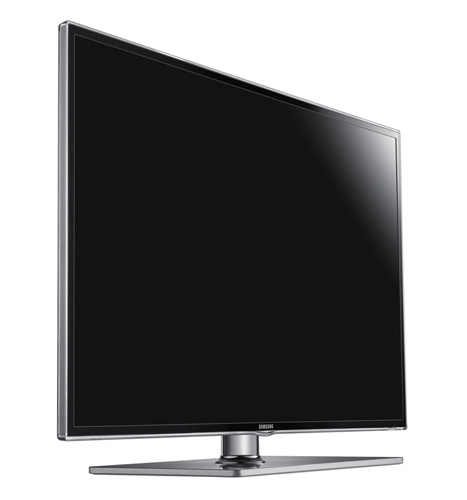 Some 3D crosstalk issues, but a good performer overall
Verdict


Overall, this mainstream LED looker hits far more than it misses. It's a refined 40in Freeview HD TV with very agreeable hi-def picture quality. Throw in access to Samsung's burgeoning VOD and apps portal, plus the option of 3D and the UE40D6530 begins to look like a decidedly smart buying choice. ®
More TV Reviews

Sony
Bravia
KDL-40EX724
LG
42 LW650T
Panasonic
Viera
TX-P42GT30
Ten…
40-42in
net connected HD TVs
Philips
Ambilight
46PFL9705H