Original URL: http://www.theregister.co.uk/2011/06/10/games_reviews_red_faction_armageddon/
Red Faction: Armageddon
Appetite for destruction
Posted in Personal Tech, 10th June 2011 12:00 GMT
Review Red Faction: Guerrilla released in 2009 was a sandbox full of C-4. Volition and its clever Geo-Mod technology gave me the world and the tools to destroy it. Yet with Red Faction: Armageddon, Volition has clasped the reins of this chaotic monster and decided, mistakenly perhaps, that it needs some steering.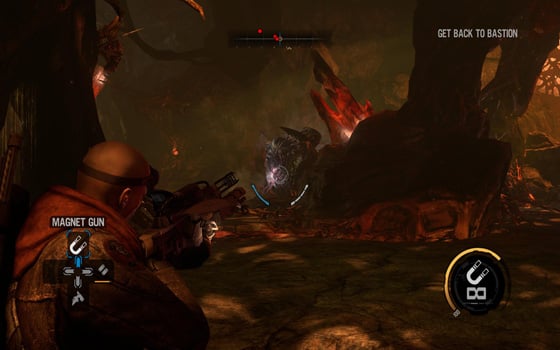 Fatal attraction
Red Faction: Armageddon is set on Mars and starts in the 2170, 50 years after Red Faction: Guerrilla ends. I am Darius Mason, a nefarious contractor who has been tricked by Marilyn Manson lookalike cultist leader Adam Hale into awakening some old alien baddies who are now ripping Mars apart and generally pissing everyone off. To clear my name, I am going to have to spend some serious hours battling beasties and fervent religious types – hell-bent on my blood – through underground caverns, alien lairs and deserted mining colonies. But no worries because I got guns, LOTS of cool guns. Time to cleanse some infestations!
Around 14 different shit kickers are available to me throughout the game. Evaporate stuff? Why not? From my good old explosives and remote charges, to some crazy pretty alien shizzle, I am actually spoilt for choice. Who could say no to a gun that generates a black hole – singularity cannon, W00T W00T!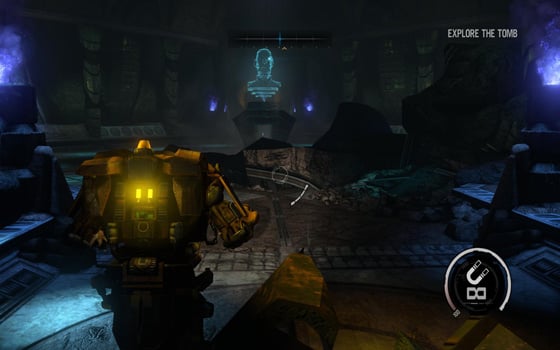 Look, a head
My magnet gun, which snaps stuff together like metal snapping to a magnet is the daddy of all my outrageous weaponry. Wrecking ball ho! This weapon, used with the reconstruct ability from my nano forge, basically gives me unlimited ammo. Smash some stairs up to use as ammo and then reconstruct them again so I can climb them. The same goes for bridges and anything else man made. Destroy something to use as ammo and then reconstruct it to use as cover, how convenient! If only this was good for relationships too.
Personal magnetism
Snapping Ravagers together in an orgy of alien death could have been the basis for The Human Centipede sequel. Splat. Also grab a Ravager with your magnet gun and destroy it with your impulse blast for some up close splat action. I found it pretty easy to use upgrade stations to trade my salvage and general destructive behaviour for upgrades on armour, weapons and nano forge abilities – and these customisations are still installed in the infestation battles, which comes in handy.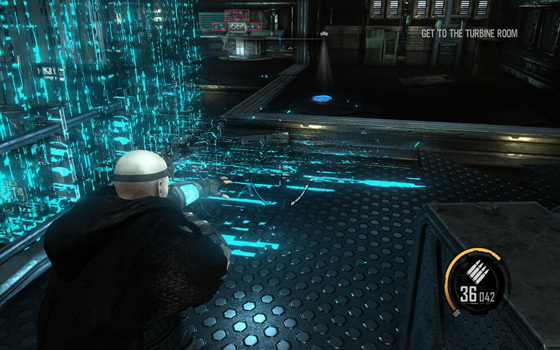 Screw Bluetooth, it's all about the blue arm
The graphics are impressive, but Volition stays safe with its palette of orange and grey, which I guess it quite befitting a Martian landscape. However, everything looks a bit samey with all the nasties looking too much like mutant scorpions and even the cultists were wearing what looked like samurai-inspired insect suits. Still, the typically generic graphics are compensated for when watching the disintegration of buildings as they receive my destructive attentions.
The third-person gameplay is comfortable, and splatting aliens using Volition's lock-on targeting system is a Noobs paradise. The angle of the gameplay reminded me of Dead Space but is less awkward. Indeed, the gameplay seemed more refined and linear than Red Faction: Guerrilla but still focused on non-stop action. I would suggest that for the price, the campaign mode is short, maybe too short, at about six to eight hours.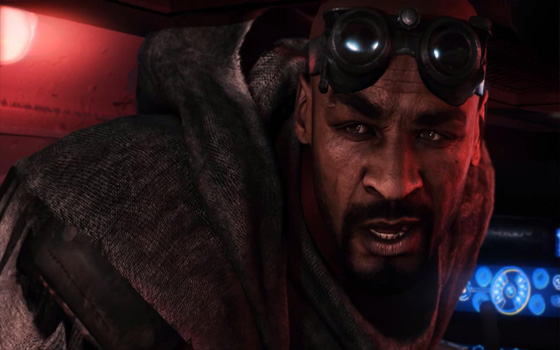 Biggles wants his goggles back
Game time flew by as I spent more time just blasting nasties rather than plotting cover and snipe missions, because for me, this game is all about brain numbing gut spewing action. But, Volition, why oh why do I feel like I'm stuck on a theme park ride firmly locked in my seat and wheeled through a claustrophobic ghost train with my back against the wall or a nasty drop? You had better follow those yellow arrows or else.
Story bored
By creating a more linear game, Volition guides us more tightly through its sub Ghosts of Mars narrative. There are loads of cut-scenes with some pretty ropey humour and acting, all of which left me thinking, if you're going to weave a disorientating story, don't make us stick around and force us to watch it. For a game, which is all about destruction, the large areas where we ride crazy vehicles and can do some serious damage are too few and far between.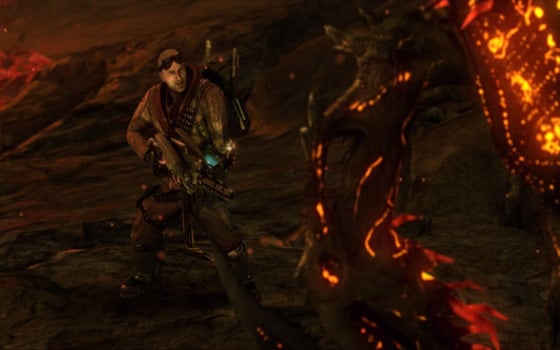 Say hello to my little friend...
One of the things I liked best about Armageddon was Ruin. This is a timed challenge where you get to put some of that Geo tech to use in one big smash 'em up. This is the kind of thing that would work so well as part of the single player mode and shows off why Red Faction just keeps coming back with it's premise of it's fun to break stuff.
If you're all about the competitive multi player, then I think your going to be a little disappointed with Volition's new four player co-operative mode, called Infestation. This has loads of content with eight missions and, if your not too worried about ranking, it's pretty entertaining. It is all about surviving waves of enemies, whether just for the hell of it or defending an outpost. Indeed, these waves gave me some serious time and space to get to grips with my range of weapons and put them to good use.
Unfortunately, my magnet gun was just too unwieldy for these hordes and I had to stick to impulse blasts from my nano forge and traditional firepower. I found the mainly small, dark, claustrophobic maps ramped up not only the action but our co-operation. OMG, watch out for that berserker!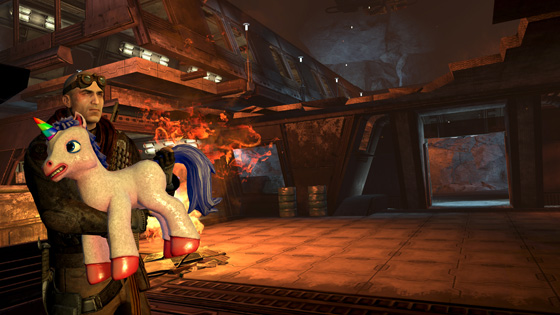 Hands off, it's my little pony
Verdict
The fact that Red Faction: Armageddon looks polished, if a little fatigued, is a big selling point for me. Add to that the range of exciting abilities and crazy sick-ass weapons, and I had the ingredients for some serious fun. Yet, where this game doesn't fulfil its potential is the fact you instantly miss the sandbox feel of an open world – a place where you can step out of the nagging game narrative to just smash random shit up. ®
More Games Reviews

Hunted:
The Demons Forge
LA Noire
Dirt 3
Brink
Darkspore