Original URL: http://www.theregister.co.uk/2011/06/10/e3_2011_roundup/
E3 2011: the showstoppers
Games! Games! And, thrice, games!
Posted in Personal Tech, 10th June 2011 13:17 GMT
Show Roundup 2011's Electronic Entertainment Expo in LA set the world alight with inklings of a new console war and more titles on display than a brimful bookshop.
Aside from hordes of dribbling fanboys and/or overweight sweaty men, the common theme this year was cross-platform playability and revamps of old franchises. The latter does seem unavoidable, though, as this international catalogue of games grows and our tank of truly innovative ideas dehydrates.
Here's a brief-ish roundup of what was on show and where to focus those well-peeled eyes in the year(s) to come.
Get yourself Kinected
According to Microsoft, the age of Kinect is upon us and the motion-platform will be compatible with various future titles. It'll now be used for advanced gameplay too, rather than simply jumping in front of our TV screens like plonkers.
Peter Molyneux offered a taste of Kinectability in his franchise refresh Fable: The Journey, while Crytek's forthcoming thriller Ryse was put through the motions in a bloody scene from ancient Rome. Ghost Recon: Future Soldier demoed full-blown FPS gameplay, promising Kinect integration in all Tom Clancy titles, while Bioware's Mass Effect 3 was also on show, utilising the hardware's voice recognition to select Commander Shepherd's conversation choices. I think I'd prefer to just push a button.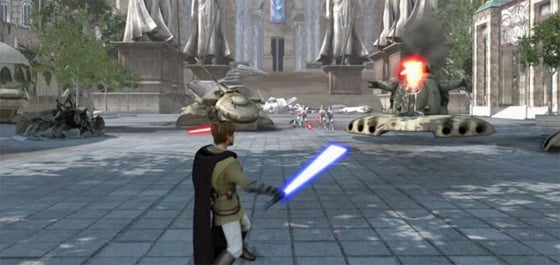 Kinect Star Wars
However, nobody calls out for motion-gaming quite like a wannabe Jedi and Kinect Star Wars offered a glimpse at how Lucas Arts has adopted the tech. Although not penned for release until this Christmas and showing some dated-looking graphics, fans of the saga will be in their element, bouncing round the room like a Skywalker family reunion.
Parents who thrive on embarrassing their kids will be pleased to see Dance Central 2 unveiled too, which now lets players compete side-by-side. I hope you have a very large living room.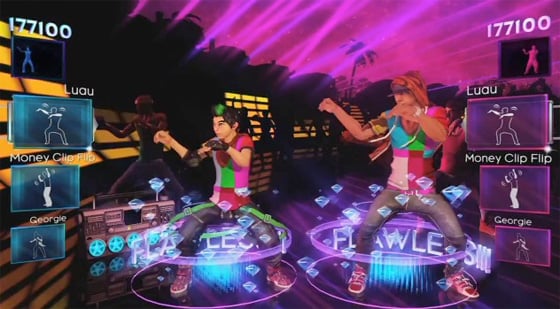 Dance Central 2
If not, using Kinect for games such as Fifa 12 might be a problem. EA Sports promised to continue integrating Microsoft's hardware and the footie favourite is in line to kick off next season's EPL with a dose of motion.
Microsoft left the stage with something for core-gamers, although the news was leaked beforehand. Halo 4 was confirmed for a Christmas 2012 release, contradicting last year's claims that Halo: Reach would be the final instalment in the franchise.
A remastered edition of Halo: Combat Evolved was also announced, celebrating its tenth anniversary. Doesn't look so evolved now, though.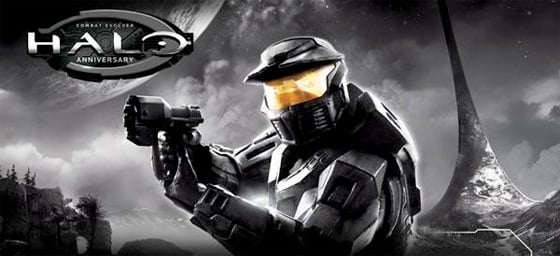 Halo: Combat Evolved
The company also claimed the Xbox 360 will become the best-selling console of 2011, globally. With Wii sales drying up ahead of Nintendo's next venture, Microsoft could just be right. Big things on show and big things promised, but can America's big boys deliver?
Livin' la Vita loco
Sony took to the stage and with apologies out of the way for PSN security failures, focus shifted to the company's next-gen PSP 2, officially unveiled as PlayStation Vita.
Tons of titles are heading to the handheld, including Drake's reprisal in Uncharted: Golden Abyss, hybrid punch-'em-up Street Fighter X Tekken, much-loved motorshows Wipeout 2048 and ModNation Racers, as well as the groundbreaking gore-fest Bioshock.

Wipeout 2048
However, it's the cross-platform functionality that really raises eyebrows, which titles such as the RPG adventure Ruin and family-favourite LittleBigPlanet will embrace, allowing users to continue their PS3 games on the handheld, whether sat on the tube, or squatting over the bum-bowl.
Sony did put time aside for motion-gaming though, showing off some future PlayStation Move content, with Bioshock Infinite, NBA 2K12 and Star Trek, the standout titles. The latter will even launch with a phaser-style Move controller, set to play.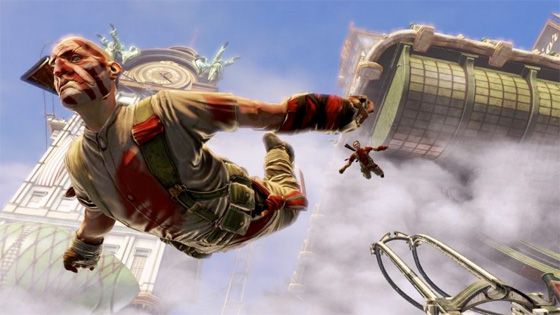 Bioshock Infinite
A PlayStation telly was also on show and will come bundled with a copy of Sony's exclusive shooter Resistance 3, also compatible with Move.
Other Sony-only titles include the anticipated FPS Dust 514, a return to Twisted Metal and the popular classic Shadow of the Colossus, set for reprisal this September following some HD remastering.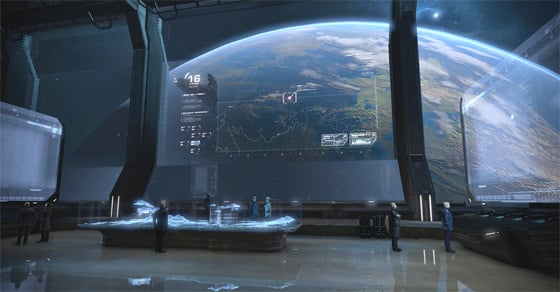 Dust 514
Sony certainly has enough up its sleeve to emerge relatively unscathed from the recent hacking fiasco. It could all depend on the success of Vita, though. Can Sony afford another kick in the knackers? Vita could be the codpiece it needs.
It's-a me, Mario!
Of course, no games event would be complete without an appearance from the family with a plumber mascot. E3 2011 was huge for Nintendo, who after blaming customer ignorance for a lack of 3DS sales, had much ground to make up. The company did so in style, though, unveiling its next platform as Wii U, taking Nintendo into the realm of HD and wowing spectators with an all-new touchscreen control pad.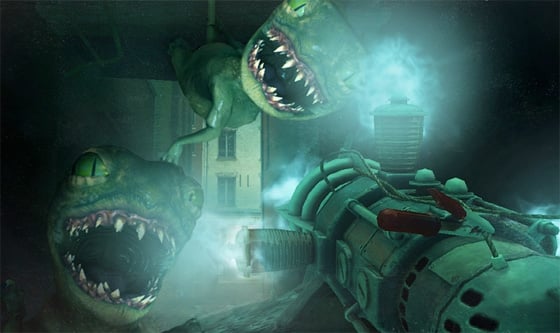 Killer Freaks from Outer Space
Most of the clips Nintendo showed of future Wii U titles were actually footage of games running on Xbox 360 and PS3 platforms, however publishers are working on Wii U titles already and some have struggled to contain their excitement.
Games such as Ubi's Killer Freaks from Outer Space, Ghost Recon Online, Darksiders 2 and Dirt are all heading to the platform, as well as Batman: Arkham City, Smash Bros, and no doubt a predictable collection of other Mario-themed titles.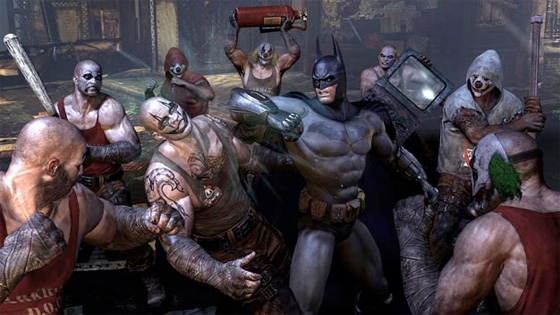 Batman: Arkham City
For now, though, the impetus is with 3DS, which will be awash with games in 2010. A tripped out version of Mario Kart will arrive soon, while there's a return to slightly more-realistic driving simulation Riiiidge Racer.
Other favourite 3DS ventures include the annual Super Mario release, a sequel to Ninty's ghostbuster Luigi's Mansion 2, dimension dropping Paper Mario and high-flying Kid Icarus, which features a multiplayer AR experience. Oh and there's a replenished 3D version of Star Fox 64 too. Now that really takes me back.
With the eShop finally up and running, 3DS customers have access to much more as well. The handheld will communicate with the Wii U, continuing with this year's theme of cross-platform playability.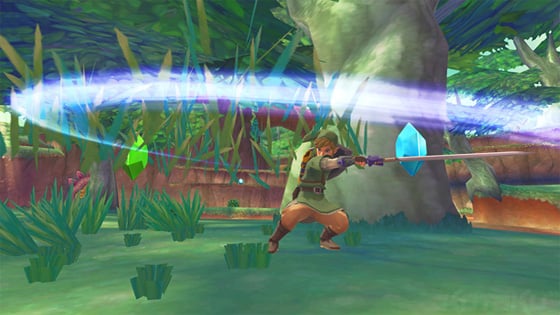 The Legend of Zelda: Skyward Sword
Of course, it would be wrong to forget to mention our little green friend Link, who celebrates his 25th anniversary this year. To commemorate, Ninty has prompted his return in The Legend of Zelda: Skyward Sword, set for a Wii release this winter. Put that in your ocarina and smoke it.
Go out with a bang
E3 had much more on show than just that, though. The Expo saw countless publishers battle to get their trailers seen and with hundreds of games at hand, we could be here forever giving you a rundown.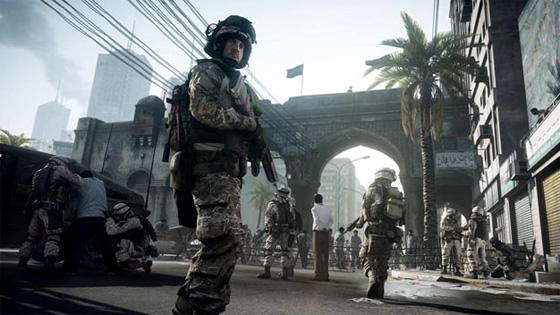 Battlefield 3
In the art of war, the two front runners are predictably Activision's Modern Warfare 3 and EA's Battlefield 3. The latter has announced 'Battlelog', a multiplayer service similar to Call of Duty: Elite, keeping the battle on equal footing and the world divided on opinions of which will be better. We'll find out in November on that front. Battlefield is also being adapted for iOS along with a number of other EA titles.
Epic's Gears of War 3 caused quite a stir too, launching limited edition GoW-styled Xbox consoles and pads and offering a look at the game ahead of its much-anticipated launch this September.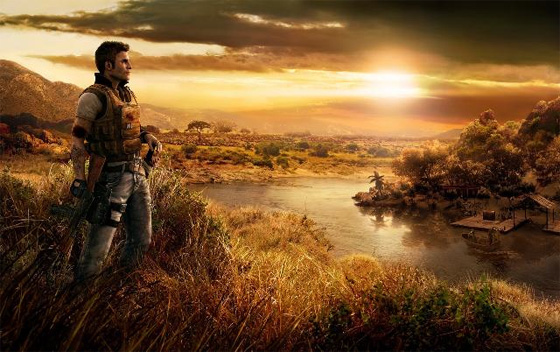 Far Cry 3
2012 throws-up some juicy prospects too. Bethesda's Prey 2 and the massively-anticipated Far Cry 3 represent two more titles making a comeback.
But when it comes to guns, Sony's PSN/PC shooter, Payday: The Heist made a lot of noise. Robbing banks hasn't looked that appealing since we were first forced into obligatory public bailouts.

Payday: The Heist
We also had a whiff of Postal 3, featuring that immature postal dude, ruder than Viz's Postman Plod and as trustworthy as the Royal Mail. I can almost see the cats running for cover now in a world which promises a new lease of life for terrorist mastermind Osama Bin Laden.
Return to the olde
Everyone returns to tried-and-tested franchises and say what you will, but there's nothing wrong with revamping characters we've all come to love. There's an exciting line up of familiar titles heading our direction from every which way. Many have already been mentioned above, but tons of key names remain, the biggest of which is probably Tomb Raider.
Square Enix has rescued Lara Croft - or could it be the other way round? - only to ship her off to a desert island as a young inexperienced explorer. The Tomb Raider trailer is quite impressive and worth a look-in if you get the chance.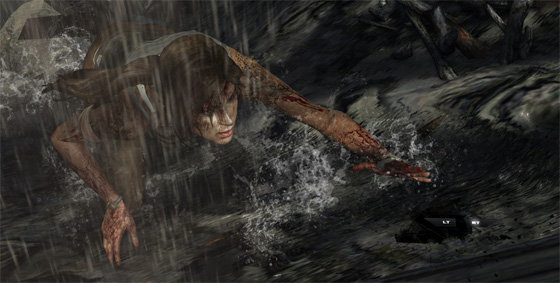 Tomb Raider
The publisher posted huge losses in Q1 this year and there was much talk of Final Fantasy being the only trick up left up its sleeve. Many fans would say even that has been in nosedive. The magic returns again, though, in Final Fantasy XIII-2, which was on show with fresh gameplay mechanics and promises of less linearity. Let's hope it doesn't brick PS3s this time, ahem.
Another huge franchise refresh, which I for one am impatiently trembling my leg over, is Bethesda's Elder Scrolls V: Skyrim. With the RPG set for return on this November's armistice day, it represents perhaps the only title big enough to survive being launched two days after the next Modern Warfare.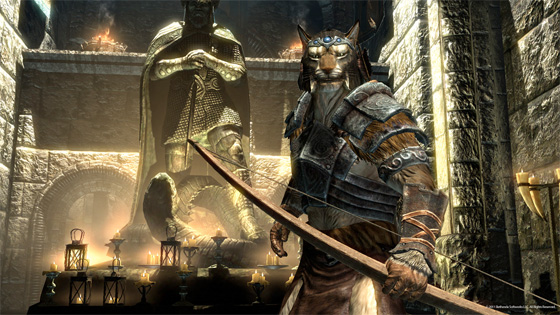 Elder Scrolls V: Skyrim
Elsewhere, Ubisoft discussed its annual appearance of Ezio in Assassin's Creed: Revelations, which as the name suggests, will clear the confusing storyline up, so as not to go on and on like Lost, apparently. The publisher also made everyone fasten their seatbelts for Driver: San Francisco, out this September.
On the topic of cars, Forza 4 is revving engines for its October release, while EA revealed yet another NFS revamp in Need for Speed: The Run, which takes players out the realm of car chases and into parkour-style pursuit instead. It also promised a return to snowboard classic SSX Tricky, while talking up a Mirrors Edge 2 release that will apparently run on Battlefield 3's Frostbite 2 engine.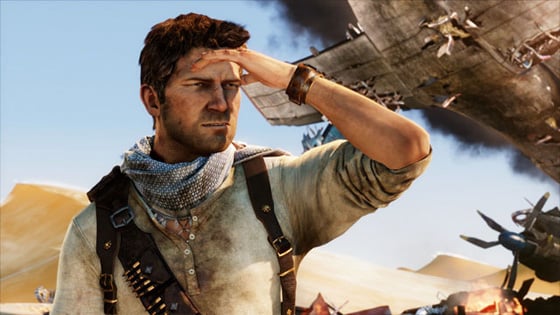 Uncharted 3
Konami was at hand to offer a glimpse of Metal Gear Solid HD, while telling us all to turn down the lights later in the year for the frightening Silent Hill: Downpour. Meanwhile, there is a much-sought return to the sword-swashing fighter genre in SoulCalibur V.
Let's not forget Uncharted 3, which was heavily on show, as well as another dose of gang war in Saints Row: The Third. Then there's 2K's The Darkness 2, and Twisted Pixel showing off its own franchise refresh with Ms. 'Sposion Man.
We're very happy of news that Demons Souls - one of our favourite games of 2010 - is also planning a comeback in Dark Souls and promises even greater difficulty.
Plenty of other titles fill the gaps, including the zombie-packed thriller Dead Island and Bethesda and iD's Rage, both out this September.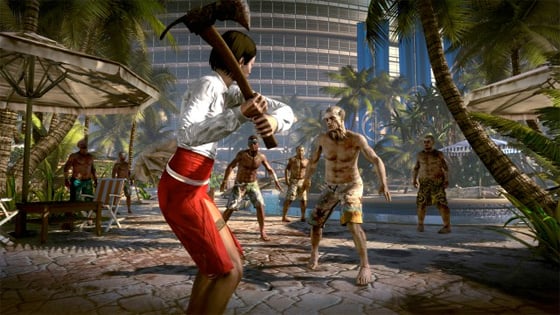 Dead Island
Then, of course, there was the mouth-watering taster of Lucas Arts' forthcoming MMO, Star Wars: The Old Republic.
I think I'll stop there and catch my breath. I've clearly failed to mention them all, such is the sheer number, but the juiciest are there methinks. My biggest disappointment, though, is no real mention of Max Payne 3, which was supposed to be released last year. Rockstar was too busy fending off rumours of GTA V to offer clarity, although the game is still being developed, apparently, and should see release later this year or early next.
Despite staying up late and watching it all unfold from the relative discomfort of a grotty London flat, it has been an exciting few days and if I don't make it to E3 next year, I'm going to cry like a little girl. Send donations for the 2012 Caleb Cox E3 Fund to the usual address please. ®