Original URL: https://www.theregister.co.uk/2011/06/09/games_reviews_hunted_the_demons_forge/
Hunted: The Demon's Forge
Take a bow
Posted in Personal Tech, 9th June 2011 12:00 GMT
Review Let's get one thing straight, Hunted: The Demon's Forge is not an RPG.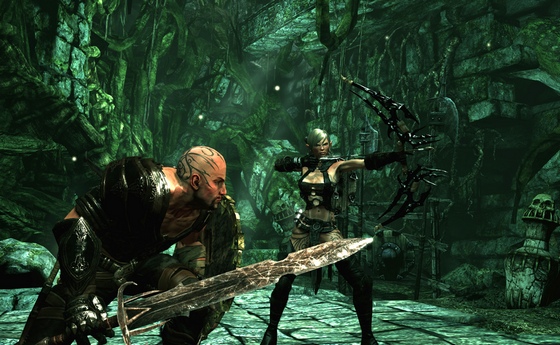 Hanging in the green room before a shoot
Sure, you fight through enough besieged villages, possessed forests and dank and gloomy dungeons to fill Middle Earth twice over. Your standard enemies, the Wargar, bear an uncanny resemblance to Orcs. You wield enchanted weapons and cast pyrotechnic AoE magic spells. And every place and character name sounds like developer inXile's been playing Scrabble with a special edition Lord of the Rings rack. But Hunted has more in common with God of War and Gears of War than it does Elder Scrolls or Dragon Age.
The game strips away almost every RPG convention, paring back the template to within an inch of its credentials. There's no character customisation, levelling, crafting or trading. NPC conversations are rare and brief. There are no marketplaces or taverns to loiter in. Missions are strictly linear affairs, save simple additional objectives and a handful of secret areas. Indeed, the only RPG remnants are a featherweight system of skill-trees and, of course, combat – lots and lots of combat.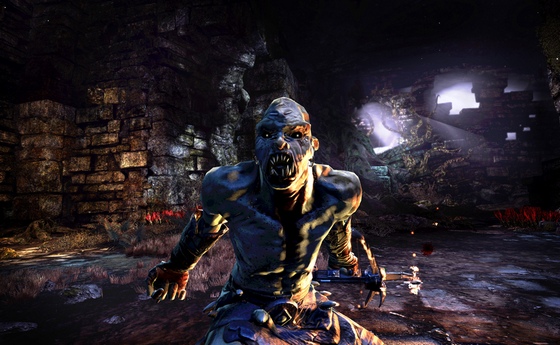 Help, I need a root canal
At its core then, Hunted: The Demon's Forge is little more than a brawler-shooter hybrid set in an RPG universe. What it eschews in traditional RPG elements, it replaces with a gamut of action ones: cover-shooting, headshots, combos, executions, even roadie runs and mounted gun set-pieces.
Who's in control?
You control Caddoc and E'lara, two mercenaries embroiled in a thinly-sketched and woefully-familiar adventure centreing around evil hordes and enslaved villagers. A human warrior and elven archer, Caddoc and E'lara's traits form the game's cornerstone mechanic. Although both wield mêlée and long-range weapons, Caddoc's naturally suited to close combat, while E'lara's most effective at distance from behind cover.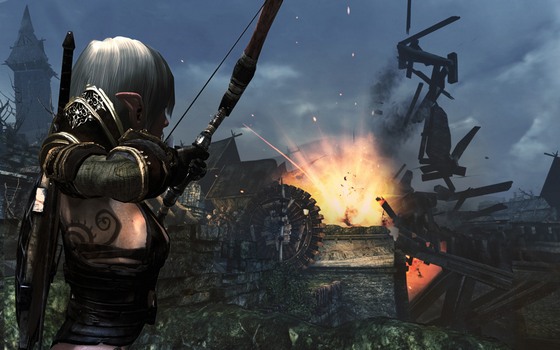 Light at the end of the arrow
That's nothing new, of course – archers have provided ranged support for warriors since the inception of the fantasy genre. But the combination of real-time combat, third-person perspective and cover-based shooting makes for a novel take on the Action-RPG formula.
Of the two characters, E'lara steals the show – and not just for her scant attire and willowy elven figure. Despite a decent range of combos and magical abilities, Caddoc's hack-and-slash combat proves unsatisfying beyond the first couple of hours, whereas pulling off headshots with E'lara's bow and arrows entertains throughout.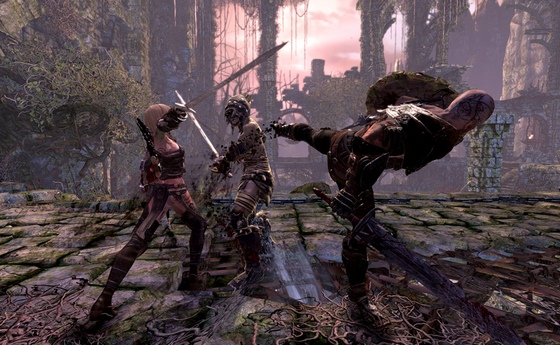 If at first you don't succeed, leg it
A suite of combinable magic abilities adds tactical variation to combat. For instance, Caddoc can hurl multiple enemies into the air where they're more vulnerable to E'lara's arrows. The system works admirably in split-screen and on-line co-op, but largely fails when playing alone. Constrained by the real-time mechanics, and without the aid of traditional RPG action cues, your partner's AI, although competent in basic combat, is much less dependable when pulling off combined attacks.
Switch it up
Compounding the problem in single-player, you can only switch between Caddoc and E'lara at portal switches, located sporadically between combat areas. It's an odd, restrictive design offering little strategic purpose, providing instead a simple opportunity to break up long stints playing as either character.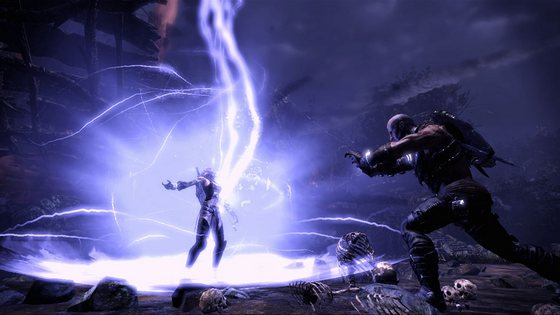 Shocking behaviour
It's not the only odd design decision. Some items can be picked up merely by walking over them, where others require button presses. Similarly, mana is replenished automatically when reserves are low, while health top-ups require another button press. Stranger still, there's no map whatsoever. A Dead Space-style glowing breadcrumb trail works well to keep you directed along the main path, but a map is sorely missed when exploring off-trail for secret areas and treasure. Nowhere more so than in towns and villages, where crowded architecture and muddily-textured walls conspire to create confusing labyrinths.
Equally confusing is the decision to save the most intricate puzzles for the game's final few hours, long after most players will have abandoned the game. For those who do soldier on through its relentless combat, however, Hunted serves up more of the same through its Crucible map creator. Here you can string together multiple arenas into hour-long quests, selecting enemy spawn types and numbers, loadouts and gifts or punishments for your characters. It's a simple, yet versatile system which allows for potentially limitless combinations. In any other game, the Crucible would be a welcome addition. But after the eight-hour drudgery of the main campaign, I suspect few people will have the stamina for more.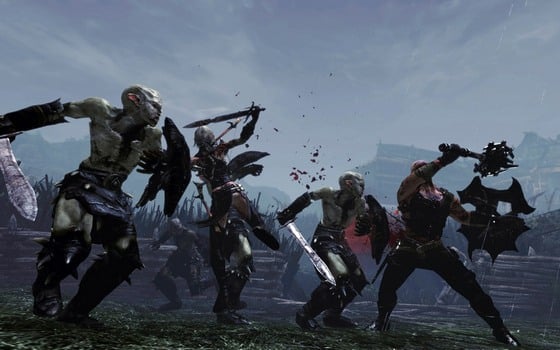 Duty on the Battlefield
Verdict
Hunted aims to make a niche for itself in a crowded genre and, in truth, carries the germ of an idea that deserves further exploration. More combos for Caddoc, a few more spells, a couple more RPG elements, that's all it would take to elevate the game above mediocrity. As it is, despite some early promise, Hunted takes longer to play than it does to forget. ®
More Games Reviews

LA Noire
Dirt 3
Brink
Darkspore
SOCOM 4