Original URL: http://www.theregister.co.uk/2011/06/08/review_hannspree_hannspad_android_tablet/
Hannspree Hannspad 10.1in Android tablet
Finger flickin' good
Posted in Personal Tech, 8th June 2011 12:00 GMT
Review Hannspree is primarily known for its somewhat gimmicky range of TVs and monitors – if you ever need a TV embedded in the stomach of a cuddly toy then Hannspree has just the thing for you. Its move into the tablet PC market was therefore rather unexpected. However the new Hannspad actually turns out to be quite a pleasant surprise.
Surprise arrival: Hannspree's Hannspad
The Hannspad is only available in a single configuration. Priced at £250, it has a 10.1 inch, capacitive touch-screen display – slightly larger than the 9.7in screen of the iPad, but the key difference here is that the 1024 x 600 resolution of the Hannspad gives it a widescreen 16:9 aspect ratio rather than the 4:3 of the iPad. That makes it about ¾in narrower and taller than the iPad. It's a little thicker and heavier too, but still quite comfortable to hold and carry around with you.

Interfacing options
There's a fixed 16GB of internal storage, but the tablet does have a micro-SD card slot that will allow you to add another 32GB, if required. The operating system is Android 2.2, powered by a 1GHz dual-core ARM A9 processor.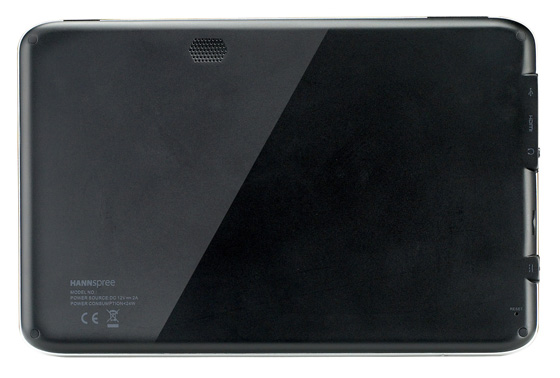 The rear speaker is certainly bass light
Other hardware features include a USB port for file transfer, mini-HDMI, headphone jack and built-in microphone. The Hannspad includes 802.11n wifi and Bluetooth networking, but there's no 3G and no camera either – although, personally, I didn't miss either of those features.
Spreken ze deutsch?
Hannspree includes a respectable set of apps to get you started, with key apps such as the e-mail program, web browser, and the music and video players located in a dock area at the bottom of the main Home screen. You can also connect to Hannspree's own App Centre to buy and download additional apps.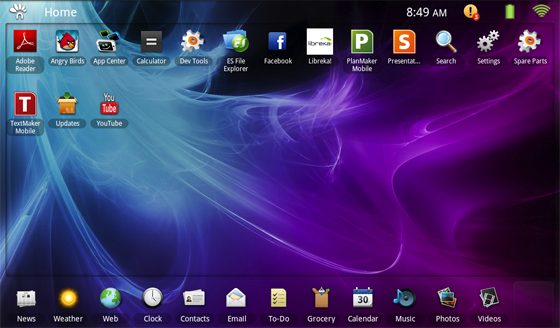 Home screen
The only glitch here was that our review unit was shipped from Germany and its e-Book app was still in German. However, Hannspree assured us that the app will be translated for the tablet's UK release.
The touch-screen controls aren't quite as smoothly responsive as those of the iPad or some of the more expensive Android tablets – you definitely need to apply a little more pressure when tapping on icons to launch apps, or when typing with the on-screen keyboard – but it's not so bad that this becomes a major irritant. You can also use multi-touch gestures, such as 'pinching' with two fingers to zoom in and out when viewing web pages and photos.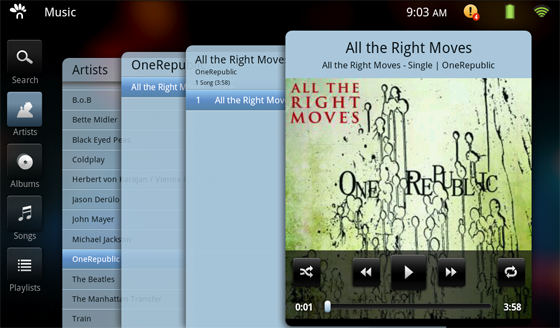 Music player
The slight sluggishness of the touch-screen controls was my only minor complaint, and the various apps all seem to work quite effectively. The widescreen aspect ratio works well for watching video and browsing web pages. I was also pleased to see that the Music app could handle AAC music files from iTunes on my Mac – even though that format isn't mentioned on the tablet's spec sheet.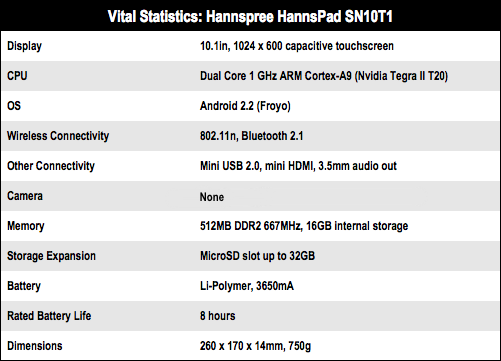 Basic principles
The built-in speaker sounds a bit tinny, but the headphone output is loud enough if you want to listen to music or watch films on a train or plane. The eight-hour battery life is certainly more than adequate, even if it's not a match for the 10-hour iPad. However, the Hannspad's Flash support meant that I could watch films on-line with my LoveFilm account – something that I still can't do with my far more expensive iPad.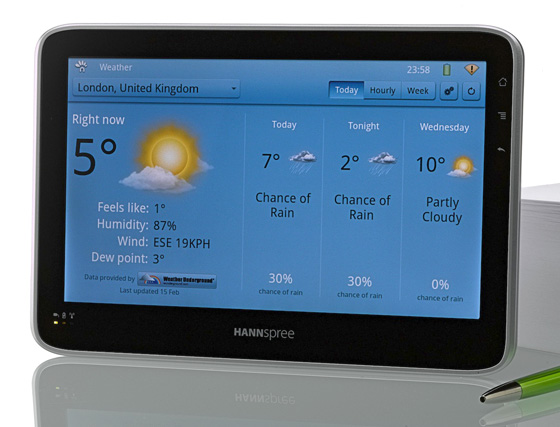 Decent spec, decent price too
Verdict
It lacks the polish of the iPad, but for just £250, the Hannspad is a very respectable entry-level tablet device. It may be missing frills such as a camera and 3G connectivity, but it gets all the basics right and is well worth considering if you don't want to fork out £400 or more for an iPad, Xoom or Galaxy tablet. ®
More Tablet Reviews

Acer
Iconia Tab
A500
Archos
70
RIM
BlackBerry PlayBook
Motorola
Xoom
Apple
iPad 2