Original URL: https://www.theregister.co.uk/2011/06/07/review_jawbone_era/
Aliph Jawbone Era motion sensing Bluetooth headset
Do the shake 'n' chat
Posted in Personal Tech, 7th June 2011 07:00 GMT
Review Hands-free connections for mobile phones have come a long way from wired earpiece-and-microphone combos. Mind you, it's still a comic pleasure to see people using these as they hold the microphone near their mouths just to be sure. The arrival of Bluetooth nixed the cables but created problems of connectivity, complicated set-up procedures and often poor reliability.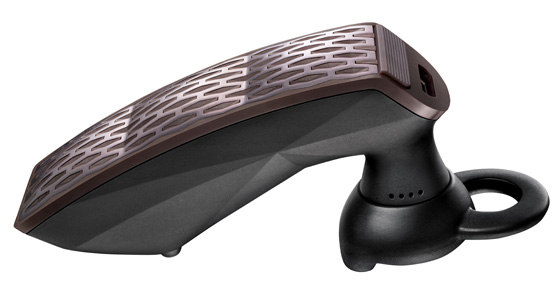 Motion carried: Aliph's Jawbone Era
The headset to really solve the faff of pairing was the first Jawbone from Aliph. It was simple, effective and beautifully designed – if laughably huge compared to the current models. Since then, Jawbones have evolved, though they still use the same underlying technology: a sensor rests on your jaw bone that monitors vibrations so it knows when you're talking, activating noise-cancelling when needed.
It works without the sensor touching your face but for optimum sound and the most secure-feeling attachment, this tighter fit is best. Jawbone supplies four sizes of earpiece in two styles – one with a springy rubber ring sticking out that holds the headset even more snugly. There's also an optional ear hook, so all lugholes should be suitably serviced.
There's a lot of technology here: high-grade noise-cancelling, multiple microphones, effective background noise elimination (even including wind, so you can drive with the window open) and neat extras. Take the voice-message which will speak how much talktime you have left – handy to know when you're about to set out on a long drive. If you're connecting to an iPhone, the Era's battery level appears on the phone's screen.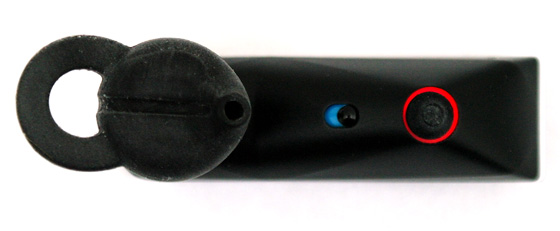 There's an ear hook available too, if you don't get on with the four rubber earpiece choices
And there's another extra that's useful: the box contains a 12v car cigarette lighter adaptor with USB socket. Attach the short USB to micro USB cable and you can pep up a flagging Jawbone as you drive. Jawbone accessories are trademark grey, which makes them stand out from the many black wires in the tech-friendly household.
Pressure points
Some earlier models had a pressure-sensitive power button which made it all too easy to switch the darn thing off as you pushed it into your ear. The Era has a sliding power switch which is much better. In fact, there's only one button on the device, and you rarely need that. The Talk button is placed on the corner of the Jawbone, just where it fits into the ear. A double tap on it calls the last number dialled.

The Era comes in a variety of designs
It's also used to accept, reject and even make calls with voice dialling, but you can achieve the same end, thanks to the motion sensor built in, by tapping the headset's main body twice. This tapping system worked with absolute reliability. You can also shake the Era. If the headset's on the table as a call comes in, say, a double-shake answers it before you plonk it in your ear, which is great if you're otherwise about to miss a call.
A quadruple shake puts the Era into pairing mode if you're connecting it to another phone. Of course, it would be good if the motion sensor did more. Like, I don't know, spotting when your head is drooping because you were about to nod off at the wheel, but it's not that kind of sensor. Well, for now it's a neat addition.
The Era has an automatic volume level which seems to work well in a variety of circumstances. If you want to change this level you can, by holding down the call button so it cycles the volume up and down, though I'd have preferred a rocker switch.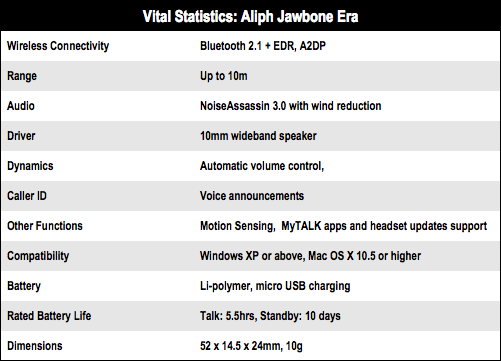 Reading aloud
Battery life is good – around five hours between charges – and you can recharge from flat to 80 per cent full in half an hour. There's also MyTalk, a downloadable software system that delivers extra apps. Like caller ID by name. The Era automatically reads the number of the caller aloud – with this download it's programmable to say up to 20 callers' names, though this requires manually dragging names and numbers from your address book.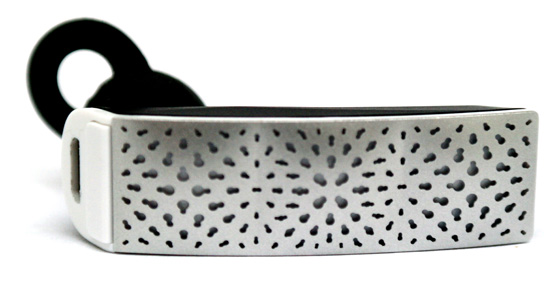 Pricey, but solid and sophisticated
MyTalk can also add an onscreen battery meter on BlackBerry and other handsets. You can even opt for different voices for audio prompts, though these are not as amusing as they think they are. The Era comes in bunch of demure shades that all look good ranging from silver through to black, some with a neat red underlay.
Verdict
The Era is the latest in a great series of Bluetooth earpieces. It's small and light, powerful and, best of all, reliable. Once it's paired, it stays paired. Once in your ear, it'll stay put (though don't just wear it indiscriminately, that just looks silly). Sound quality is outstanding and operation pleasingly simple. The additional features offered by the downloadable updates are neat too. By all means this is not a cheap Bluetooth headset, but it's certainly the best. ®
More Gadget Reviews

Jawbone
Jambox
Iomega
SuperHero
Nokia
DAB Headset
Zomm
wireless leash
Sony Ericsson
LiveView remote