Original URL: http://www.theregister.co.uk/2011/06/07/review_e_car_smart_fortwo_electric_drive/
Smart Fortwo Electric Drive e-car
Pop to the shops
Posted in Science, 7th June 2011 12:00 GMT
Review If the key to making a good e-car is keeping the size and weight down then the Smart Fortwo - a fine example of what can be achieved with a clean sheet of paper, an open mind and no regard for such bourgeois eccentricities as rear seats or a boot - should make an ideal candidate for electrification.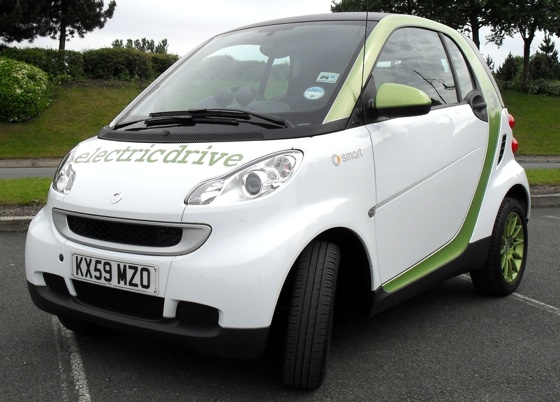 Smart's Fortwo ED: the ultimate urban runaround?
Before anyone gets too excited, I should come clean and clarify that you can't actually buy a Smart ED at the moment. The cars currently rolling off the Hambach production line in France with Tesla-supplied battery packs are limited run demonstrators for use in field trials and for lease to select commercial customers.
A second-generation ED will have a more advanced lithium-ion power pack, currently under development by Daimler and Evonik, and will go on sale to the general public in around 12 months' time at a price Yet To Be Determined.
The differences between the electric and petrol Fortwo are straightforward. Out goes the rear-mounted 999cc petrol engine and gearbox, and in comes a water-cooled 16.5kWh lithium-ion battery pack, single-speed transmission and electric motor.
The motor has a nominal power output of 27bhp (20kW) but if you put your foot down you get 40bhp (30kW) for two minutes - a sort of electric kickdown.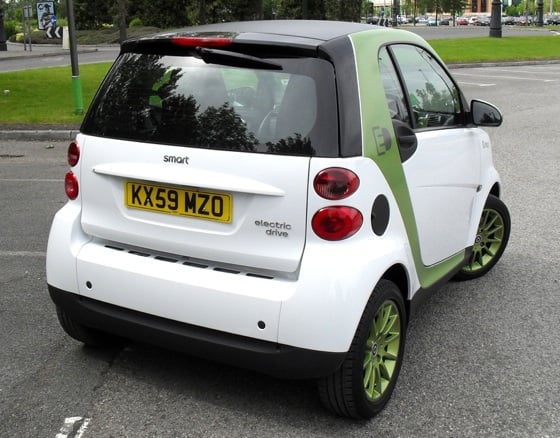 The ED in its natural habitat: shopping centre carparks
Clearly those numbers do not suggest much in the way of outright speed, but the 120Nm (88 lb ft) of torque available from the off means you can hit 30mph in 5.8 seconds. Top speed is limited to 62mph and it takes around 15 seconds to get there.
Flat out
I can hear rumblings now about that being dangerously slow, but it's really not. Even on the busy M60 Manchester orbital motorway in rush hour it proved sufficient. Sure you have to think ahead - at 60mph, going faster is simply not an option - but the ED's performance envelope was certainly adequate for 90 per cent of my driving requirements.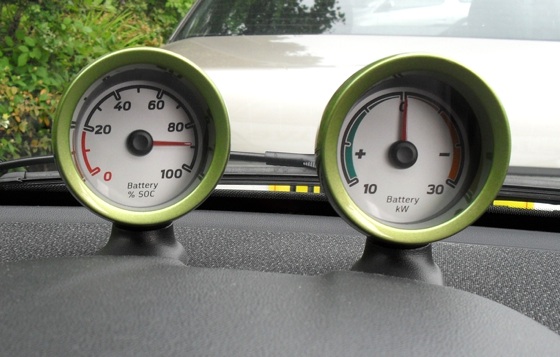 Battery info in two pods
As for range, well Smart reckons a full charge will get you 84 miles and it's not far wrong. In day-to-day use, I found I was getting an average 17 miles to every 20 per cent segment of the charge gauge - or, to put it another way, between 65 and 70 miles before I reached the 20 per cent remaining marker and started thinking seriously about finding a plug or walking home.
By driving more slowly and with more considerate use of the the regenerative braking system, I have no doubt that the 84-mile range could be achieved.
Once you are out of juice, re-charging is a simple case of plugging one end of the cable into a 240V three-pin socket and the other into the receptacle that sits where the petrol filler nozzle usually goes. Small LEDs light up to let you know power is flowing.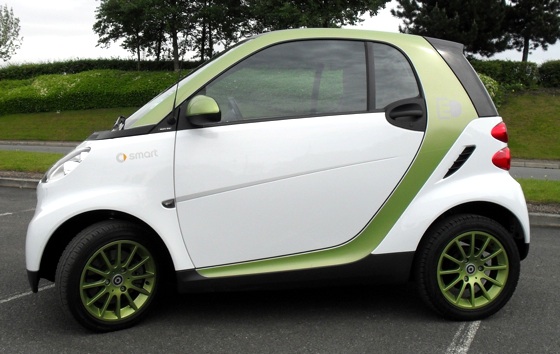 Shorter than some cars are wide
Ideally, you need secure or off-road parking to charge but an extension lead running through the garden and joining the charge cable in a weather-proof housing proved more than up to the job. Luckily, I can park right next to my garden wall, keeping the charge cable more or less hidden from casual glances and felonious passers-by.
Charge ahead
The handbook says a full charge from flat will take around eight hours while a top-up from 20-80 per cent will take 3.5. I'd add 30 minutes to that second figure but most of the time I simply left the car to charge overnight - just one more thing to keep juiced up along with my phone and laptop.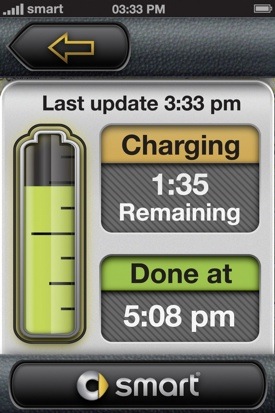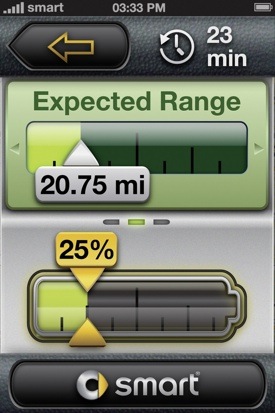 App-lause
If the weather is either very hot or very cold the air conditioning system can be set to raise - or lower - the car's cabin temperature to a pleasant 22° Celsius while the car is still connected to the mains.
Come 2012 there will be iPhone and Android - and probably Windows Phone 7 - apps to help you manage your ED from checking the battery status remotely to finding a charge point when you're out and about.
Behind the wheel it's only the noise - or rather the lack of it - and the absence of gear changes that gives away the ED's motive power. Under hard acceleration, the brushless motors emits the same distant turbine-like whine as Mitsubishi's iMiEV and Nissan's Leaf. It's not an unpleasant sound.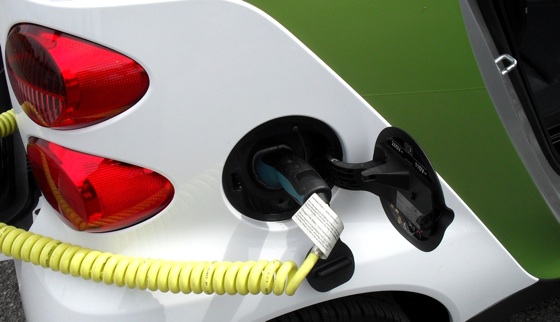 The cord goes in where the petrol used to
That near silence can be a bit of an issue in car parks and built-up areas - the number of idiot pedestrians who stepped out in front of me over the course of a week beggared belief. Forget fitting electric cars with an audible means of approach, we need to start running these buffoons over in the interests of Darwinian selection.
The Smart Fortwo ED in pictures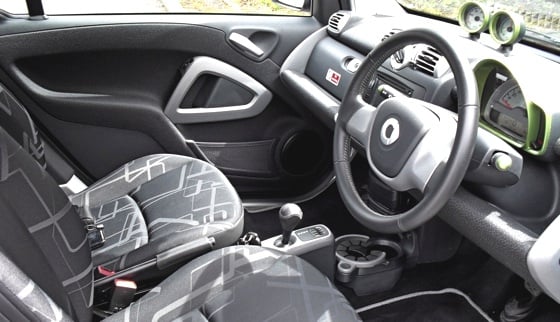 Plenty of space up front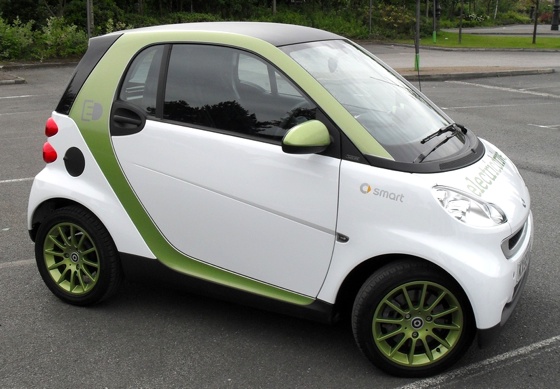 YOUR CAPTION HERE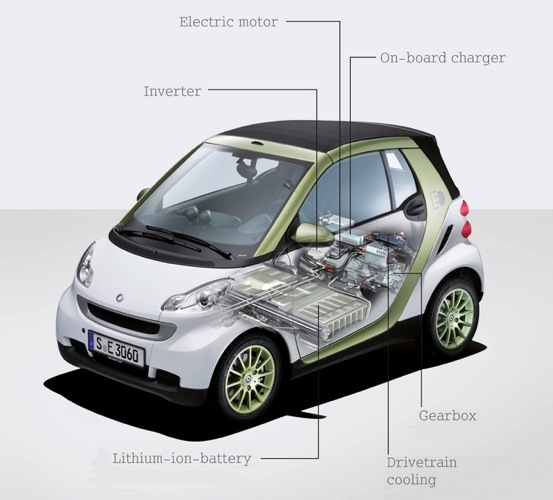 What bits go where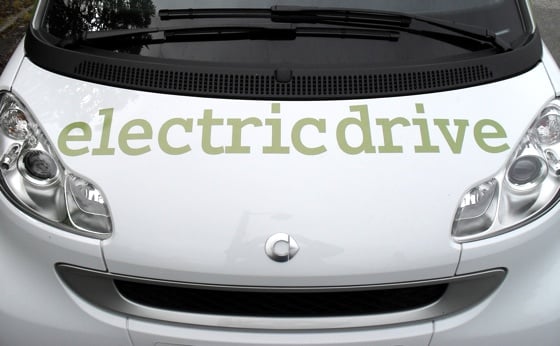 No question what the power source is
Cabin fever
Inside, the ED is identical to the other models in the range apart from the battery status and charge/depletion gauges that occupy the circular dash-mounted modules that usually house the clock and tachometer.
If you want rear seats and a boot, you've picked the wrong car
For such a small car - the wheelbase is 187cm, the total length 270cm - there is plenty of room for both driver and passenger, and with air conditioning, a 6.5in touchscreen entertainment and navigation system with Micro SD card media slot, and a leather steering wheel the ED is hardly what you'd call spartan.
At 890kg, the ED adds 140kg to weight of the petrol model - the battery pack accounts for 143kg - but the extra weight lowers the centre of gravity to the benefit of both grip and handling. With so little power this is clearly not a performance car but it is extremely stable, even in cross winds, and very agile.
Annoyances such as they are mirror those I've encountered in petrol-powered Fortwos. The rear view mirror is a stupid shape and too large - imagine the interociter from This Island Earth stuck upside-down to the windshield and you get the idea - and the gear selector is angled for left-hand drive markets making it impossible to see the selector position indicators from the driver's seat.
Verdict
Even though it's not a retail-ready product, the Fortwo ED needs no apologies made for it. Sure it may not be the fastest thing on four wheels but up to 30mph it doesn't embarrass itself and the convenience of gear-less electric motoring combined with body shorter than some cars are wide - well, almost - makes it nigh-on perfect for zipping around city centres. ®
More Car Reviews

Fiat
500
TwinAir
Honda
Jazz
Hybrid
Ford
Focus
Toyota
Auris
Hybrid
Vauxhall
Ampera