Original URL: https://www.theregister.co.uk/2011/06/07/apple_wwdc_ios_5_lion_hail_or_fail/
Apple iOS 5 and iCloud examined
We rate the key announcements
Posted in Personal Tech, 7th June 2011 09:33 GMT
Hail or Fail The keynote speech at Apple's Worldwide Developers Conference may have kicked off with a demo of Mac OS X 10.7 Lion that we've seen before - the only real news was its launch date, July, and low price, $30 (£18) - but the iOS 5 and iCloud announcements were packed with juicy details.
It's crucial to look ahead. Many of yesterday's announcements seem to be catch-up manoeuvres, but they reveal on closer inspection the potential to push iOS and iCloud well beyond the competition.
Here's what we think of the key new features.
iMessage
Like the iOS-only, Wi-Fi-only FaceTime, iMessage connects iOS 5 users - and no one else. How many folk you converse with by instant message own an iDevice? Most of mine don't.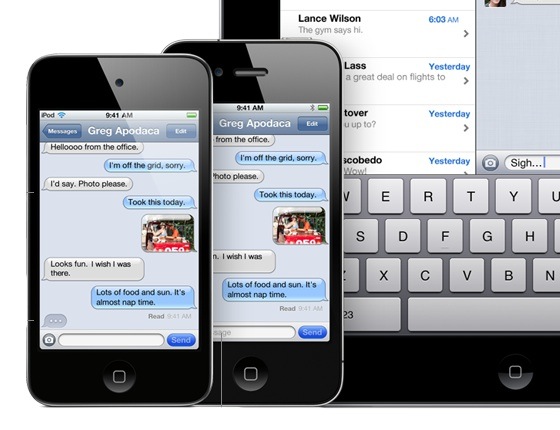 BlackBerry Message, iMessage's nearest alternative, gets used because companies buy BlackBerrys en masse, and colleague messages colleague. Maybe if big business starts buying iPhones too, iMessage will take off, but for most consumers, with pals on a variety of platforms, it's a non-starter.
Verdict Fail
iTunes Match
Or, 'Apple turns the torrents into a money maker for music labels'. iTunes Match may be nominally a way to archive your ripped CDs in the cloud, but it has the potential to do a very nice job monetising peer-to-peer downloads.
You download the new Lady Gaga album from a torrent, but you feel guilty about stealing. So you pay Apple - and through it the labels - $25 (£15) a year to magically convert that download into a legal copy. And likewise all the other albums and songs you pinch.
It's not an all-you-can-eat subscription, but it's close enough. The nominal 20,000-song limit will satisfy anyone who actually spends time listening to music rather than merely hoarding downloads because they can. And Apple's archive of songs is likely to contain almost all popular torrent downloads now that pretty much every release goes straight to iTunes by default.
The question is, do torrenters feel sufficiently guilty to cough up Apple's de facto torrent legalisation subscription? Many won't but a lot will.
Expect iTunes Match to really take off when Apple adds support for all those iffy AVI files...
Verdict Hail
iCloud
As it stands, iCloud is no Dropbox. Apple's cloud service is about data storage, not file storage - a subtle yet key difference that takes a longer-term view when we go beyond file names but look instead at the metadata stored within.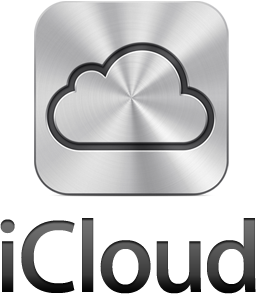 Dropbox sees this too, and has already released APIs to help apps tie directly into the services and make it more than an online file folder. There are lots of apps that don't support Dropbox this way, and there will be plenty that don't support iCloud's store-and-sync space, either.
But such will be the Apple service's graviational pull - millions of iDevice and Mac users will sign up at the off, this coming autumn - that developers will inevitably shift toward it. Many will support both - plenty will start with iCloud.
Broad developer support will be essential for iCloud to realise its potential and become so much more than an online music locker.
Verdict Potential Hail
PC Free
At last, no more cables. You'll still need to fire up your computer to transfer files back and forth, even if you do it over Wi-Fi rather than a cable. Maybe this is where Apple's rumoured Time Capsule Nas box refresh will help out, as an always on local media store.
Either way, OS 5 marks the first big step away from Apple's iTunes software, an app - especially in its Windows form - rather a lot of users dislike.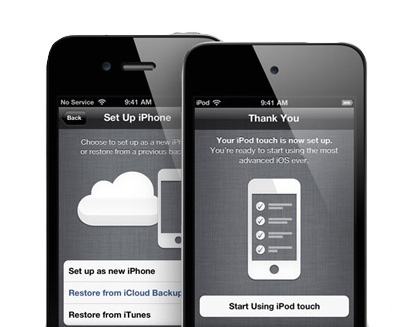 Syncing is small part of the shift - being able to activate and use an iPhone, iPad or iPod Touch without having to connect then to a computer is a leap forward for the platform - and for Apple's coffers. With no computer connectivity, device owners are far more likely to acquire content from Apple than from other sources. Automatic over-the-air firmware updates will ensure more people keep their handsets up to date, easing Apple's scope to deprecate old versions.
Verdict Hail
iOS 5
iOS 5 is a big improvement, and closes some important gaps where the competition has surged ahead. Forget all the "200-odd new features" spin, there a simply some key usage enhancements - a physical camera shutter button, the volume-up key; picture editing; more secure, easier to read Mail; Twitter integration - though why no Facebook, Apple?; over-the-air updates; and, centrally, a new notifications system - that will make this a must-have upgrade.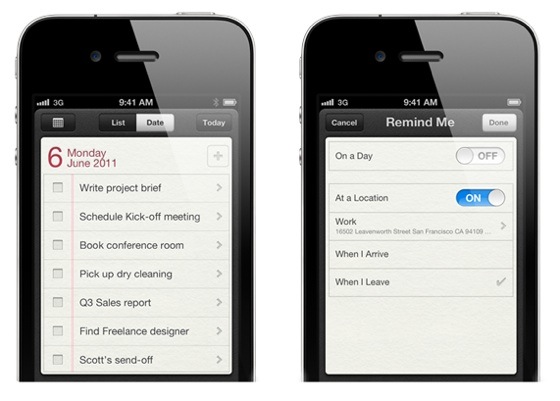 Personal favourites: the splittable virtual keyboard on the iPad, making it much easier to type using your two thumbs, and the location-aware to-do list, Reminders, which has the potential to become a very powerful action trigger tool.
Verdict Hail
iOS 5 Notifications Center
This will be so central to the iOS 5 experience that it warrants separate consideration. It's not merely a less intrusive replacement for iOS 4's modal notification panels, it's Apple's take on UIs like HTC's Sense and even Windows Phone 7. The main notifications readout panel already has weather and stocks displays, and it will surely be extended to become a dynamic status panel to match if not in looks then certainly in functionality WinPho 7's tiles.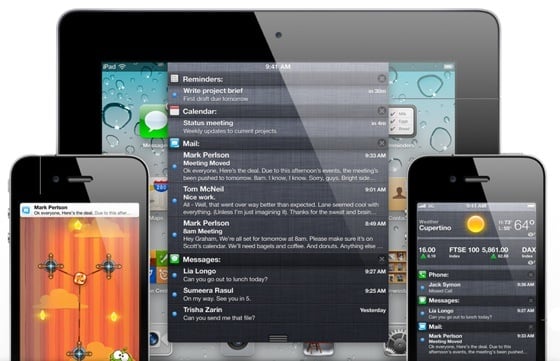 Users, we suspect, will quickly come to use the notifications panel in place of the standard Phone and Messages apps - surely set to then disappear into the belly of the OS - and probably many others too. iOS 5's Twitter integration is a case in point, and developers working on apps to tie iOS into popular services should proceed with caution.
How long before it becomes the de facto iOS UI, and the app list sits off to the side?
Verdict Hail