Original URL: https://www.theregister.co.uk/2011/06/06/review_lg_optimus_3d_p920/
LG Optimus 3D dual core Android smartphone
Outstanding display?
Posted in Personal Tech, 6th June 2011 11:01 GMT
Review Fancy a Nintendo 3DS so you can play 3D games on the move but don't have the pocket space for a console and a mobile? LG has come up with an alternative in the (sizeable) shape of its Optimus 3D. Like the Nintendo games machine, this phone offers 3D without those darn glasses you need at the cinema. And it also has twin cameras, so you can shoot 3D stills and video.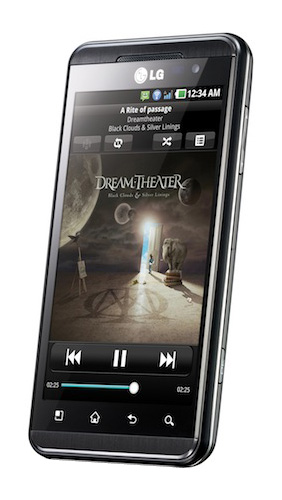 LG's Optimus 3D adds a new perspective to the gamephone combo
Nintendo has this too, but here the camera is made up of two 5Mp sensors. The Optimus 3D also has access to the selection of 3D videos available on YouTube, though this is not huge, yet. So, how does the 3D effect work and is it worth the bother?
Launching 3D is easy: a dedicated button sits on the right edge, exactly where you'd expect to find a camera trigger, in fact. Turn the phone to landscape orientation and you're ready to go, to view 3D photos and video, or play games. The 3D hub even comes complete with 3D graphics.
As with Nintendo's console, the joy of not wearing glasses is considerable. But it does mean you have to have your eyes in just the right position. Move your head or the phone – which you're likely to do when you're pressing on the screen or tipping the phone to steer a vehicle in a driving game – and the effect is ruined and you're left with a jarring, ugly, double-image. It's annoying.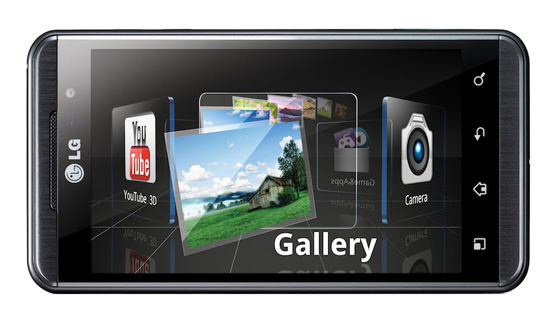 3D menus too
Stick with it and you get used to it. Once you've learned the optimum angle you can begin to enjoy the effect. And it's pretty good. Driving games, we know, benefit the most because it's suddenly much easier to gauge distances and corner better, or at least stay on the track.
Swinging club
There's Let's Golf, pre-installed on the Optimus 3D, which is another success as you gaily swing your club and watch the ball fly through the air. If the 3D effect is too much, or not enough, you can adjust the ferocity of it to suit – again this dialling down feature is shared with the 3DS console.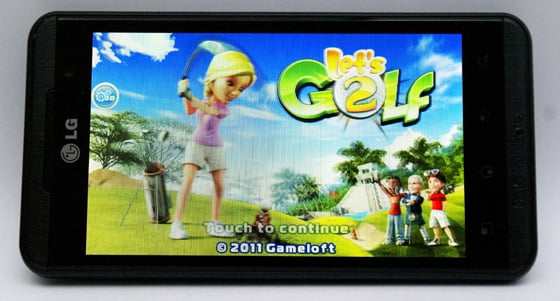 3D golf, anyone?
The twin cameras take impressive still shots, which you can play back in 3D on the phone. It quickly becomes apparent that photographs sink or swim depending on the content. Images with depth of field look great, but portraits with limited background are less successful.
Shooting 3D video looks cool (you see it in 3D as you shoot) and again trial and error defines what works. It shoots at 720p in 3D but if you drop back to two dimensions, the resolution goes up to 1080p, which is very neat. You can output the content to a 3D TV easily, as the phone has a mini HDMI out connector. This is better than the connectivity on the Samsung Galaxy S II and HTC Sensation, where you need a less common micro-USB to HDMI adapter cable.
Taking shots in 2D works well, with minimal shutter lag as the autofocus does its work. Results are quite respectable but obviously don't match the quality of the best cameraphones on the market like the Nokia N8.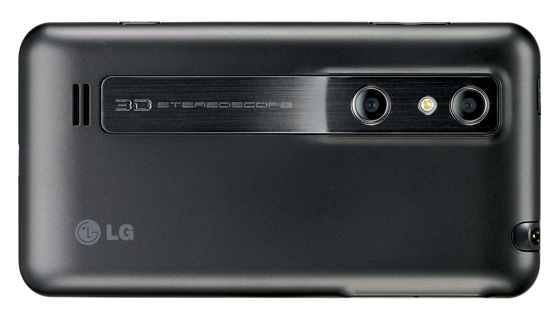 Captures stereoscopic stills and video too
Of course, the 4.3in screen means 2D games look pretty good, too. And there's the choice of several hundred thousand Android titles. In fact, the screen is pretty impressive throughout. It's not as high-resolution as the iPhone 4 but at 800 x 480, it's good enough. And if you're looking for the vivid colours of an AMOLED display, you need to look elsewhere, even so the colour palette here is lively and attractive.
Core competencies
There's also a front-facing camera on the phone, but it hasn't yet been set up to work for video calling, for example. That may happen when the software is upgraded from 2.2.3 to 2.3, as is promised.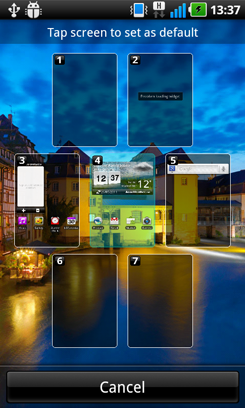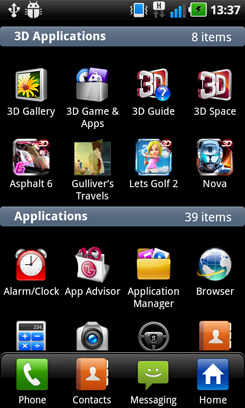 Windowed screens and apps menu
Browsing the web works well on the Optimus 3D thanks to the expansive real estate and the fast processor (it's dual-core). You're never kept waiting. Additionally, the touchscreen is fast and responsive. There are faster phones available in terms of the processor speed, notably the Samsung Galaxy S II and HTC Sensation, but this is no slowcoach.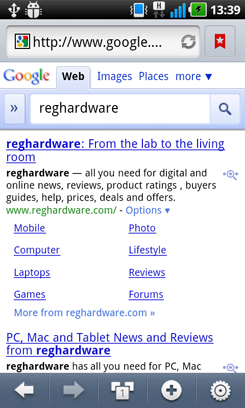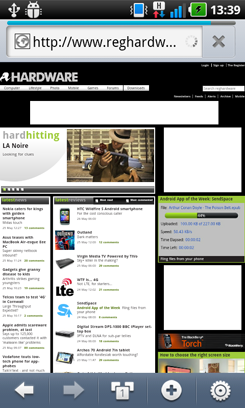 Web browsing
All Android phones have an overlay from the manufacturer but LG's is pretty minimal, mostly restricted to icons for phone calls, contacts, messaging and applications which swish from one home page to another as you do.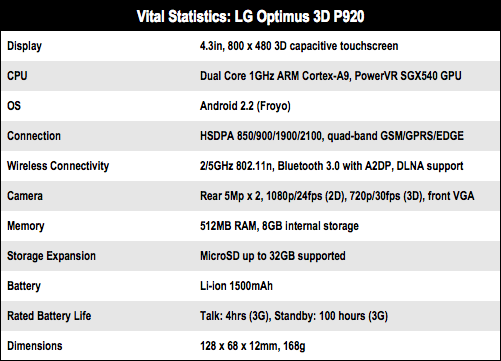 Gimmicks play loud
Beyond that, it's straightforward Android with the usual benefits (wide range of apps including stand-outs like Google Maps, customisable screens etc) and pitfalls (shockingly uneven app quality, occasionally geeky interface).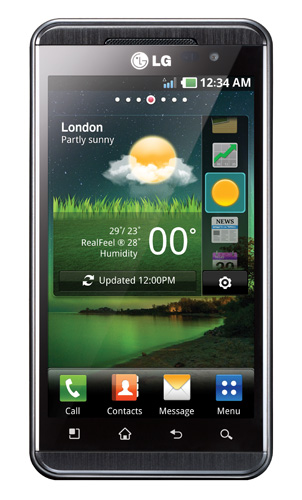 The fun only lasts as long as the batteries
Call quality is strong, even though there's no separate microphone for noise-cancelling, as found on some phones now. Signal strength was similarly problem-free. And battery life is acceptable, but not outstanding – you'll definitely need to charge each day.
Verdict
The stand-out feature, obviously, is the gimmick that is 3D and it's very well-executed. And yet the Optimus 3D has a lot more going for it, thanks to a great screen, easy connectivity for video playback on a flatscreen TV and a fast dual-core processor. Lest we forget that whopping 4.3in screen means this is a big phone: if you're one of those people who finds the iPhone largish, this one is a behemoth in comparison. Get it in your hand before you buy – anyway, you'll want to check the 3D out first, too. If the size suits you, this is a highly attractive phone. ®
More Android Smartphone Reviews

HTC
Sensation
Samsung
Galaxy S II
LG
Optimus 2X
Sony Ericsson
Xperia Arc
Motorola
Defy