Original URL: https://www.theregister.co.uk/2011/06/03/toshiba_launch_the_thrive/
Toshiba reveals iPad 2 rival
Thrive in business
Posted in Personal Tech, 3rd June 2011 11:05 GMT
Toshiba has unveiled details of its forthcoming Android slate, previously known as the Toshiba Tablet. Officially dubbed the Thrive, the Tosh fondleslab is set to undercut the fruity market leader according to the US pricing it has announced.
We had hoped Tosh delayed launch in order to wait for Nvidia's next gen quad-core chip, Kal El. Instead, it opted for this year's widely implemented Tegra 2 dual-core processor.
The 10.1in Toshiba Thrive runs on Android 3.1 with a display resolution of 1280 x 800. It features a removable battery system, full-sized HDMI and USB ports, and packs a 5Mp rear camera with a 2Mp one on the front. It comes with the choice of different coloured rubber case covers too.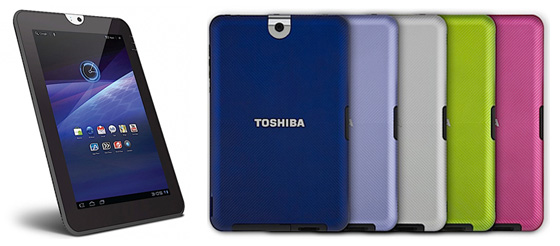 The Thrive also has a feature called USB Host, which enables the use of external devices such as a mouse or external HDDs.
Despite Toshiba manufacturing ultra-thin touchscreens, the Thrive is almost twice the thickness of an Apple iPad 2. The company has managed to keep prices marginally lower, though.
When the Toshiba Thrive goes on sale in the US this July, an 8GB model will set you back $430 (£260), 16GB will cost $480 (£294), while 32GB sells for $580 (£355).
UK pricing and availability is yet to be announced. We'll keep you posted. ®