Original URL: https://www.theregister.co.uk/2011/06/03/review_panasonic_sc_btt775/
Panasonic SC-BTT775 Blu-ray 5.1 home theatre
Let me entertain you
Posted in Personal Tech, 3rd June 2011 07:00 GMT
Review A Blu-ray-in-a-box surround sound system is always going to be a bit of a compromise – you shouldn't expect the ultimate in audio quality, but you do get the convenience of having the whole kit and caboodle configuration. In the case of Panasonic's SC-BTT775, you get a good range of features too, with 5.1 sound backed by a built-in 1,000W amplifier, 1080p upscaling, 3D Blu-ray disc compatibility and a slide-out iPod dock.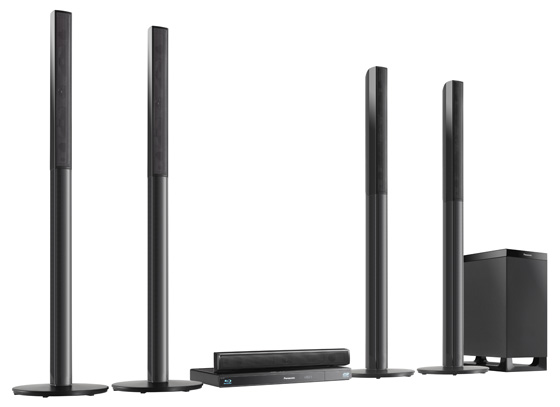 Home entertainment kit: Panasonic's SC-BTT775
The set-up consists of a Blu-ray player with built-in amp, a subwoofer and five slimline speakers which you'll need to screw together. The 102cm high tower speakers are lightweight but also feel very flimsy, as does the subwoofer. Still, the large circular feet ensures they're reasonably stable and the thinness helps them to blend into the background, despite having a jet black finish.
There's evidence of budget clipping with the centre speaker, which features the same wiring grooves at the back for connection to the speaker stands, even though they're unnecessary for the centre channel driver.
Wiring for the speakers uses Panasonic's idiot-proof colour coding to make sure you plug the correct wires into the amp at the back. Also at the back of the slimline player/amp are three HDMI slots – one out, two in – for running games consoles or media streamers through the SC-BTT775. You get Ethernet too, for internet use with BD-Live, USB for Panasonic's Skype camera, optical in, RCA phono analogue audio in and video out.

Blu-ray with all the trimmings
Flip down the front panel reveals the disc tray as well as SDXC memory card reader plus another USB slot, with this one functioning with storages devices to provide more ways to get your films on screen. DLNA compatibility on the SC-BTT775 allows you to stream content from your computer from your home network.
In the dock
Next to that front panel is a section that slides out to reveal a dedicated iPod dock, which will also charge your device while it's plugged in and allow you to control it using the Panasonic remote control. There's also an FM radio on board.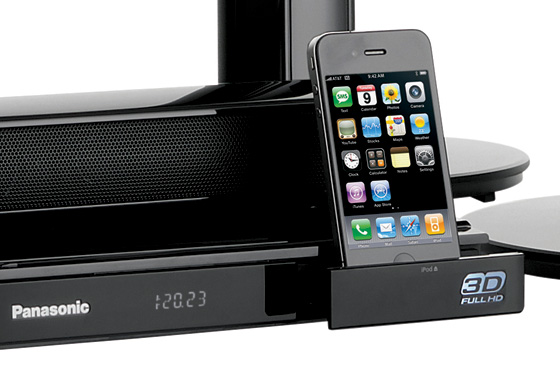 The iPod dock adds to its versatility, and there's an FM radio too
The identical front and satellite speakers each include a pair of 3.5 x 10cm oblong cone bass/mid drivers, surrounding a 2.5cm semi-dome tweeter – the centre channel uses the same configuration, minus the stand. The subwoofer, meanwhile, uses a downward-firing 16cm driver. Incidentally, the sub doesn't require an extra power port – everything runs off the main player.
The graphic interface is easy enough to find your way around, and conceals plenty of settings options for the jiggery pokers among you, including 3D settings to adjust depth and border and individual volume levels for each speaker. There's also an option to convert 2D images to 3D if you really want to get some more use out of that new 3D screen.
Panasonic's Viera Live internet portal covers the basics with YouTube, AceTrax film downloads, and EuroNews, as well as Skype and Twitter, weather, Picasa and DailyMotion video clips. Not an extensive line-up by any means, but getting better, and access using Ethernet was quick and hassle-free. There's also the option of a wireless receiver add-on, if you prefer to connect to your home network using Wi-Fi, but it will set you back around £106.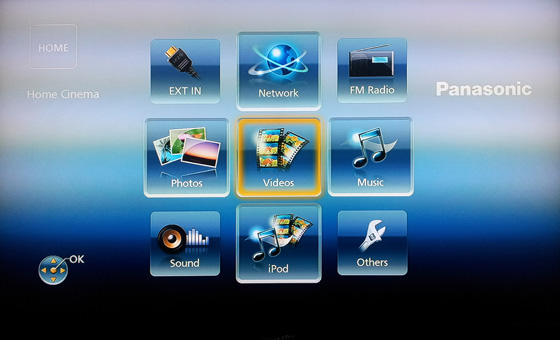 The main menu highlights the playbackback options
You can customise the main screen to feature your seven favourites and juggle them around at will with other services on the lower menus. However, there's no browser and no Brit TV catch-up service like BBC iPlayer or ITV Player either. Not yet anyway.
Slow starter
Blu-ray disc start-up isn't the quickest, about a minute seemed average. But while BDs showed up sharp and clear on screen, the upscaling tended to leave a little to be desired, with a standard DVD of the latest Harry Potter not appearing quite as crisp as I'd expected.

Easy to read remote
To be honest, while the player/amp looks sleek and slim, the speakers on their skinny towers look a bit cheap. Fortunately, they don't sound it.
Front, centre and surrounds offer crisp and clear film soundtracks, with clearly intelligible dialogue, even finding its way with little difficulty through Clint Eastwood's grunted lines in Gran Torino.
The sub hit the mark more often than not too, with meaty low-end rumble always on tap and tightly controlled thumps when required.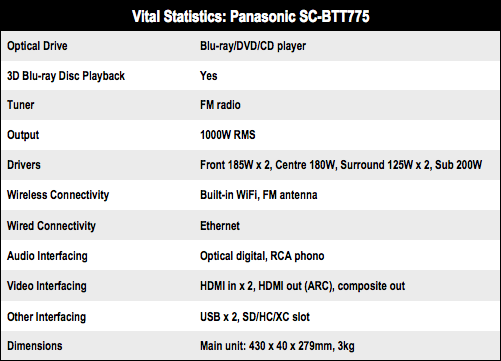 Musical box?
With music, the sound limitations become a little more pronounced, especially with content audio of the MP3 variety. The speakers are a bit on the bright side, though they're certainly quite capable, pulling out some unexpected details from Janelle Monae's busily exciting The Archandroid album. The subwoofer can sound a little thin too, without the kind of grunt required for say, your average Basement Jaxx album.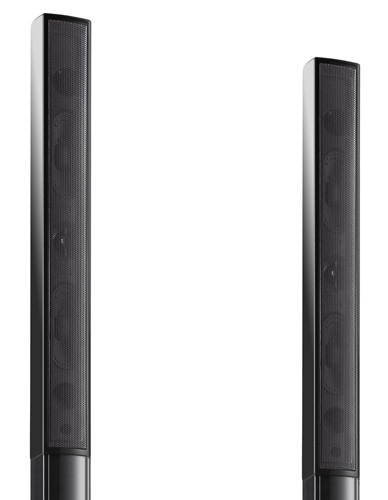 The speakers sound the part but the plastic look won't be for everyone
Verdict
Panasonic's premium Blu-ray-in-a-box package ticks boxes for convenience and for sound quality, but its upscaling abilities aren't the best and the cheap-looking speakers won't appeal to everyone. But so long as your focus is on movies rather than music, then the SC-BT775 works out as an extremely versatile system with lots of interfacing options. Indeed, as intended, its ability to deliver with film soundtracks is certainly good enough to make it a strong contender to become your home entertainment hub. ®
More AV Gear Reviews...

Logitech
Z906
Samsung
HT-C6930
Eight…
spatial soundbars
Sony
BDV-E370
Harman Kardon
SB 16