Original URL: https://www.theregister.co.uk/2011/06/03/review_echostar_hds_600rs_freesat_hd/
Echostar HDS-600RS Freesat HD recorder
DVR with Sling slung in
Posted in Personal Tech, 3rd June 2011 12:00 GMT
Review Freesat, launched three years ago, hasn't quite caught the imagination in the same way as Freeview HD, but if you don't have terrestrial coverage, or you want more channels than Freeview provides, without having to go for pay TV, it's a good option.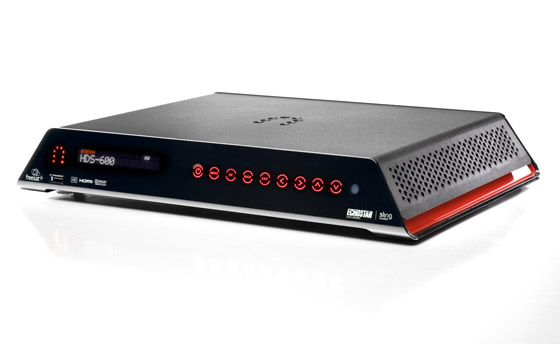 Echostar's HDS-600RS includes Slingbox functionality for remote viewing
Echostar's HDS-600RS is a digital recorder designed for Freesat that offers a unique extra – it has Sling's software built in – enabling you to access it using the internet when you're away from home. A few years back, we'd have said that was a unique feature, and it's still useful to some – though arguably a large proportion of punters will find services such as the BBC iPlayer will suffice.
Sling services aside, the Echostar is a fairly standard twin tuner satellite recorder with a 500GB hard drive; it's a slightly unusual shape, with sloping sides reminiscent of a slingbox, and the remote is similarly wedge-like, though surprisingly comfortable in the hand. It can be programmed to control the TV too.
There are no physical buttons on the front; everything's touch controlled using a panel that lights up brightly and, to be frank, distractingly. The worst offender is an animated indicator when the Sling functions are being used, though thankfully it can be turned off.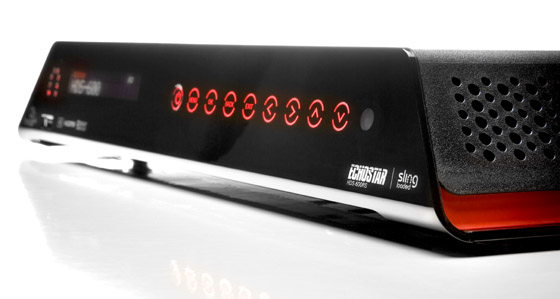 No front panel buttons but the lights do go out, thankfully
Also worth noting is that the USB ports are for software updates only; the Sling functionality is the only added extra, over and above Freesat's standard menu of live TV, recording and access to the iPlayer from the red button. You can't transfer recordings to an external disc, or view photos from a USB key. And even though there is an 'Apps' menu, at the moment it's just home to the Sling remote software.
Operational options
In normal use, the Echostar is pretty much what you'd expect – the Freesat spec doesn't leave too much that can be tweaked. The box will work with just one LNB feed if that's all you that have, though you'll need two for dual recording, obviously, and there doesn't appear to be support for Unicable installations – not that those are terribly common.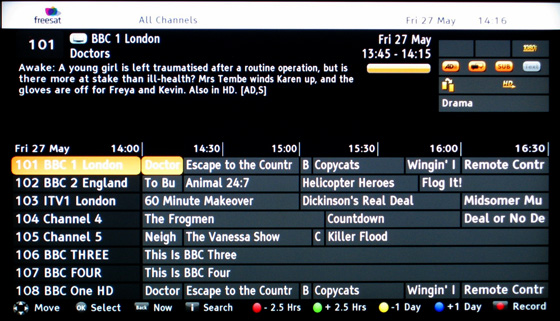 EPG
There's a one-hour pause buffer, and keys to skip forward 30 and back 10 seconds – none of which is adjustable. Nor are there any of the other tricks other boxes have, like allowing you to watch another channel on the same transponder while recording. The BBC's iPlayer is supported from MHEG on Freesat, and works well – though it doesn't feel quite as responsive as on my Panasonic TV.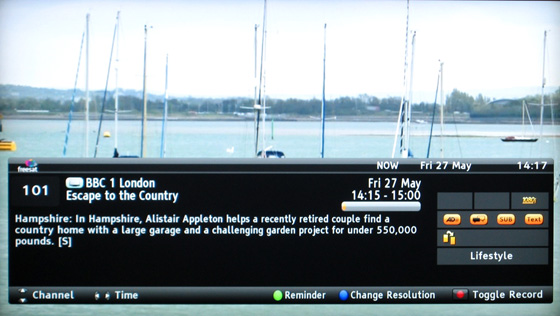 Channel info
On-screen displays are clear, with informative icons, and the box seemed pretty stable, with the exception of decidedly sluggish performance when I was scanning for non-Freesat channels. Those can be stored, but you have to dive into the settings menu and switch to 'non-Freesat' mode to access them, losing access to Freesat programmes in the process, so it's not really straightforward to watch the occasional unlisted channel.

Remote possibilities
For many people, the Sling functionality will be the main reason to buy this box. It's straightforward to set up, and didn't require any awkward firewall config, even when hidden behind a second NAT device on my home LAN, and connecting from an office Mac that itself is NATed to hell and back.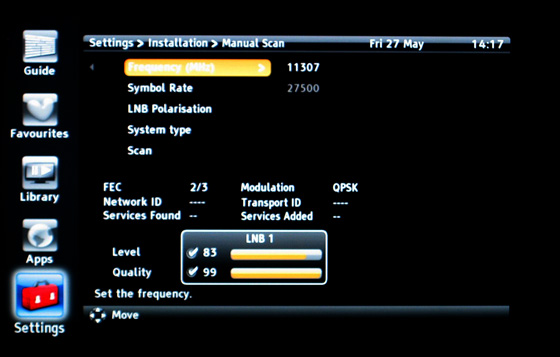 Manual tuning options
However, if you want to watch on an Android or iOS device, rather than a PC or Mac, you'll have to pay extra – the app is £18.48 on the Android Market or £17.99 in iTunes. Given the price of the box, a free copy of the player would have been welcome. Also worth noting is that the receiver doesn't work with the Symbian version of the SlingPlayer app, and the iPlayer doesn't seem to be available remotely.
Picture quality was variable – my home broadband uploads at 600kbits/sec, which is respectable enough – as the images show, with the quality set to 'Auto' you'd have a hard job reading the on-screen displays. When used with a higher quality setting, the sound started to suffer. So while it offers the ability to watch any channel you can receive live, or your recordings, if you want to catch up with EastEnders from elsewhere in the UK, you'll get a better experience using the iPlayer.

Remote viewing comes at a price, especially for mobile device users
Verdict
Overall, Echostar's HDS-600RS does the job as well as any other Freesat recorder. For most users, the big question is whether or not it's worth paying the £50 quid or so extra – £70 if you include the smartphone app – to be able to watch TV wherever you are. ®
More DVR Reviews

Virgin Media TV
Powered by TiVo
TVonics
DTR-Z500HD
Icecrypt
T2400
Humax
HDR-Fox
T2
BT vs
Sky vs
Virgin