Original URL: https://www.theregister.co.uk/2011/06/03/amd_cloud_survey/
AMD: Companies warming to clouds
Hardware still matters
Posted in The Channel, 3rd June 2011 00:14 GMT
Despite crashes and worries of security breaches, a recent poll by chip-designer AMD suggests that IT decision-makers are getting more comfortable with cloud computing. And – undoubtedly with a sign of relief – AMD discovered that despite the fluffy and virtual nature of cloudy server and storage capacity, those using clouds are still very keen on knowing what the underlying infrastructure is.
To get itself out of the echo chamber of its server OEM reseller channel and IT punditry, AMD did a random survey of IT decision-makers at 1,513 companies with 100 or more employees. Survey respondents were not pulled from AMD's customer list, but from an independent source. Participating in the survey, which was conducted in March, were 1,000 respondents from the US, 259 from Asia (China, India, and Singapore), and 254 from Europe (the UK, France, and Germany).
Of those companies, 37 per cent of organizations across all regions (including governments) told AMD they were already running at least some of their applications in a cloud. Among private-sector companies, 42 per cent are doing something on public, private, or hybrid clouds.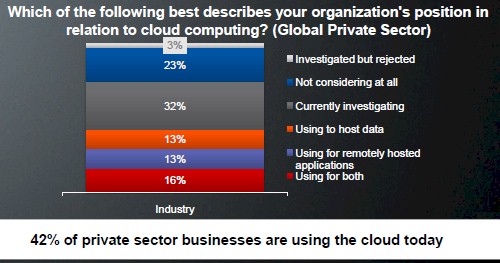 Only 3 per cent investigated using clouds for running applications or storing data (or both) and utterly rejected the idea. Another 23 per cent said they are not considering clouds for their IT apps or data. Nearly a third more of those polled said they are looking into it. Of those using clouds in some form or another, a little less than a third use clouds for compute, a similar share are use clouds for data storage, and slightly more than a third use clouds for both compute and storage.
Of those polled, 19 per cent said they were shifting to cloud computing for some of their workloads to cut costs, and 35 per cent that it was merely a tactical move to address a specific need such as data backup or rapid deployment of development and test environments. Nearly half of the survey participants who have put data, apps, or both onto clouds said that this was a strategic shift in company IT policy.
"This feels an awful lot like server virtualization did at the beginning of the last decade," John Fruehe, director of marketing for server and workstation products at AMD, tells El Reg. "Once they get their feet wet, they jump into the rest of the pool."
As you might expect, if you carve out the 32 per cent of private-sector companies that are looking into clouds, internal private clouds or hosted private clouds operated by a service provider were what they were looking at. About a third of the cloud tire-kickers said they were not sure what they were going to do, but only 5 percent said they would use a hybrid mix of public and private clouds linked through their firewalls to each other, and only 9 per cent said they were looking at public clouds. Another 17 per cent said they were thinking of using hosted private clouds (not multi-tenant, but single-tenant clouds), and 37 per cent said they wanted to do their own internal private clouds.
Fruehe says that people are "buying into the idea of the cloud, but they still want to maintain some control over it." Cloud adoption is higher in the United States than in Europe or Asia – which stands to reason, since hosting providers have transformed themselves into cloud providers in the States.
"Europeans tends to be much more deliberate when it comes to IT," Fruehe says, "and they take more time to make decisions." Thinking things through is obviously a good thing. Governments are moving more slowly to the cloud than private companies are, as well. Public-sector organizations are about half as likely to have adopted clouds than organizations in the private sector.
What are companies getting out of cloud computing? A whole bunch of different things: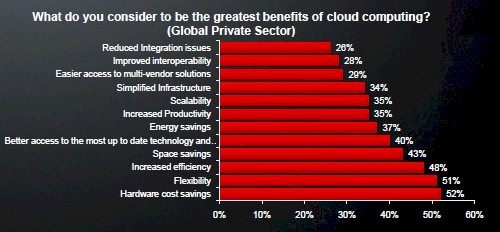 Increased efficiency, flexibility, and lower hardware costs are the big bennies of clouds, according to those polled. Nearly two-thirds of those who have apps and data in the cloud (public, private, or hybrid) say they are already "seeing business value" from those clouds. That statement shows that clouds are helping, but it doesn't say by how much, how, and where in the IT organization.
What applications are amenable to clouds? Well, if you reject the idea of using clouds, as a small percentage of those polled did, then the answer is that there are none. Of those private-sector companies that have clouds or are thinking about installing them or using one outside their firewalls, here is what people think can be pushed out to clouds: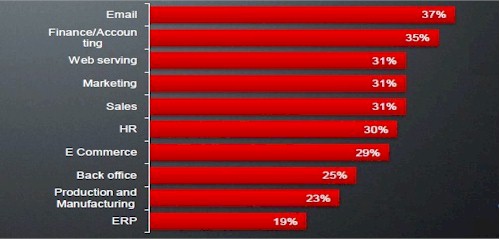 One interesting stat is that of those who have already deployed apps or data to clouds, 75 per cent said they had the skills in-house, while of those who said they are examining clouds and had not yet moved some apps or data to them, only 39 per cent said they had the skills to do so.
"Either you have to get your people trained and get them the skill-sets, or you need to rely on third parties," says Fruehe. "This is a big opportunity for third parties."
Finally, since AMD wants to be a supplier of processors and chipsets to cloud-computing providers and to companies deploying their own private clouds, the company wanted to find out how important the underlying infrastructure – servers and software, specifically – was to the decision to move apps or data to the cloud. A little more than half in both the US and Asia said infrastructure is very important, and another large chunk said it was somewhat important. Only a few percent of those polled who are using clouds said it was not very important or was not part of the consideration. ®