Original URL: https://www.theregister.co.uk/2011/06/02/review_livescribe_echo_smartpen/
Livescribe Echo Smartpen
The write stuff
Posted in Personal Tech, 2nd June 2011 06:00 GMT
Review We all do it. Business meetings, lectures, interviews, whatever. As a TV writer and IT journalist I've spent a lifetime taking notes. But while you're scribbling, you're not listening. At best, you're missing nuances. Add an audio recorder and you can probably take fewer notes and listen better. But when you play back that audio you need somehow to co-ordinate it with your notes.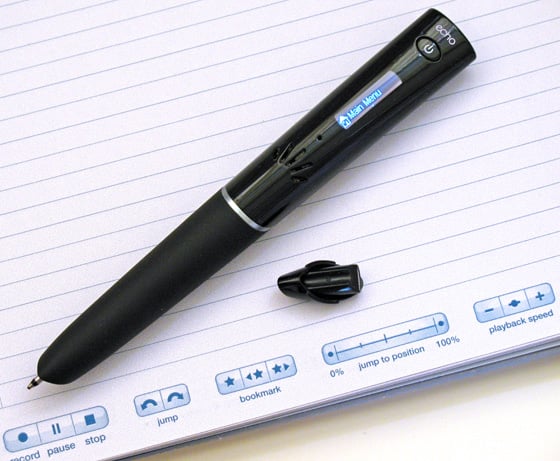 Livescribe's Echo Smartpen: takes notes while you take note
You've scribbled "Advantages over competition: 1. Faster, 2. <illegible>". What was faster? And what was item 2? It's on the recording. Somewhere. Chances are if it's a one hour recording, you'll spend at least an hour trying to pick the meat off it.
I acquired my first Livescribe smartpen, the Pulse, a couple of years ago. Guided by special paper you can buy in the form of notepads, notebooks or print yourself, the pen records its own penstrokes using a small videocamera built into the tip.
When you switch it to audio record mode its built-in mono microphone will also note what's being said at the time. And – this is the cruncher – your penstrokes and the audio are in sync. So that later, when you touch your pen to any part of the written notes you've taken, it'll play back the audio from that moment.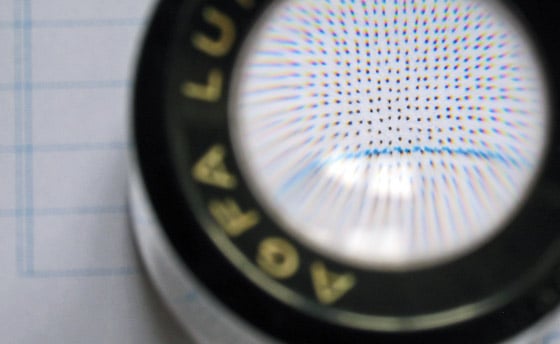 Join the dots: special paper keeps the Smartpen on message
Plug your pen into your Mac or Windows PC and the penstrokes and audio get transferred together. And they stay in sync. Now your mouse cursor becomes your index into the audio: touch any part of the on-screen penstrokes to play the audio of that moment.
Stroke of genius?
You soon start to discover the subtleties. For instance, make only skeleton notes, leaving plenty of white space on the page. Later, when you listen to the audio through the pen, elaborate on those notes in the spaces. Although you're not in (audio) record mode, these new penstrokes will be recorded in sync with the audio, giving you a finer grained index.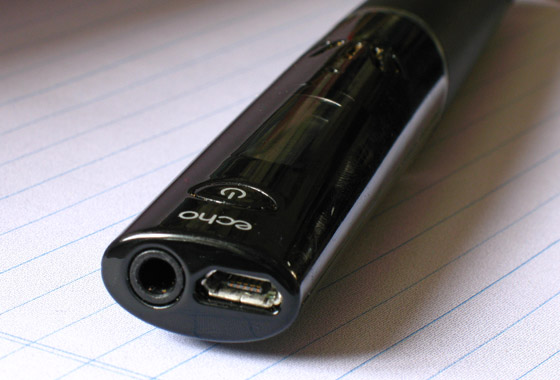 Micro USB and aundio interfacing in the top
My old Pulse has 1 GB of memory which was enough to see me through a month of meetings. Back then it cost around £150 and included a cunning pair of stereo earphones that also functioned as binaural microphones for large conferences or noisy surroundings.
A newer version, the Echo, arrived last year and is much the same deal technically, but a sleeker package, now with a standard 3.5mm audio jack and a micro USB connector to replace the proprietary PC connection cradle of the Pulse. Plumped up to 8GB the Echo cost just short of £200 once you'd also paid for the now cost-optional binaural headset.
Recently, Livescribe has decided to climb out of its niche and introduce an entry-level 2GB version of the Echo for a £100. More importantly perhaps, there are significant updates to the pen's firmware and the desktop software.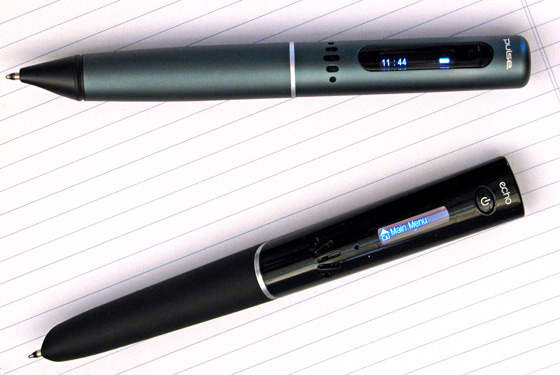 Worthy of note: Echo and Pulse
My old Pulse was always able to create "pencasts", live action audio-video files encapsulating the index feature that you can share with friends, colleagues or the world. But to run them recipients needed to download the free Livescribe Desktop software.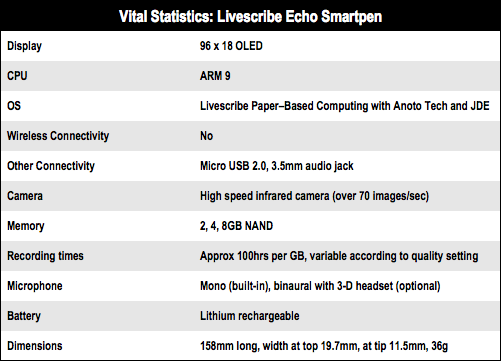 Writing on the wall
The new software release, out this week, lets you create standard PDFs that do the same thing, and can be played back using the latest version of Adobe Reader 10 for Windows and Mac – no Linux release as yet. For e-mailing large PDF pencasts you can use Adobe's SendNow facility.
New too is the "launchline" feature. Draw a short line forward and back on the special paper and the pen goes into command mode. Write a command above the line – "e-mail", for instance – and the pen will pop up a menu on its 95 x 18 pixel OLED display for you to select an e-mail recipient from a list you've set up previously.
Choose the pages or sections of pages you want to e-mail (tap on pages, draw a circle round sections), and next time you dock the pen to the computer the e-mail will be sent off automatically. Similar launchline commands will upload the pen contents to Google Docs, Evernote or Facebook, and you can also set up your own shortcuts, for example "charlie" to send emails straight to a particular colleague, skipping the recipient menu.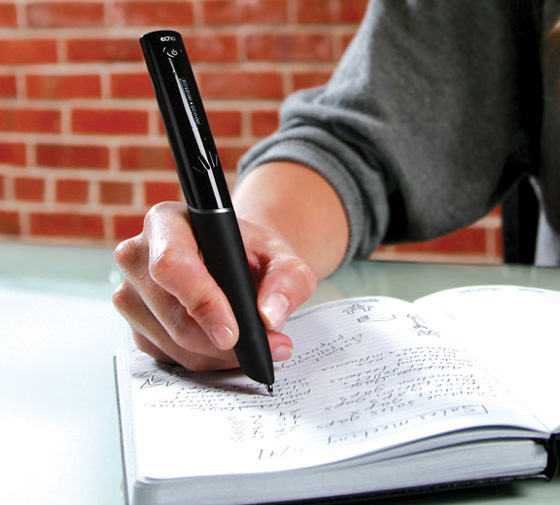 Not the most slimline of writing implements, but among the most sophisticated
This latest Echo comes at a great price, but you may need to add the binaural headset for another thirty quid. The special Anoto paper, printed with an almost invisible grid of micro-dots that tell the pen its exact location, costs only fractionally more than regular stationery, and if you have a 600dpi Postscript colour printer you can print your own.
Verdict
Is it an improvement on the Pulse? The new shape stops it rolling off the desk, but the microphone seems more sensitive to pen-on-paper scrape, and the small all-too-losable pen cap is a poor substitute for the Pulse's large "cigarcase" protector. While not a gadget that everyone will immediately get the point of, if you do get it then get it. Or even consider picking up the older Pulse at a bargain price. ®
More Gadget Reviews

Crystal Acoustics
PicoHD5.1
H2O
water-powered
radio
Eminent
iTrio EM7100
HDMI wireless sender
Apple
Digital AV
adapter
Zomm
wireless leash