Original URL: https://www.theregister.co.uk/2011/06/01/review_logitech_z906_surround_audio/
Logitech Z906 5.1 surround speakers kit
A blast for PCs and consoles
Posted in Personal Tech, 1st June 2011 06:00 GMT
Review Thinking of upgrading your PC's speakers or just want a low cost surround sound set up for use with a TV and games console? Then Logitech might have what you're after with the Z906, the follow up to the company's popular Z-5500 system.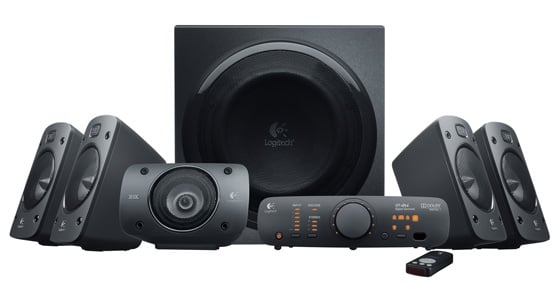 Making connections: Logitech's Z906
The Z906 is a THX-certified 5.1 set up that includes a built-in decoder and has a number of inputs on the rear, so it can be used with a variety of devices ranging from PCs and games consoles, to portable MP3 players and digital TV set-top boxes.
The four satellite speakers and centre channel look pretty menacing as they peer out from behind metal grilles, while the subwoofer is powered and also houses the various speaker terminals.
Around the back of the sub you'll also find three mini jack analogue inputs for connecting it up to the surround sound outputs found on most PC soundcards. Below these, there's also a pair of optical inputs, a pair of stereo phono connectors and a coax digital input.
So, in total you can have up to five devices connected to the system at any one time and switch between them using either the input selectors on the main control unit or a button on the remote.

Interfacing on the sub back panel features plenty of connectivity options but, alas, no HDMI
The control unit connects to the subwoofer with the review unit supplied with a 2.5m long cable, so you can position it on a desktop or entertainment unit away from the rest of the system. It doesn't have an LCD display, but instead uses little LEDs to indicate what's being adjusted or what mode it's in. Unfortunately these LEDs are quite bright and there's no way to dim them, so they can be a little bit distracting if you're watching a movie with the lights turned down low.
À la mode
Also, the various options such as surround sound modes and audio inputs are selected using a single button each, so you have to cycle through a lot of options to get to what you want. This is especially tedious when selecting inputs.

Minimal controls can be a bit tedious as you cycle through modes to select input options
For instance, if you want to move from TV audio to music, you don't necessarily want to have to cycle though a Blu-ray player and games console to get there. Naturally there's also a remote included in case you want to kick back and control the system from a couch. Although this is small, the buttons are well proportioned and pleasingly responsive.
The Z906's built-in decoder works with Dolby Digital and DTS signals, but as there's no HDMI input, it doesn't support more advanced Blu-ray audio formats such as Dolby TrueHD or DTS-HD Master Audio, which is a bit of a shame. However, the decoder does have three modes for converting stereo streams into surround sound, and generally these produce pretty convincing and pleasing results. The 3D mode, for example, works well on TV soundtracks, while the 4.1 mode tends to sound best with music.
With a combined power of 500W, when you crank up the volume you'll find that the Z906 is more than loud enough to keep the neighbours awake at night. Refreshingly, it'll also go very loud before any distortion starts to creep in. Surround sound positioning is good too, with spot effects in games and movies convincingly rendered.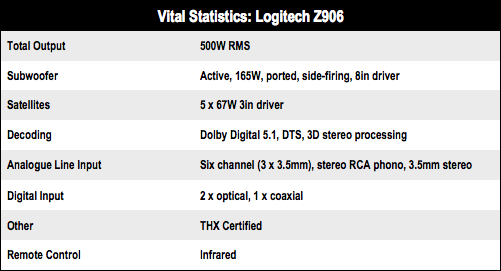 Mix and match
The overall balance of the system is a bit bass heavy straight out of the box, but you can calm this down a bit by adjusting the volume level of the subwoofer. But while music is generally punchy and detailed, it lacks some of the mid-range finesse that you get on more expensive home cinema kit. Overall, though, for the price, this system puts in a sterling performance.

Sound choice for gamers
Verdict
It's a shame the controls aren't more immediate and that it lacks features such as a HDMI input, but for those looking for a system to use primarily with a PC or a games console, the Z906 is still a good bet. ®
More AV Gear Reviews...

Panasonic
SC-HTB520
Samsung
HT-C6930
Eight…
spatial soundbars
Sony
BDV-E370
Harman Kardon
SB 16