Original URL: https://www.theregister.co.uk/2011/06/01/review_acer_iconia_tab_a500_android_tablet/
Acer Iconia Tab A500 10in Android tablet
Well-connected Honeycomb fondleslab
Posted in Personal Tech, 1st June 2011 12:00 GMT
Review PC manufacturers clearly haven't been reading the script. They were supposed to over-hype their forthcoming Android 3.0 tablets as iPad-killers (check!), miss their initial launch dates (check!) and then let us all down by delivering a hunk of poorly designed, obsolete tat (er…).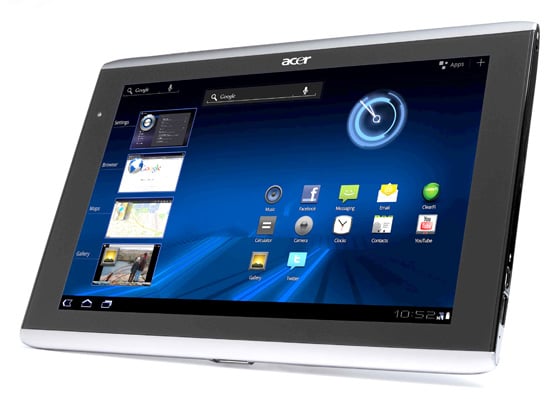 Acer's Iconia Tab A500: lighter than a Xoom, heavier than an iPad 2
Acer has spectacularly failed in that last endeavour. Its Iconia Tab A500 is a terrific piece of kit, well-connected, respectably powerful and boasting loads of potential. My work ensures that I'm surrounded by many different tablet and touchscreen devices all the time, but I missed the Iconia Tab A500 when it was sent back.
Lifted out of its box for the first time, the tablet is noticeably lighter than a Motorola Xoom, if still heavier than an Apple iPad 2. The compromise seems to be in the quality of the casing, with the Iconia Tab in cheap but sensible grey plastic compared to the guillotine blade-like weighty ruggedness of the all-black Xoom.
The rear of the case is gently bowed, not unlike the original iPad. Carry-sleeve designers don't like this much but it does make the tablet easy to pick up from a tabletop. The bezel around the screen at the front is quite broad, although some people appreciate having plenty of thumb space when holding the tablet book-fashion.

Left and right view: ports include a full-size USB 2.0 socket
Acer has put effort into cramming useful connectivity options into the device. The HDMI port is welcome, as is microUSB, but including a full-size, standard USB 2.0 port is inspired. Sure, anyone can go out a buy a microUSB-to-USB adapter cable, but making this unnecessary is a jolly friendly thing to do, in my opinion.
Keyboard shortcuts
The fat adapter connector on the 'bottom' edge (when holding the tablet in landscape mode) is designed to plug into an optional dock, rather than the keyboard contraption of Acer's W500 Iconia Tab, which costs around £80. Yikes! Even Apple's wireless keyboard, which can work with Macs as well as iPads, only costs £57, and I thought that was expensive. But I digress, with the A500, if you want an Acer-branded companion keyboard, the company will flog you a Bluetooth model for £50.

Top and bottom view: the connector at the bottom is for an optional dock
All of the ports are unprotected; only the microSD slot has a cover. There are good reasons for this, not least being that little port covers tend to deteriorate and fall off. However, I found that the keyboard connector gathered dust and fibres after just a week of carrying the tablet around in a shoulder bag. I can only guess what crumbs might have worked their way into the dark recess of the full-size USB port.
Switched on, the screen is clear, bright and contrasty. Its 1280 x 800-pixel resolution is effectively reduced by an on-screen navigation bar occupying roughly 45 pixels along the bottom edge in whatever orientation you hold the tablet. That's still good enough to play 720p HD movies, of course.
Acer also markets an Iconia Tab W500 Windows fondleslab, but the A500 edition of the Iconia Tab runs the Android 3.0.1 operating system, which I found to be stable. I deliberately installed and ran some poor-quality apps intended for smartphones running older versions of the Android OS, and while some of these inevitably bombed out, none succeeded in taking the OS with it.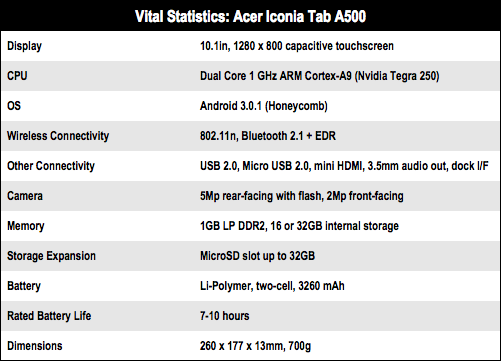 Installed base
Acer has bundled a set of gaming, e-reading, multimedia and social networking apps onto the tablet, grouping them in four custom graphical screens. While certain among these are standard on just about any Android tablet, such as the YouTube app, it's good to have others such as Facebook, Twitter and Skype already installed too.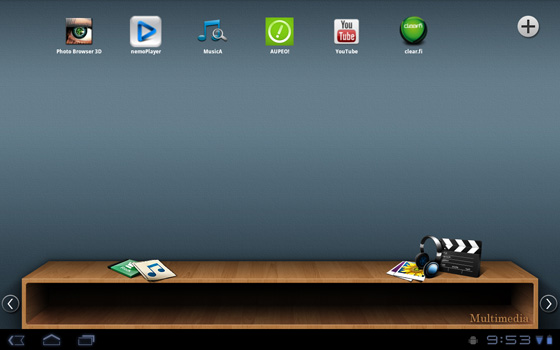 Acer kindly bundled a variety of apps but failed to provide any instructions for any
Click for a larger image
Even casual users will find it easy to use the Iconia Tab A500 as a daft-looking camera – both still and video – but some decent bundled media editing apps would have been welcome. Front and back cameras are included. Music fans might like the idea of the stereo speakers at the back, but come on: the sound is tinny regardless.
Unfortunately, some of the bundled apps need (but lack) quick-guides to tell you what they're for and how to use them. The media players, for instance, hassle you with error messages saying you don't have any media on the device when instead they ought to be showing you how to add some. Also included are clever apps such as Clear.Fi and Media Server, but to the uninitiated they seem to do nothing at all and make no attempt to explain why or what to do about it.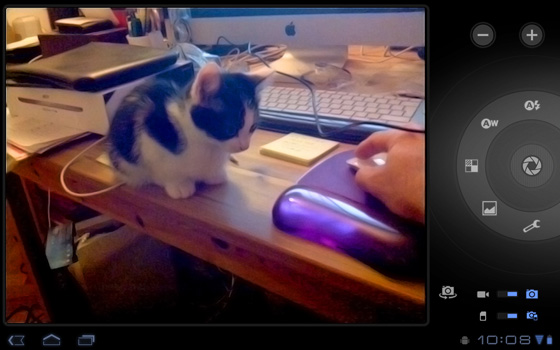 The app interface for shooting still images and video is blessedly unchallenging
Good to go
Battery life is good, comparable to that of the Motorola Xoom. Continuous video play depleted the battery at about seven hours but Acer says general use would see a full charge last around 10 hours. My real-world experience (lots of Internet, not so many movies) suggested that a recharge every three days was typical.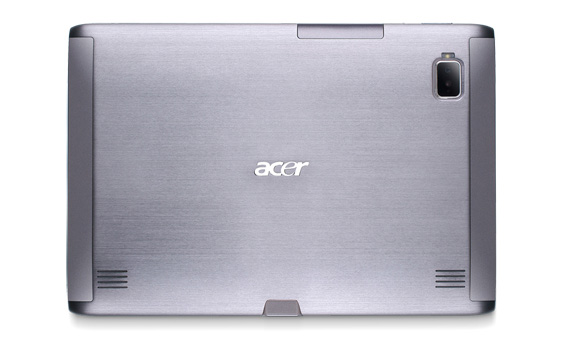 Those little vents at the back hide a pair of stereo speakers
Verdict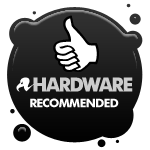 Acer has produced a fine product with the Iconia Tab A500. Its performance closely matches that of the Motorola Xoom but it is lighter, offers more connectivity and has a working microSD slot to expand the storage capacity. There was no 3G support in the model I tested but I thoroughly enjoyed using it just the same. It is, however, almost as expensive as the Xoom, so those on tighter budgets should consider the 16GB version which costs around £380. ®
More Tablet Reviews

Archos
70
RIM
BlackBerry PlayBook
Motorola
Xoom
Acer
Iconia Tab
W500
Apple
iPad 2