Original URL: https://www.theregister.co.uk/2011/06/01/endeavour_retrospective/
Space shuttle Endeavour: 'An incredible ship'
25 missions and 122 million miles for 'amazing vehicle'
Posted in Science, 1st June 2011 12:23 GMT
Space shuttle Endeavour flew into retirement yesterday when it touched down at Kennedy Space Center at the end of its 25th and final flight.
Speaking from Mission Control in Houston, astronaut Barry Wilmore told commander Mark Kelly: "Your landing ends a vibrant legacy for this amazing vehicle that will long be remembered. Welcome home, Endeavour."
Kelly radioed in reply: "It really is an incredible ship. It's sad to see her land for the last time but she really has a great legacy."
As is the local custom, NASA has put together a montage featuring all 25 Endeavour mission patches, and you can get a bigger version here: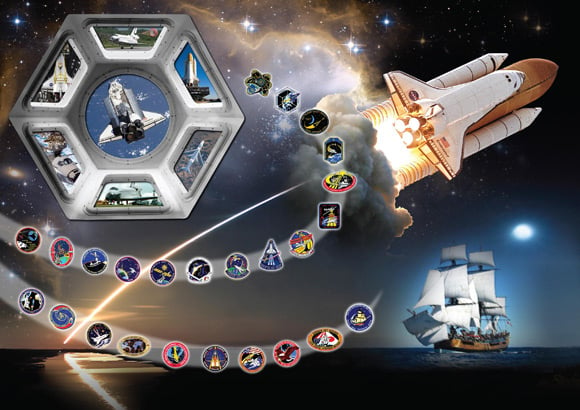 Endeavour was built as a replacement for Challenger, lost in 1986. It was delivered to the Kennedy Space Center from the Rockwell plant in Palmdale, California, in May 1991.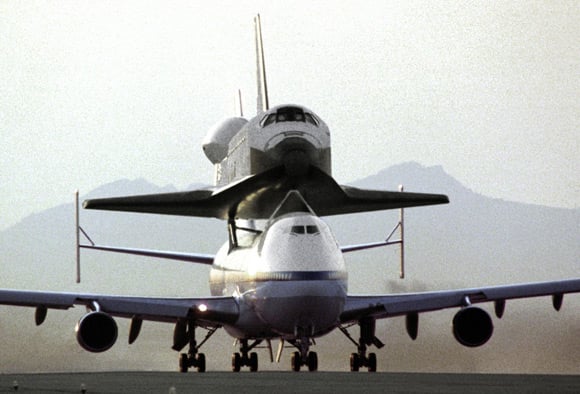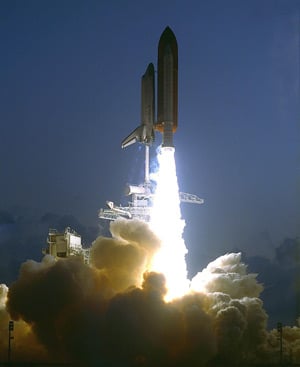 Named in honour of the ship which in 1768 carried captain James Cook and his crew to the South Pacific, Endeavour first launched on 7 May 1992 (see pic) when it headed off on its STS-49 mission to capture, repair and return to orbit an Intelsat satellite.
On its next trip, in September of the same year, the shuttle carried a manned Spacelab module, as well as "the first Japanese astronaut to fly aboard the shuttle (Mamoru Mohri), the first African-American woman to fly in space (Mae Jemison) and the first married couple to fly on the same space mission (Mark Lee and Jan Davis)".
In December 1993, Endeavour embarked on "one of most challenging and complex manned missions ever attempted" – the first Hubble Space Telescope servicing mission, featuring "a record five back-to-back space walks totaling 35 hours and 28 minutes".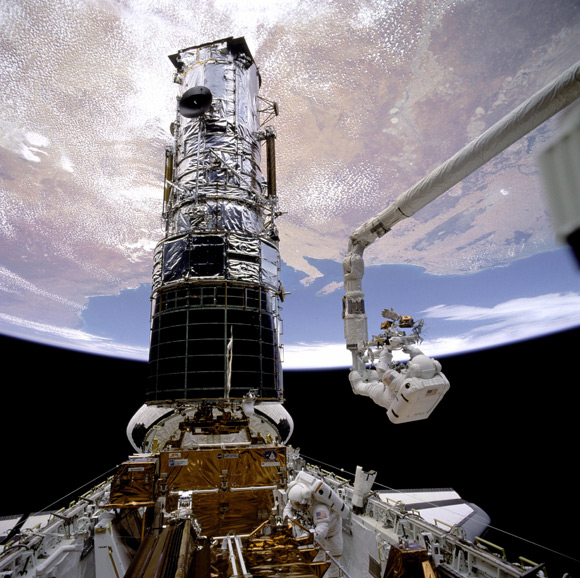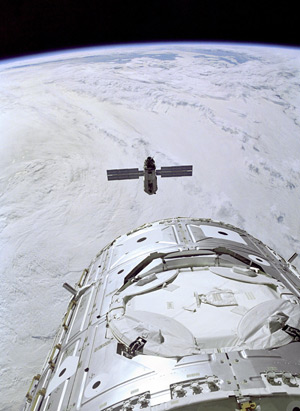 In January 1998, the spacecraft visited Russia's Mir space station, and in December of that year had the honour of carrying out the first International Space Station flight, which saw the Unity module (bottom of pic) released from its cargo bay and mated with the Russian Zarya control module (seen orbiting).
The shuttle subsequently returned to the ISS 11 times. Between 2000 and its swansong STS-134 mission to deliver the Alpha Magnetic Spectrometer to the orbiting outpost, the spacecraft also dropped off solar arrays, the P1 Integrated Truss Segment, the Dextre Robotics System, and the Tranquility node.
The highlight of Endeavour's multiple voyages to the ISS came, as far as the public was concerned, during 2008's STS-126, when spacewalker Heidemarie Stefanyshyn-Piper dropped her toolbag, consigning it to a fiery death in Earth's upper atmosphere.
By the time Endeavour trundled to a halt at Kennedy Space Center yesterday, it had "spent 299 days in space, orbited Earth 4,671 times and traveled 122,883,151 miles".
It will now be prepared for display at the California Science Center in Los Angeles, while NASA gets ready to bring the shuttle era to a close with the final mission of Atlantis on 8 July.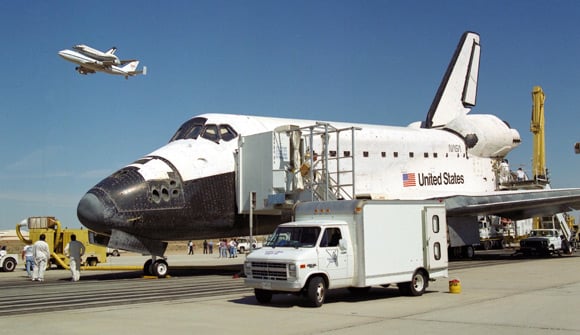 NASA Administrator Charles Bolden said today: "We are very proud of Endeavour's legacy, and this penultimate flight of the space shuttle programme once again demonstrated the amazing skill and dedication of our astronauts and the entire workforce.
"As we begin the transition from the shuttle programme to the commercial transportation of our crews and cargo, our ability to tackle big challenges remains steadfast and will ensure that NASA reaches even more destinations farther in the Solar System."
NASA has an Endeavour factsheet here (two-page/311KB PDF) with a listing of all its missions, and a photo tribute to the shuttle here. ®