Original URL: http://www.theregister.co.uk/2011/05/31/review_samsung_solid_immerse_gt_b2710/
Samsung Solid Immerse rugged phone
Plop and drop
Posted in Personal Tech, 31st May 2011 12:20 GMT
Review Phone manufacturers today are all too keen to tell us their phones aren't really phones at all, they're handheld computers with oodles of processing power and capability. Sometimes, however, a basic communications device is just what you need, especially if your life might depend on it.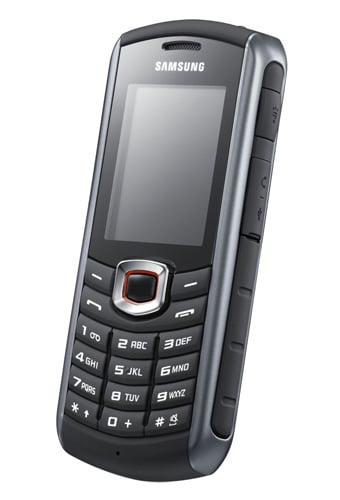 Hard talk: Samsung's Solid Immerse
Enter the Samsung Solid Immerse, a non-smart candybar phone, but one that claims to be shock proof, dust proof, water proof and comes with a bunch of outdoorsy features. Even before you take up the inherent watery challenge in the Solid Immerse's name, it certainly seems to live up to the first part of its moniker. It's a chunky 121 x 52 x 18mm and 116g, featuring a tough-looking casing made of rubberised plastic with metal trim.
There's a volume rocker on one side and a micro USB port for charging, syncing and headphones on the other. It's covered by a heavier than usual plastic grommet and sits next to a dedicated flashlight button. On the top is the torch bulb and a large loop for attaching a lanyard. The torch is fairly bright, certainly enough to read a map or light the way ahead, and kicks into life with a long press. Handily, a single short press snaps the light off.
On the back is the lens for the basic 2Mp camera, a loudspeaker protected by mesh and a plastic grille plus a screw for opening up the casing for access to battery, SIM and microSD cards. On the front the keypad is covered with a rubbery membrane with big, chunky buttons for the keys – it ain't pretty, but it's certainly practical to use, even with gloves on.
The 2in screen only offers 240 x 320 pixel resolution, but then, this isn't the sort of screen you're likely to be watching movies on – and bigger screens break more easily. It's rated as 4H hardness which is intended to protect it against most scratches though it ended up with a few minor abrasions from my set of keys.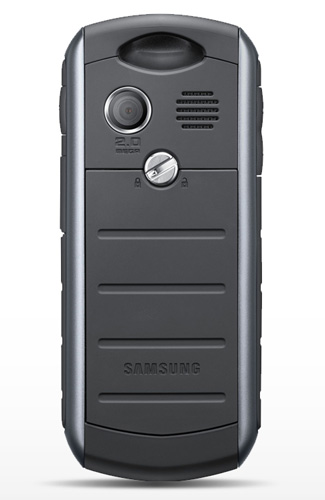 The top features a large eyelet to attach the phone to a lanyard or belt clip
It's very unlikely that it would stand up to even a fairly effete smack from a hammer. Visibility isn't great either, and it's not easy to see it in sunlight, which kind of goes against the outdoors ethos.
Solid options
The Solid Immerse runs Samsung's SHP OS and its appearance looks akin to the company's TouchWiz user interface, but here there's no touchscreen involved, as you scroll around the icons using the navpad.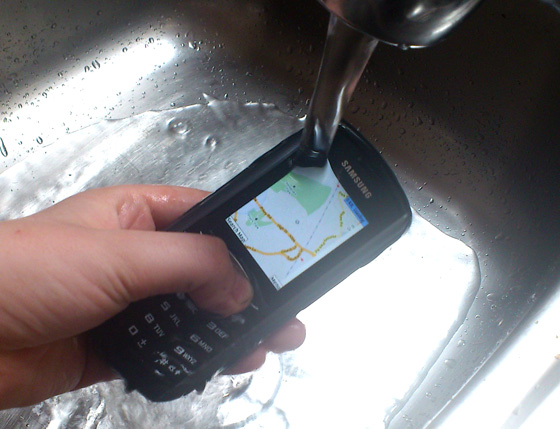 Handles the wet, but whether it would survive a bout with washing machine is another matter.
Bizarrely, there's no map application supplied as standard, however, the phone's apps section provides a link to download Google Maps, if your network doesn't offer one of its own. Once I'd done that though, it worked well enough, identifying my position in about 20 seconds. The digital compass worked fine too, as did the basic pedometer and you get a timer and stop watch too.
There's also a nod to social networking with links to Facebook and Twitter sites, but no automatically updated feeds. The 2Mp camera is basic in the extreme, with no flash, just 1.2x digital zoom and white balance the only setting to play with. It will also record video at 15fps but the quality looks so poor you'd have to be pretty desperate.
There's no Wi-Fi but there is 3G network connectivity and Bluetooth. The media player meanwhile will play back MP3 and MPEG4 files, and there's an FM radio along with some games to help keep you entertained during quiet moments in the back of beyond. You can sync using Samsung's Kies software or using simply drag and drop to add your music and other media files. While there's only a mere 15MB of memory on board, it will take microSD cards up to 16GB.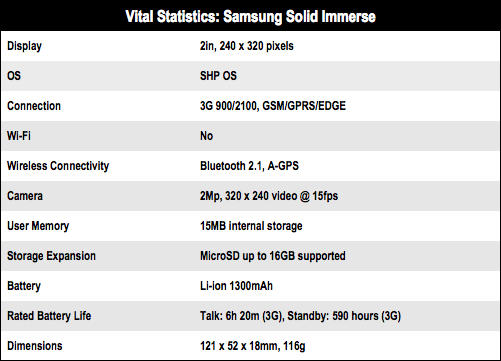 Fall from grace
Though it's undoubtedly a hardier beast than the thoroughbred likes of the iPhone or Samsung Galaxy S II, the Solid Immerse's robustness credentials aren't necessarily outstanding. After the key scratches, dropping it from a height of about 3m didn't damage it, but the back popped off, which wasn't very reassuring. It withstood the dunk test however, resting under the water for a good two minutes with no ill effects.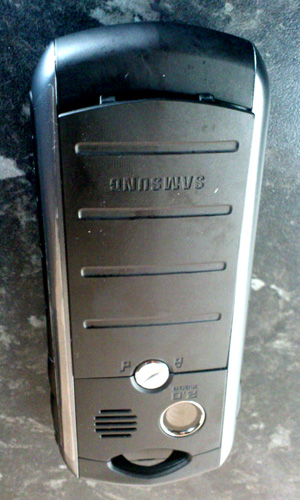 Alarmingly, the cover came away when subjected to a drop test
Call quality was generally okay, voices sounding clear and well-rounded though it would have been nice to have the volume capable of cranking up a bit louder in case of noisy environments. Samsung promises standby of 610 hours and talk time of up to 870 minutes and while I can't guarantee it will last this long, it still had over a bar of battery left after four days of moderate use.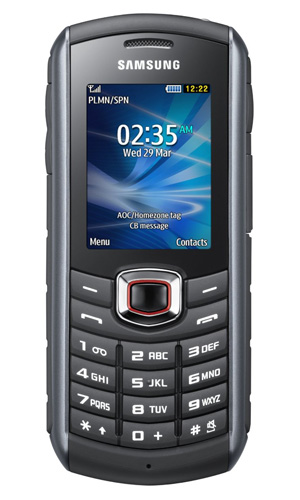 Fairly, robust but not without some frailties
Verdict
If you're out in the wilds, or even working on a building site, it's good to know your phone can take a few knocks or a drop in water. Just don't push it too hard as the Samsung Solid Immerse appears tougher than tests suggest it actually is, but you can't knock the battery life. ®
More Rugged Phone Reviews...

Sonim
XP3300 Force
Motorola
Defy
Samsung
Solid Extreme
Sonim
XP3 Enduro
Samsung
B2700 Bound