Original URL: https://www.theregister.co.uk/2011/05/31/call_of_duty_elite/
Activision calls for duty with premium subscription
Profits set to shoot
Posted in Personal Tech, 31st May 2011 16:16 GMT
Activision has spilled the beans on its premium Call of Duty subscription today, a service that seeks to enrich multiplayer experience and unite the CoD community. Oh.. and make a shed-load more cash for the games giant, which is rubbing hands at the prospect of breaking sales records again when the next instalment in the game's franchise appears later this year.
Not to be confused with the game proper, Call of Duty Elite is a service from purpose-built studio Beachhead. It features a premium statistics database brimming with social networking features that should get diehard stat-hungry fans of the perennial wargame uncontrollably shooting their load.
I had a try of Elite at a press briefing last week and was wowed by the level of detail and statistical options available. Those who take CoD gaming ultra seriously, will be in their element, pinpointing weaknesses in their game and bragging to buddies with proof on just how PWNed they've been.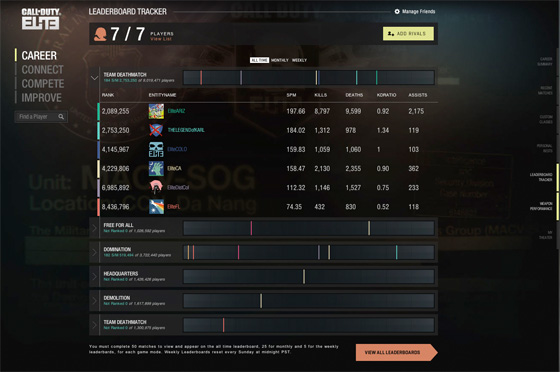 Elite, which is available over a console's network or from a PC, is separated into four sections: Career, Connect, Compete, and Improve.
In Career, users have access to every statistic under the sun, from kill ratios to details of each headshot and where on the map it occurred. There will be no more arguments of who's the best, the stats will speak for themselves.
Connect gives gamers the chance to join groups and hook up with those who share similar interests outside of the obvious shoot-a-lot hobby. Anyone else collect porcelain frogs? Make a group and find out.
Meanwhile, Compete details events and competitions in the CoD community, from screenshot compos to leagues and knockouts.
Finally, Improve gives gamers coaching based on their performances, providing a dynamic strategy guide to look at where mistakes are being made and what can be improved upon.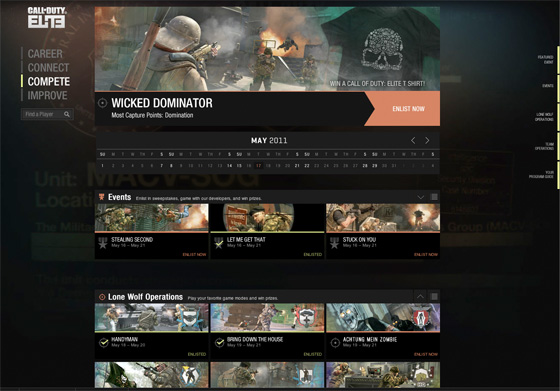 Infinity Ward's Robert Bowling clarified on Twitter that aspects of the service will be free to everyone and that those who pay for the add-ons will not have any strategic advantage.
Three CoD titles are in the top 10 list of games played on Xbox Live: Call of Duty 4, Modern Warfare 2 and Black Ops. Elite will launch alongside the company's next venture, Modern Warfare 3, set for release this November.
The price for Elite is still being decided upon and we'll let you know as we hear more. If you're interested, sign up for an Elite closed beta invite, to be tried with Black Ops prior to release. ®