Original URL: https://www.theregister.co.uk/2011/05/31/app_of_the_week_android_folder_organizer/
Folder Organizer
Your UI, the way you want it
Posted in Personal Tech, 31st May 2011 08:00 GMT
Android App of the Week Bought an iPhone or Windows Phone 7 handset but don't like the UI? Tough tomato. Bought an Android phone but don't like the UI? Change it. And what better app to help you on your way than Folder Organizer, one of the most versatile, stable yet unobtrusive applications you will ever download.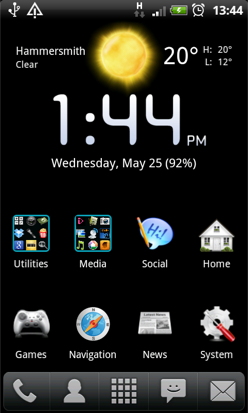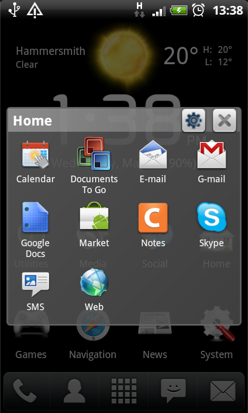 Mix up icons and folders
In a nutshell, FO can be used to organise your apps, contacts, bookmarks and shortcuts into folders or widgets for easy homescreen access. But that's like describing the Saturn 5 as a big rocket - technically correct but it only skims the surface.
That's because with FO you can change the appearance of everything. And I mean everything. The icons and names of folders and the apps within them can all be altered to suit your whim and fancy.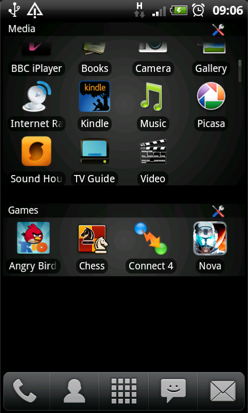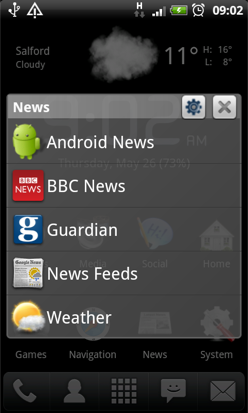 Widgets big and small, and text-style folders - the choice is yours
Don't like the Gmail app icon? Change it. Want to call it Jemima rather than Gmail? Do that too. Want a folder icon to show its contents? Not a problem.
DIY UI
All changes can be made on the hoof either by long-pressing on an app icon or tapping the "settings" button in the folder or widget title bar. Widgets, folders and individual items are simply dumped on the screen using the Android widget selector menu. It's so simple it's almost insulting.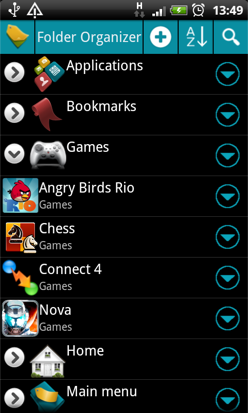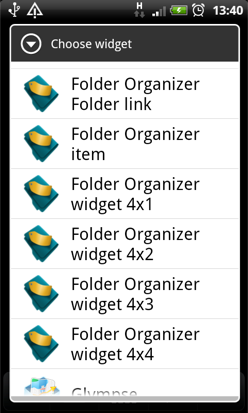 It's easy to keep track of what's where
If you want something a little more expansive you can populate widgets of various sizes with your shortcuts and even make them scrollable which gives you a halfway house between the Cupertino and Mountain View idea of how things should look and work.
You can also intermix folder and widget content, so there's nothing stopping you creating a folder called Work for all the contacts, bookmarks and apps you need to get through your daily grind.
To help the forgetful or chronically disorganised, FO can be set to chirrup in the notification bar every time a new apps is downloaded and ask if you want to assign the app to a label to keep things shipshape.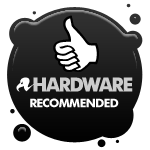 For anyone concerned about the chaos a crash could cause, don't be. I've been using FO for months with Motoblur, Launcher Pro and HTC Sense and it's never so much as wobbled let alone fallen over. It even survived an OTA update from Froyo to Gingerbread in one piece. ®
Installed Size 2.63MB (5.6MB inc. data)
App2SD No
Folder Organizer QR

We make our of the best Android smartphone and tablet downloads every Tuesday. It you think there's an app we should be considering, please let us know.
iDevice fans, iOS App of the Week is published on Thursday.
More Android App of the Week Winners

SendSpace
My Tracker
Google
Docs
Go SMS Pro
Communicate