Original URL: https://www.theregister.co.uk/2011/05/30/games_reviews_sports_roundup/
Ball games: the latest sports releases
Action for the armchair athlete
Posted in Personal Tech, 30th May 2011 08:00 GMT
Review Here at Vulture Central, we love a challenge. And they don't come more challenging than reviewing three sports games in three days. So all warmed up and ready to play, with club, racket and cue in hand, I head onto the course and court and into the Crucible to give you the lowdown on Tiger Woods PGA Tour 2012 Masters, Virtua Tennis 4 and WSC Real 2011.
Tiger Woods PGA Tour 2012 Masters

If you've made it past the title, then I salute you. Reading a Tiger Woods review is like reading the instructions on a ready made meal. You already know half-an-hour at 200°C will do, but an odd quirk of human nature undermines your intelligence and compels you to make sure. The same way, you already know Tiger Woods 2012 Masters is Tiger Woods 2011 with a menu overhaul, a few new courses and a couple of distinguishing new features.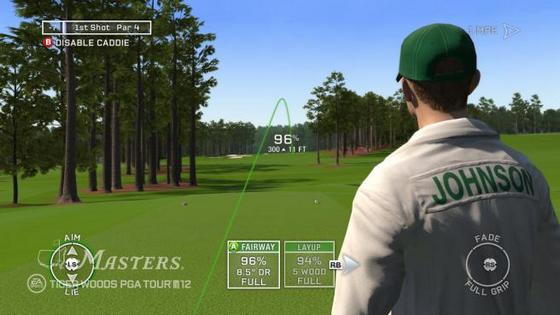 Following his Johnson is nothing new to Tiger
Competing for the green jacket at Augusta National will prove irresistible for many, of course – despite the the long slog ahead in the Road to The Masters career mode. Others will be content re-enacting Tiger's victories in Tiger at the Masters. Or recreating history in Masters Moments by attempting Gene Sarazen's double-eagle at the 15th, or Tiger's unbroken 72-hole record of 18-under.
For masochistic golfers, there's even the option to grab a PS Move controller and crank up the difficulty with True Aim and Tournament Pro Mode to effortlessly recreate Rory Mcilroy's colossal yips in this year's final round.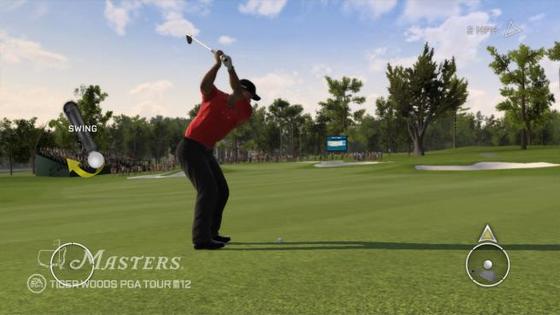 Big swinger
But even the debut of a professional caddy alongside you can't lift the oppressive sense of déjà vu. There's just not enough to justify the full retail price. So while it's difficult to deny this is the best golf game ever made, it's impossible to ignore that the equally good Tiger Woods 2011 is available for a tenner on eBay.

Reg Rating
70%
Price
£40
More Info
EA's Official Tiger Woods PGA Tour 2012 Masters website
Virtua Tennis 4

Sega might not milk the cash cow as ruthlessly as EA Sports, producing only four Virtua Tennis games in the past 12 years. But by rehashing the same core experience found in the Dreamcast original and camouflaging it in novelty, Virtua Tennis 4 nonetheless feels like a cynical retread.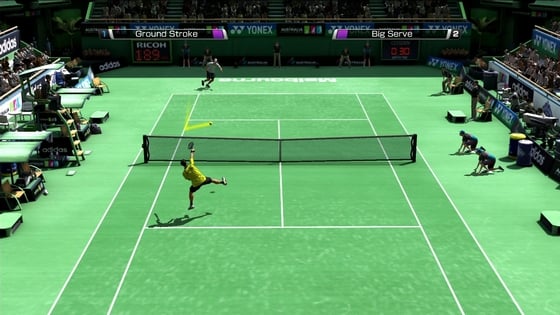 Large overheads
At its heart lies a decent but not spectacular arcade-style tennis game. The standard four shots: flat, slice, lob and top spin offer a reasonable range of stroke play, but length variation is largely absent. Almost every shot lands in the backcourt, bouncing to the perfect height for baseliners. And a lack of a drop-shot reduces net play further to simple overhead smashes. The varying styles of its roster of current world contenders goes some way to improve strategic play, but overall Virtua Tennis 4's gameplay lacks the depth of Top Spin 4.
It also lacks Top Spin 4's compulsive career mode. Instead, its World Tour mode is a bizarre Monopoly-style metagame, where progression is randomised by movement cards. Initially fun, the introduction of luck into career progression soon frustrates, as you miss tournaments and mini-games by chance alone.
Luckily, the standard Arcade mode, local singles and doubles matches, and comprehensive online play all make up for the World Tour's shortcomings. Less successful, however, is the integration of motion controls in the standalone Motion Play area.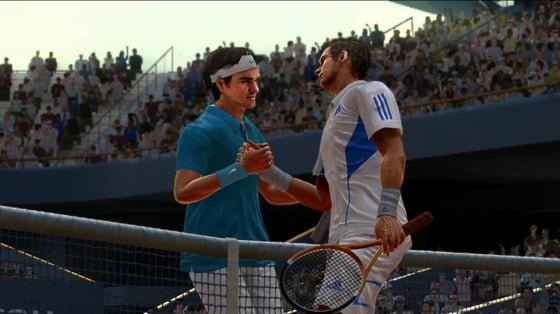 Let's discuss this over the net
More tech-demo than fully-realised mode, it's a much reduced version of the game, where the computer moves your player, leaving you to just return the ball. Shoddy enough on PS Move, where you can at least move towards the net and angle the controller to vary your stroke, it's even worse on Kinect, where the only skill is in the timing of your single stroke.
Virtua Tennis 4 is a competent enough copy of the franchise's own template. Its faults are many, and its nod to motion gaming perfunctory, but there's still a decent game at its core. Just like real tennis, you might not play it regularly, but it's certainly worth a trip to the courts via Blockbuster when Wimbledon swings around.

Reg Rating
65%
Price
£40
More Info
Sega's official Virtua Tennis 4 website
World Snooker Championship Real 2011

In the summer of 1986, aged just 12 years old, I decided snooker was not the sport for me. Stuck inside during a freakishly wet and windy week, in a place just south of hell - otherwise known as Butlins in Minehead - I lost frame after frame on a 12-foot table against my older and much taller brother.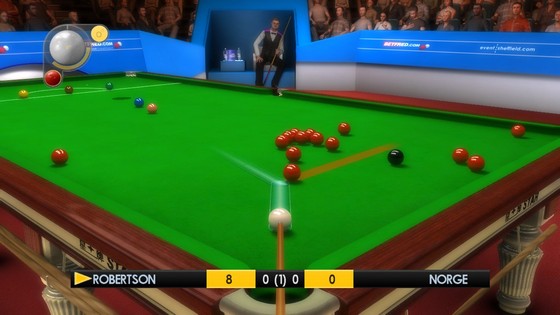 Right on cue
I've only played stick once or twice since then, so deeply scarred was I by the horror of that week. Imagine my surprise, then, when I actually found myself enjoying WSC Real 2011. Perhaps a telling – but nonetheless worrying - sign of my advancing years, I found the quietude of the arena soothing, the occasional bon mots of commentator John Virgo oddly humorous and, most surprisingly of all, the gameplay highly addictive.
It's thanks mainly to an in-depth and flexible control system. Positional and aiming aids show you where to aim and roughly where the cue ball will end up. More advanced players can turn both off, significantly increasing the challenge, but for novice players like me, it's the perfect aid to help obtain a mastery over the game. It doesn't mean you'll always win - I missed the first red in the quarter finals of the titular World Snooker Championship and Peter Ebdon punished me with a 124 break. But it does mean you don't need Euclidean powers to challenge the best.
While WSC Real 2011's physics are spot on, with spin, angle and power all behaving as you'd expect, the graphics prove hit and miss. Tables and balls all look good, as do the small crowds around arenas, but player models and facial animations are basic compared with the big sports games, and the well known players are only just recognisable.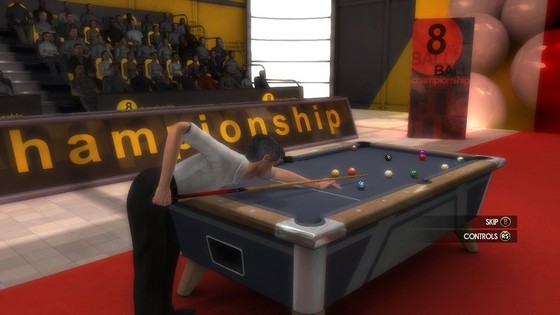 Dip into the pool
The game has an abundance of offline modes. But with ranked and unranked matches, as well as a full tournament mode, it's online play that really extends the experience. If like me, however, you find your opponent's massive breaks too much of a spectator sport, and are looking for a more dynamic game, luckily there's a comprehensive range of other stick based diversions, from Billiards and 9-ball and 8-ball Pool, to the more obscure 3-ball and Rotation variants of the game.

Reg Rating
75%
Price
£40
More Info
Dark Energy