Original URL: http://www.theregister.co.uk/2011/05/28/review_benq_w1200_projector/
BenQ W1200 HD DLP projector
End of the rainbow?
Posted in Personal Tech, 28th May 2011 07:00 GMT
Review BenQ's W1200 Full HD projector is shocking. Shockingly good that is. I've seen plenty of inexpensive single chip DLP projectors over the past few years, and while I've admired their functionality I've never hankered after a single one. Typically, they're noisy to run, prone to rainbow colour fringing – that DLP exclusive image artefact seen around objects of high contrast – and just don't have the chops for serious AV.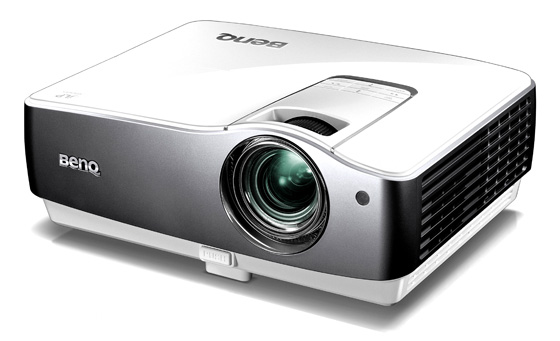 Lost halo: BenQ's W1200
But the W1200 is different, and after running one for a couple of days I actually pondered downsizing from the projector I currently own (which is more than three times the cost of this model). The W1200 is priced around £1200, but can be bought for less.
The model itself is just under 340mm wide and finished in trendy white. It's small and light enough to pull out of a cupboard when you want a big screen fix, and at just 3.6kg it won't put any great strain on your ceiling should you fancy a more permanent installation.
The connectivity covers most bases. There are two HDMIs, component and S-Video inputs, phono AV, PC D-sub input, a type B USB connector, RS232 port, 12V trigger (allowing you to automatically sync with an electric screen) and PC monitor output.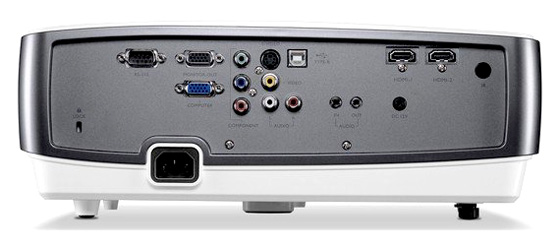 Analogue and digital connectivity
Some of this connectivity will allow the W1200 to function quite happily in a corporate AV environment, but my interest here is purely in its home entertainment talents. The projector comes with a smart, backlit remote control. Optional accessories offered by BenQ include a ceiling mounting kit and carry case.
Path to enlightenment
The W1200 will throw a 65in picture from just 2m and is bright enough to comfortably go larger if you have the room. One sop to its budget price is the lack of a vertical lens shift option, so you'll need to have a reasonably straight projection path. However an auto keystone correction function works well and there's manual keystone correction if you need to make more adjustments.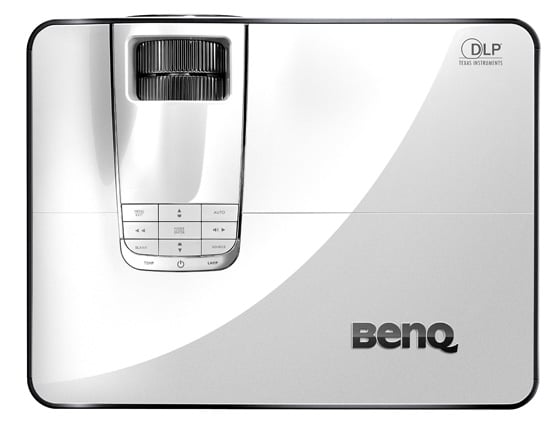 More living room than boardroom
With its default settings, the projector is a tad noisy. The DLP cooling fans generate around 27dB of grumble. However, engaging the lamp's Economic setting reduces this to just 22dB. There's no significant brightness hit in a light controlled dark room.
Power consumption also falls by 20 per cent. This is quiet enough to be masked by a decent sound system when you're watching movies.

 Lamp life is quoted at 4000 hours in eco mode. Replacement is a user friendly job.
This is not a difficult projector to calibrate. Within a few minutes I was happy both with its black levels and clarity.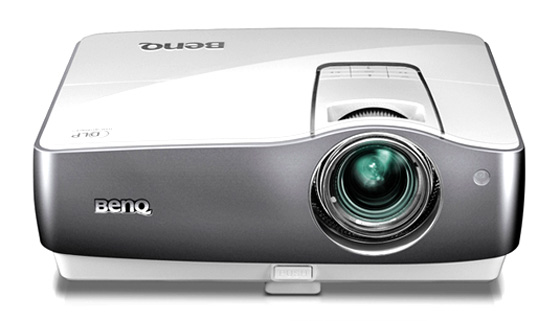 The 4,000 hour bulb will get you through about 2,500 movies
This BenQ delivers bright, ziggy reds and yellows, courtesy of TI's BrilliantColor processing. The vibrancy of these hues may be too much for some cinephiles, but I thought they looked great, particularly on the Blu-ray animation of Chico & Rita. The W1200's picture is also low on noise, with effortless gradation – the latter courtesy of a not-to-shabby 10-bit colour processor.
Shining example
Despite being a single chip DLP I wasn't aware of any significant rainbows. I tend to notice even the slightest colour fringing, but I detected nothing of note here from the six-segment colour wheel.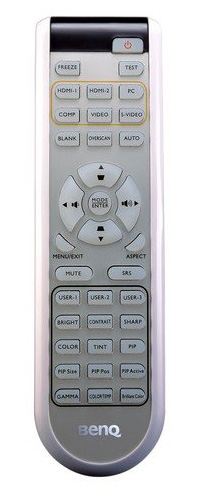 Dim view: buttons on the remote are backlit
Motion resolution is average, dropping down from 1080 lines to no more than 650 lines when things get jiggy. This doesn't spoil the high-impact nature of the W1200's images, or the impression of clarity. But it is a point of difference between this and more expensive rivals.
The projector boasts a Frame Interpolation mode (variable between Low, Middle and High), but this does not reclaim moving picture resolution. The interpolator is employed merely to remove horizontal judder – which it certainly does. Without it, images exhibit a slight horizontal panning stutter.
Unfortunately, the interpolator adds motion artefacts of its own. These manifest as smudgy halos around certain moving objects, created as it tries to compensate for movement. The effects are mild on the lowest setting, getting gradually more noticeable. Frankly, I'd rather stick with the panning judder.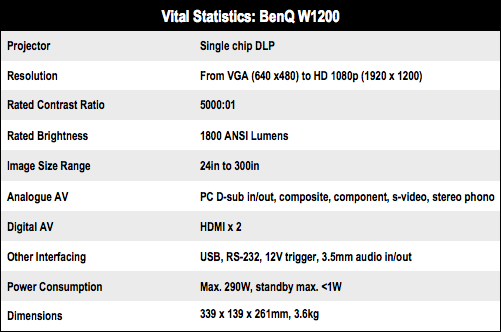 Sound option
The W1200 has a token on-board sound system driven by a 2 x 10W amp. This is bolstered by SRS Wow HD sound processing to boost bass. Frankly, the noise it makes is akin to a transistor radio, and from an AV point of view is insignificant. On the plus side, if you do whip out the PJ for a quick session on the Gears of War 3 beta, there's no real need to wire the games console into a sound system.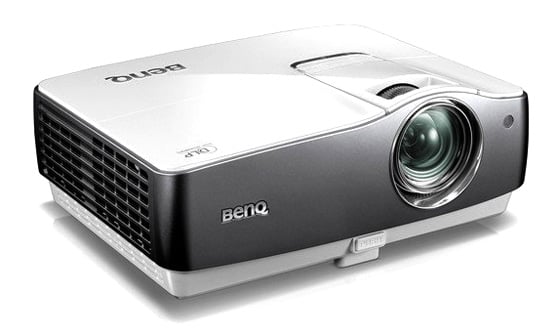 Casting shadows over high-end alternatives
Verdict
Overall, the W1200 presents a great argument for not spending an arm and a leg on a high-end home cinema projector. Bizarrely, I'm going to advocate you spend even less. The W1200 has a lookalike sibling which lacks frame interpolation and is £200 cheaper: the W1100. My suggestion is if you like the sound of this model, audition the W1100 first, as I'm inclined to think the frame interpolation isn't worth the extra wedge. ®
More Projector Reviews

Mili
HI-P60
Acer
H5360
Optoma
HD20
Hitachi
CP-RX80
LG
HS102