Original URL: https://www.theregister.co.uk/2011/05/27/review_mio_spirit_687/
Mio Spirit 687 satnav
Vocal performance
Posted in Science, 27th May 2011 06:00 GMT
Review The 687 sits at the top of Mio's new range of Spirit satnavs and is a good illustration of exactly how much navigational kit you can expect to get for £150 these days. For your money you get a 5in, 480 x 272 screen, voice command, Bluetooth, road maps of 44 European countries, free TMC traffic data and some rather handy navigational niceties.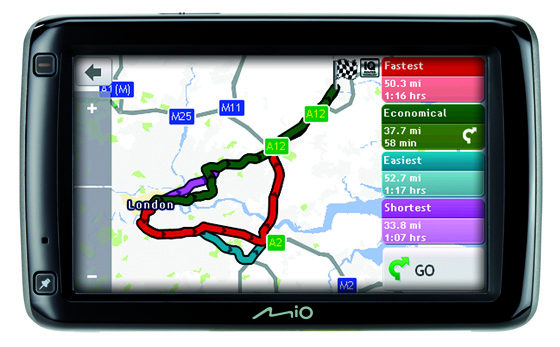 Streetwise: Mio's Spirit 687
Voice command is one the Mio's 'big ideas' on the 687 but the system suffers from the need to be activated from the touch screen, which slightly defeats the object of the exercise. Garmin's launch method of simply yelling "voice command" at its PNDs is a rather more sound approach.
Once in voice mode the options are rather limited too. It works fine for finding the nearest petrol station or car park from the available commands list, but there is no POI search option. Again comparison with the Garmin system is not flattering - shout "navigate to Trafford Centre" at a 3790T and it draws the obvious conclusion, the Mio does not.
Where voice command on the Mio is more successful is in answering calls from a Bluetooth connected phone. This operation doesn't require you to touch the device, instead you simply say "answer" or "ignore".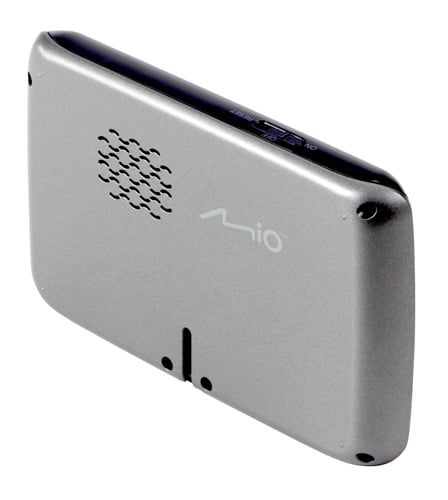 The speaker is loud enough, but there are Bluetooth connectivity options too
Yelling aside, rather than depend wholly on a touch screen the 687 features two buttons to the left of the LCD panel. The top one always takes you back to the main menu while the bottom one records your current position as a waypoint that can be navigated back to from the My Places menu. Not a revolutionary bit of design, but useful nonetheless.
Spirit and destiny
Like all new Mio satnavs, the Spirit 687 uses TomTom's excellent IQ Routes system to determine the optimum route based on time of day and historic traffic flow. Select a destination and the system will work through the options and present them as colour-coded fastest, shortest, easiest and most economical. Just tap the relevant colour option and Go and you are good to go.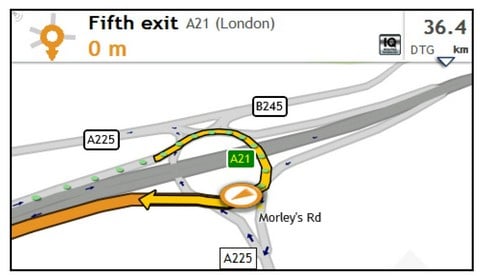 The road ahead
As is the current vogue the 687 'learns' your preferred routes over time but even after a week it was difficult to judge if the system, called LearnMe Pro, really works or not. Give it a longer learn period and your mileage may vary. That aside, I had no issues with the 687's navigational judgement.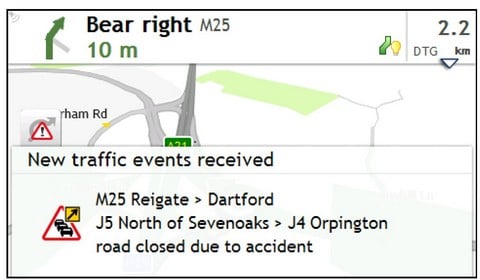 TMC traffic alerts are free for life
Mio's maps are clear and easy to read and vocal guidance is clear, timely and succinct though the single installed voice is a little too female-prison-warder for my tastes. You can change this, but you need to go through the faff of installing the MioMore desktop application to add alternative speakers. The text-to-speech system does a good job of pronouncing road names while road numbers are read out as individual numerals.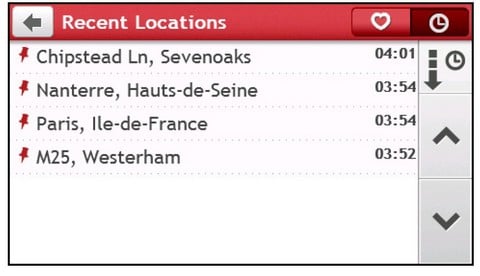 Recent destinations
With a view to keeping you beyond the reach of the long arm of the law the 687 warns you of speed cameras on the road ahead and a chime sounds if you exceed the speed limit. You can very the degree by which you can exceed the limit before a getting a warning gong between 3 and 7mph – or you can switch it off.
Recovery position
If you rummage about in the menus system, you will come across several handy features. Roadside Assistant lets you select your rescue provider from a list – only the AA and RAC are included for the UK – and then dial them direct while the screen shows both your exact location coordinates and a description of your general position.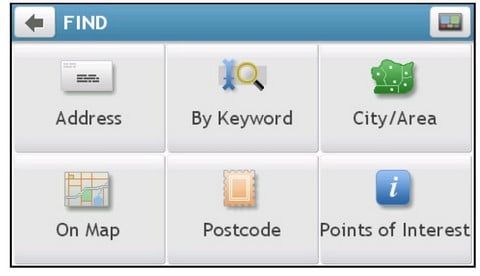 Menus are clear and simple
Parking Assistance doesn't stop you reversing over small children and dogs but rather shows the location of nearby car parks when you get within 1km of your destination. Trip Planner, as the name suggests, is a stand-alone menu for creating multi-stop trips.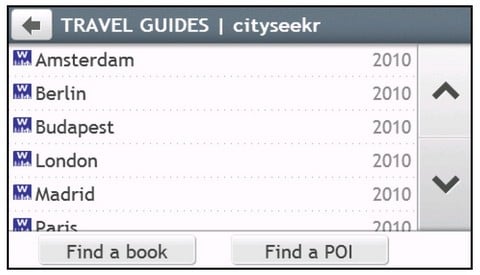 Cityseekr guides
If you have a phone that supports Bluetooth tethering you can access weather information and Google Local Search data from the MioMore menu, but in an age when the world and their dog has a smartphone it's debatable how necessary this feature is. The same is true of the bundled CitySeekr travel guides.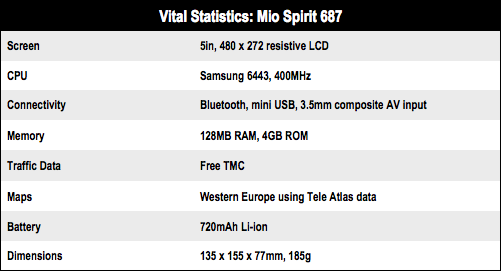 In-car entertainment
Something I've not come across before on a PND is an AV jack that lets you hook up a DVD player or after-market rear-view camera to the unit. Mio even bundles the necessary cables.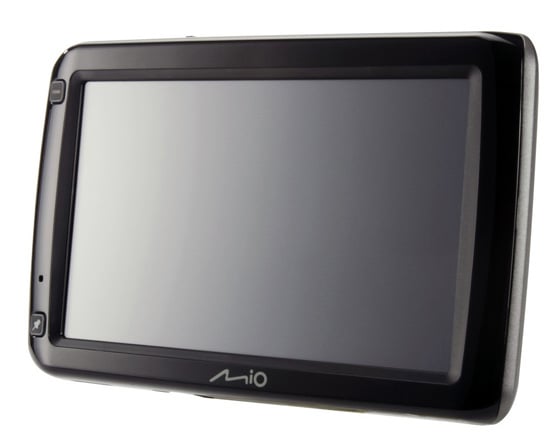 Needs some vocal refinements, but otherwise a good feature set
Mio's map rental programme also deserves a quick mention – a map of the USA and Canada will only set you back £20 for a month, a map of Oz a tenner for a week from the MioMore desktop app.
Verdict
Although, alternatives announcers can be installed manually, for the price, there really should be more than one bundled voice character on-board. Also, it's a shame that the voice command system doesn't really further the breed in any way. Yet, for the money, the Mio 687 delivers a lot of functionality and has all the navigation bases thoroughly covered along with a few less common functions like Roadside Assistant. ®
More Satnav Reviews...

Mio
Navman V575 TV
TomTom
Go Live 1005
Garmin
Nüvi 3790T
Navigon
70 Plus
Mio
Navman 470