Original URL: https://www.theregister.co.uk/2011/05/27/games_review_dirt_3/
Dirt 3
Rally ho!
Posted in Personal Tech, 27th May 2011 11:11 GMT
Review The fact that rally is a niche market, even among petrolheads, perhaps goes someway to explaining why Codemaster's Dirt franchise strives to rein in the time challenge aspects of the sport – instead favouring racing, albeit in a way which retains the drifting and suicidal cornering of the motorsport. Codemasters: good decision.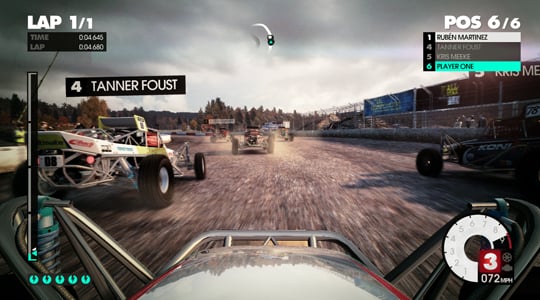 Rally forth fourth?
Indeed, by embracing the mentalness that is Rallycross (whereby drivers race on circuits with as much dirt as tarmac) the company has managed to create a hugely diverse racer. Dirt 3 still just about walks on the simulator side of racing games, but feels arcade-like enough to please speed freaks too; beating Sony's Motorstorm at its own game in the process.
It's a long chalk from the series' origins, Colin McRae Rally which first hit shelves way back in 1998 – a fine attempt at a pure simulation of the sport. Given that the game took a further nine months, after its European release, to find its way over to the US is perhaps a fairly massive indicator of why Dirt 3 crams in as many extreme, destruction derby type of races as it possibly can. Alas, pure rallying is still not particularly well followed in the States.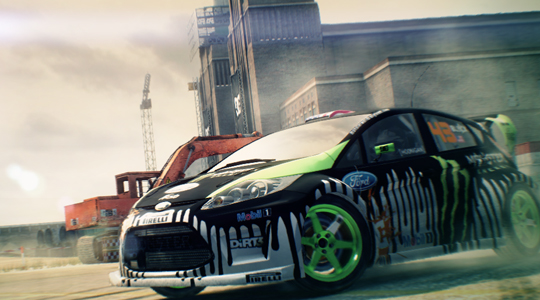 Safari car
Having booted up the game you'll first be tasked with selecting a nickname from the likes of Ace, Maverick or Jester. Suitably titled, then it's straight on into your maiden race, which, rightfully enough, is a traditional timed rally in the wooded expanses of the Alpine circuit. The more engineering-minded might be disappointed by a lack of customisation options, the rest of us will just be happy enough to select one of the two cars available and rev the engine.
In the mode
Next, it's on into the first of your prescribed four seasons of racing. Dirt 3 is structured over several events per season, which unlock as you gain the necessary standings in the races initially available – rather like Mario collecting Shines to unlock different parts of Peach's castle. Meanwhile, reputation points – gained by completing objectives (hit a certain top speed) and finishing high in leader boards – raise the player's level. Higher levels mean better teams will want you in their car and so goes the unlocking of faster cars as you play.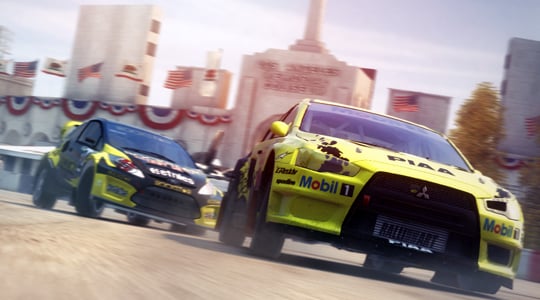 Flagging round the corner
Events range from timed rally and Rallycross to 'Land Rush' (truck racing), 'Head 2 Head' (think pursuit in cycling) and 'Drift Showcase' which is inspired by Gymkhana, whereby it's not so much about times as it is performing feats of steering around obstacles. It's also worth mentioning that events are often playable in different series of cars, S2000 series or 90s models, for example.
Once in the driver's seat the real grittiness of Dirt 3's visuals hit home. Rally is a raw, muddy, oil-spattered discipline, and the engine beneath the bonnet of this beast doesn't give an inch when it comes to bringing that visceral experience to the fore.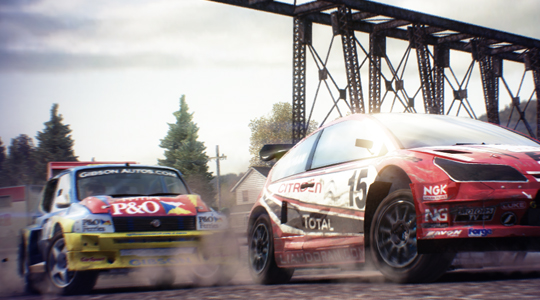 Auto no better
The car models look fantastic too, perhaps even better once dented, scratched and covered in detritus by the end of a particularly good lap. Hell, even the trees look like, well… trees – take note, Polyphony.
A lot to handle
Of course, all this visual splendour would be for nought, if the handling wasn't up to scratch, but the game delivers here too; serving up thrills and spills a plenty. Perhaps most notable is the tangible change in grip when driving over different kinds of terrain – often in the same lap. The standard dirt surface will see you drifting around all but the tightest of corners at speed, hitting actual tarmac suddenly adds much welcomed grip into the equation, while slaloming through the snow requires dexterity, accuracy and luck in equal measure.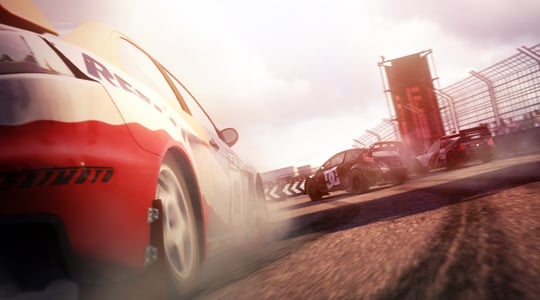 Gimme a brake
For instance, the Aspen stages are, as you'd expect, slick with slush, ice and snow banks. Hitting any kind of speed feels suitably reckless, with stopping times dramatically increased as the car slides unrestricted on the icy surface. Factor in the constant and blinding spray of churned up snow from the car in front and you start to get a feel for the franticness of Dirt 3 – a much wilder ride than say that of Gran Turismo 5.
Attach a steering wheel and the experience is improved still further, transforming again into an even more thrilling undertaking as the wheel bucks and fights against you – well if you're the lucky owner of a force feedback wheel of course. My Logitech Driving Force GT was just the job, the in-game options even providing the ability to set steering and braking dead zones for full customisation.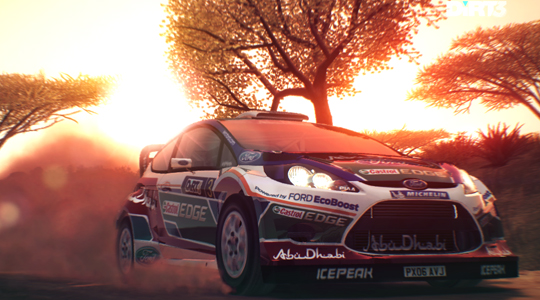 A Ford ability
One downside to the steering, which bucks like a wild bull, is that you'll find yourself sliding off course, smashing into trees or else plunging off ridges with alarming regularity – particularly if you're brave enough to turn the steering aids off. Thankfully, the 'Flashback' system allows the previous several seconds to be rewound so that, with any luck, you'll be able to resume from a point where said disaster is avoidable. If you don't use your allotted five however, you'll gain extra reputation points, so it's worth getting out of the habit of depending on them.
Beating the competition
AI powered opponents have a tendency to flip from the sublime to the ridiculous as they manœuvre and, more importantly, spin and crash around the various tracks. The lumbering spectre of the Terminator does hover over them though, as they look to knock the player's car off course whenever and wherever they're able. It's an issue often raised of GT5's AI too. On balance though, the feel of racing here is more authentic than that of Sony's racer.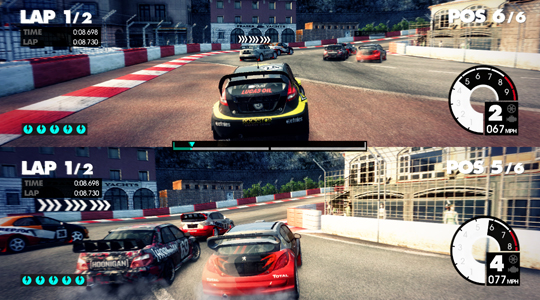 Split decision
Alas, the on-line component is, as yet, not available on PS3 for well-publicised reasons. In this case, the reason is that before playing on-line, you have to register the game through the PSN Store, which, at time of writing, remains inaccessible. Presuming lag doesn't rear its ugly head, the solo gameplay suggests multiplayer will be great, with Rallycross sure to lead the way in the popularity stakes, but capture the flag and other modes are also available. There's even the option to upload your best moments to YouTube for eternal bragging rights.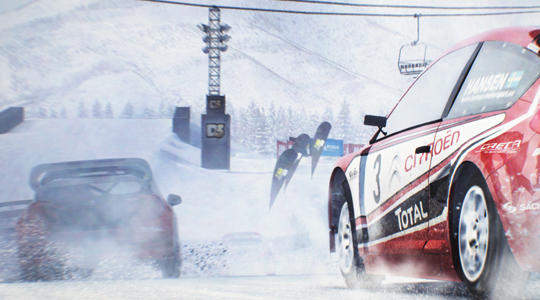 Leaving ski marks
Verdict
There isn't very much you'd say could be improved here, given the capabilities of the current generation of consoles on the market. OK, so the AI could be even more unpredictable, the Flashback system a little quicker to rewind and the cars even more tweakable for purists. However, with jaw-dropping visuals, exhilarating speed and handling as pulse-racingly exciting as you can get without climbing into a real rally car, Dirt 3 is a racer driving fans really can't afford to be without. ®
More Racing Games

Need for Speed:
Shift 2 Unleashed
Motorstorm:
Apocalypse
Nail'd
Gran
Turismo 5
Need for Speed:
Hot Pursuit