Original URL: https://www.theregister.co.uk/2011/05/26/ten_dab_kitchen_radios/
Ten... DAB kitchen radios
For what we are about to receive...
Posted in Personal Tech, 26th May 2011 12:49 GMT
Product Round-up A kitchen is incomplete without a radio. Like a garden without a blade of grass, a song without emotion, or a footballer without a super-injuction, there are many without, but it just isn't the same. And even though dates for the proposed digital switchover haven't been set in stone, there's no harm in being prepared. Indeed, as Radio Ga Ga becomes Lady GaGa, it's surely time to upgrade from that grease-gunged FM box.
Gathered here are ten DAB radios suited to kitchen use. You may have your doubts about DAB, but it does have some neat features and is a complete no-brainer to use. When stuffing your marrows, anything more than a quick fiddle of a knob, just isn't practical, really.
Checking signal was always going to be a tricky task, after all Vulture Central is in the heart of London, but we pushed them to their limit by testing in Reg Hardware's isolation cell. If signal was going to stumble somewhere, it would be in there. DAB radios seem to hark back to the days of valve sets as they take a while to start. The longest to chime took just over six seconds with the rest chirping in around four.
Dualit DAB Kitchen

Dualit, famed for breakfast appliances, also makes this über cool DAB kitchen radio to provide the daily dose of morning music. The company even threw in an egg timer for good measure.
Easy to use, the device features two dials, one for volume and one for waveband selection. There are five presets for each mode and when the signal is lost or patchy on some distant station, rather than delivering a warbly broadcast, the Dualit goes mute. That said, it picked up most stations with ease.
I was left very impressed by the audio, delivered through its 4in mono speaker. Even at full volume, the distortion is barely audible, with the overall sound enhanced by its warm bottom end, courtesy of a built-in bassport for that extra oomph.
The large display shows information in a calculator-style text, which rather lacks finesse. Moreover, the design itself – encased in aluminium – may look the part, but would be an OCD sufferer's nightmare. Don't let the kids near this one after some jammy toast. Keep it clean, though, and you've got yourself a kitchen mirror too.
It also features a built-in NiMH battery, which recharges fully in 16 hours, lasts about 4 hours when pumping out DAB and roughly double that for FM. As for interfacing there's an aux in, speaker and headphone output, but an optical digital out too. Random eh? It may have its flaws, no DAB+ for one and it's pricey too, but the Dualit DAB radio remains a well-constructed bit of kit that, if you have the cash to splash, is definitely one to consider.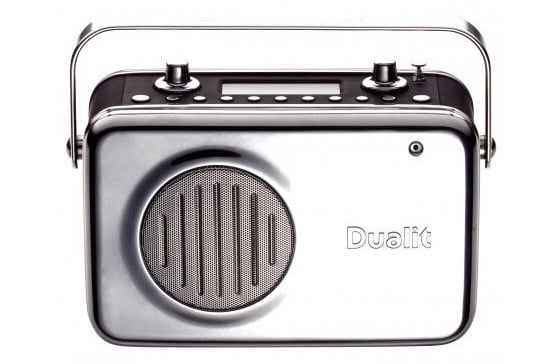 Reg Rating 85%
Price £180
Services DAB, FM
More info Dualit
Logik L55DAB10

Those on a budget, who find themselves looking for bargains in Dixons, Currys or PC World, will come face to face with dozens of inexpensive tech sporting the company's own brands; Logik and Sandstrom. While some would say these brands remain popular among those who don't know any better, is it really a fair reflection of the product?
First impressions certainly veer that way here, as I am immediately hit by a smell of MDF, courtesy of the Logik's cheap wooden casing. There is a hint of Ikea-like subtlety that would look well placed in any modern kitchen, but upon closer inspection, the build does look rushed.
This isn't the only thing that comes across shoddy, though. Signal left much to be desired, especially when tuning into FM stations, and despite having two 1.6W speakers, high volumes generate high distortion. The Logik may have quite an ear-piercing top volume, but listening to undistorted music over the whirr of a washing machine is likely to be a struggle.
Controls could be easier too. A single dial means you'll have to push buttons before turning it to change station and with just one preset button, skipping through your favourite channels could be more convenient.
Still, you can pick one of these up for the same price as a few bottles of wine and, if need be, can power it with four AA batteries. Plus you can set dual alarms, a very helpful feature when knocking up that fab three-course. See, it's not all bad, but you do get what you pay for.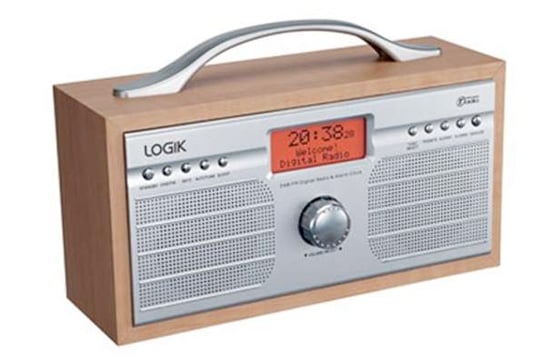 Reg Rating 55%
Price £40
Services DAB, FM
More info Dixons
Magicbox Touch Kitchen

Sticky hands make for sticky buttons that can eventually get too gunky to operate. It's an issue Magicbox tackles by introducing a DAB radio with touch sensitive controls. Marketed on-line as the Magicbox Touch Kitchen, you'd expect it to be more suited for kitchen use, though.
The 3W stereo speaker grille is a fabric covering, which means keeping things clean could rapidly become an issue. The glossy plastic finish is no stranger to fingerprints either and without those clunky size-C batteries inside, the body is way too lightweight. If this falls off your fridge, you can probably kiss goodbye to it.
There are 20 presets are spread over five panels, selected by finger taps and double-taps. It doesn't take much to work out, but it's far from convenient. The touch sensitivity can be rather unresponsive too, even without dough-covered hands.
Luckily, the Magicbox Touch is thrown a thin rope through its warm and strapping sound. Whack it up to max volume, though, and just like the Logik, the Touch gets a tad distorted. Superb bass helps the output sound reasonable, though, so a cranky dishwasher won't be too much of a distraction with this on full blast – as long as you find a decent signal, that is. Reception was quite a let down, struggling to pick up several stations other models had no issue with at all.
If you have a problem with real buttons, or can't stand dials, then this could be for you. It's comes at a fairly friendly price too.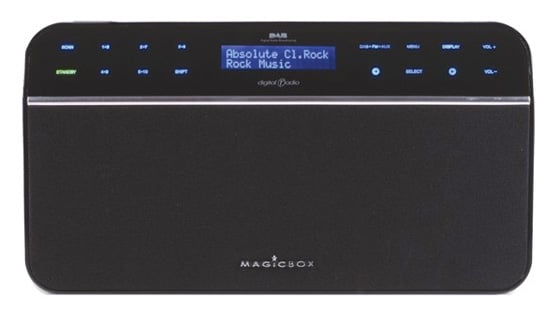 Reg Rating 65%
Price £50
Services DAB, FM
More info MagicBox
Nevada Sinfonie II

Communication specialist Nevada returns to its Sinfonie range here with a complete redesign. It's fugly compared to the previous model, but has a more portable feel and much-improved features.
While it's a compact size, the Sinfonie II is let down by a flimsy build and an awful glossy black finish. Therefore it's a breeze to clean, but even easier to get dirty. Does anyone actually like glossy plastic finishes on audio tech? What world am I living in?
Controls are simple enough, but lack practicality, especially with setting presets, which are limited to single-button and dial control. As with the Logik, it's an unnecessary fiddle and, for kitchen use especially, a range of dedicated buttons is always useful.
Sonically, I have mixed impressions. There is practically no distortion when turned right up, but the volume isn't as high as I'd like and the lower frequencies are lacking. The Sinfonie II may pump out enough through its mono speaker to overpower the spitting fat of bacon frying in the morning, but a loud washing machine will take centre stage.
The Nevada Sinfonie II claims to be ahead of the game. It can handle DAB+ and DMB-A, which is certainly a bonus, but the £60 price tag still seems pricey given its sonic performance.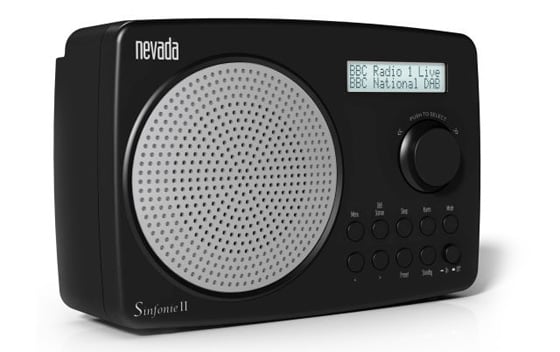 Reg Rating 65%
Price £60
Services DAB, DAB+, DMB-A, FM
More info Nevada Radio
Pure Evoke Mio

I'm a sucker for anything retro and, as you can see, the Pure Evoke Mio has quite the classic flare. The display is large, crisp and, from what I've seen this week, unmatchable in resolution to other models on test here. With services such as Intellitext on offer, such a pristine screen makes all the difference and it shows signal strength too. Presets are logical to set up and have six dedicated buttons up for this task. There's also a fantastic clock and alarm system with specific timers for the kitchen. Presto.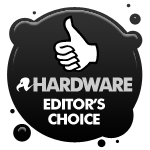 When it comes to audio performance, the Mio is a beast. Distortion is unnoticeable at full volume and the output is plenty loud enough, not just to overpower the sound of a dishwasher, but next door's DIY too. Audio is crystal clear, pumped through the 3in speaker and thanks to a built-in bassport, lower frequencies are solid too.
As this is a Kitchen radio roundup, I'm not going to knock off marks for portability, although it is important to note that as with other Pure models, the Evoke Mio would need a proprietary battery pack, which doesn't come for free. The body still has quite a weight without one though, feeling sturdy and well built.
If you're looking for a quality all-round kitchen radio, then the Pure Evoke Mio hits the spot. If you shop around, you can easily pick one up for half price too. A complete steal.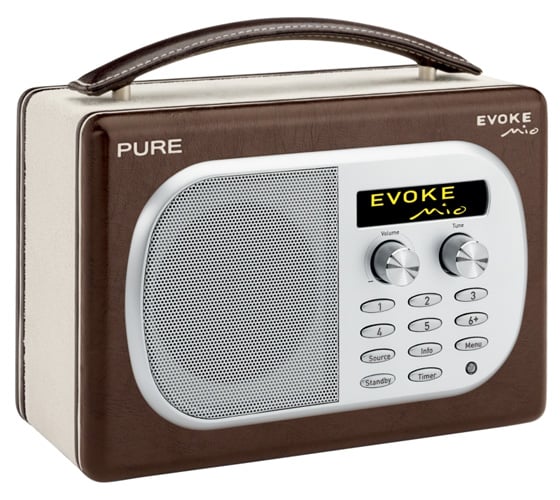 Reg Rating 90%
Price £150
Services DAB, DAB+, FM
More info Pure
Revo Pico+

Upon removing the Pico+ from its box, I was surprised at how small it is. It would certainly fit snugly in any nook the kitchen. A matt black motif means no fingerprints, though wiping it down isn't a problem anyway as the Pico is splashproof.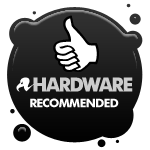 A single dial is set-up to change station and skip through 24 possible presets, with dedicated volume buttons to the right. It's basic and easy to use, although the layout doesn't strike me as special and I much prefer a dial for instant volume control.
While the Pico+ does turn up strikingly loud. It doesn't need to be at full blast to make itself heard either. Turn it up to the max and it distorts kicks in, but thankfully you shouldn't need to go up to 11 on this. Its 6W output projects extremely well from its compact 2.25in speaker. There's also a Dynamic Range Control feature, which boosts quieter points of the audio to overcome any background noise.
On the front you'll find the M-port – basically an auxiliary input that connects to an MP3 player or iPod with the supplied cable. Spin the Pico+ around and there are stereo phono outputs and a headphone socket too. There's also a built-in rechargeable battery pack that claims a whopping 12 hours of playback and a remote control included too. Noice.
At just over six seconds, the Pico+ does a little longer to turn on that the others, but it's decent value for money and a savvy choice for less than a tonne.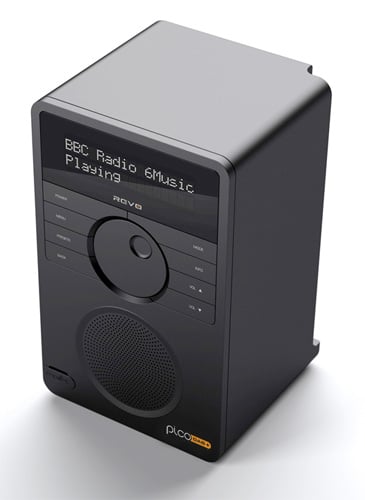 Reg Rating 85%
Price £99
Services DAB, DAB+, FM
More info Revo
Roberts Classic

The Roberts Classic is a minimalist option that you could hang on a hook in the kitchen. A petite portable device that brings DAB to any environment, powered either by the mains or six AA batteries.
Controls are quite fiddly at first and changing stations should be easier, but it soon becomes familiar and things start to get quicker. Text is all calculator-like, jumping across the LCD display in robotic fashion, but info blurb aside, reading stations was easy enough.
It's surprising the 3in speaker has just 0.7W of output power. Although unstated, presumably this is an RMS wattage measurement, rather than peak, as it is rather loud. And while it doesn't have the desired bass, it still feels balanced with no obvious trace of distortion. There's also the standard headphone socket and a USB port for software upgrades.
I was handed a similar analogue-only Roberts radio for free once at a festival, in promotion for Diesel U Music - a station I busted some raps on last year. And that Roberts still gets used today as a kitchen radio gets takes regular trips to the park. This Roberts Classic is a much better radio in the same mould. While its not without a certain fiddle factor, it is great value at £40 and definitely worth a consideration.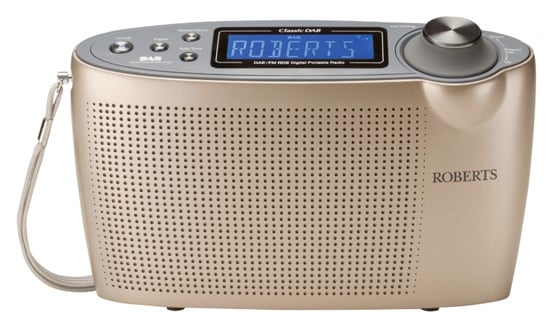 Reg Rating 80%
Price £40
Services DAB, FM
More info Roberts
Sony XDR-S100CD

"Woah, it's huge. Too big for a kitchen?" I thought as I pulled this one out. On reflection, it would sit nicely on my fridge and I'd bust out my CDs from back in the days. But this is about the DAB tech, which is also on offer, along with alarms and timer settings. Handy for committed chefs.
The controls take a bit of getting used to, but there's a pleasant selection of features to grasp, including the ability to pause and rewind DAB broadcasts. The front panel station dial feels like it needs a button in the middle to make selection when scanning, as you actually hear the DAB stations as you flick through them, grrr. The display is large and clear to read. On the back there's a line out, audio in and a headphone socket.
With two 3W speakers, there are no worries the extractor fan will drown them out. The bass could be stronger, though – I had to adjust the EQ settings and max it out to give those tunes that needed boom. There was slight trouble getting a decent signal on a few stations, which could prove an issue in some reception areas.
For some bonkers reason, Sony sent us a product that is now discontinued. It isn't just the company's database security that's leaves room for improvement. However, end of line tech is always light on the wallet, so hunt around and you might be surprised. If you have the space, and a sizeable collection of CDs, the XDR-S100CD could be what you're looking for. It comes with a remote and can also be taken to the streets like an old school boombox, should you fit it out with six size-C batteries.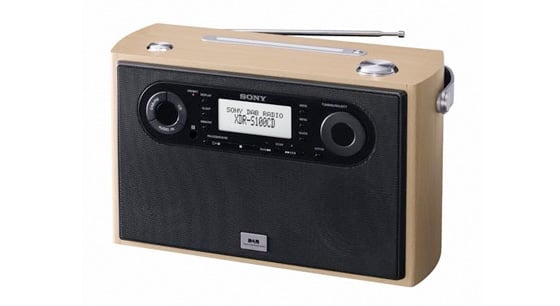 Reg Rating 70%
Price £180
Services DAB, FM
More info Sony
View Quest Retro

Here's another retro-styled one, with a modern touch of iPhone dockery and a hint of a 1980's plasticised kiddy gadget. The View Quest goes for a minimal look, opting for buttons instead of dials and comes in a range of bold colours.
The tacky plastic fronting is unattractive, though, with its plastic grille ridges big enough to noticeably collect dust. Then there are some awfully clunky buttons that reek of cheap manufacturing. It's too much of a fiddle for ideal kitchen use, but does have alarm settings and a commendable size, backed up by reassuring weight.
Audio is booming through stereo 10W speakers and won't disappoint. No trouble hearing tunes as the kettle-pot whistles. There is a slight distortion, but only at extreme volumes and a premium bass response helps to keep things sounding warm and enjoyable.
There is, of course, an iPhone/iPod dock built-in too and if you fill her up with Size-C batteries, you can take her on the road. The power lead is shorter than average and while there is an aux in, the View Quest is the only model not to include a headphone port.
The bonus of a dock may swing this in favour of the Apple collective and audio is certainly commendable, but I think there are better choices here for kitchen use. Still, you could do much worse too and the Retro is reasonably priced.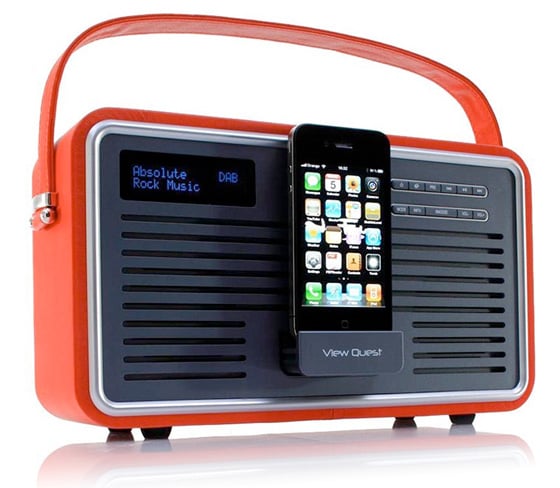 Reg Rating 75%
Price £100
Services DAB, FM
More info View Quest
Vita Audio R1

Here's one for the executives. Construction is smart, with a sturdy build and minimalist look. All operations sit on top, a single dial surrounded by control buttons and highlighted by a subtle blue glow. It looks slick and isn't hard to use with five, hold-to-save, preset buttons and an excellent display, including a handy DAB signal bar and an ambient light sensor for auto brightness adjustments.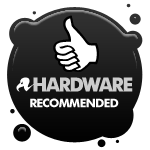 The Vita is audiotastic, pleasing with a monster output, free from distortion, from its 3.5in mono speaker. Low frequencies thump like Bam-Bam thanks to a smooth bassport built-in to the base. This beaut is bound to beat the bellow of the blender.
A perfect size and a solid weight, the R1 is a real gem that would look fab in any kitchen. It does cost a fair wad, though, but, if money isn't an issue the R1 could be up your street. It oozes class and has an optional battery pack, should you wish to take it out to a barbecue.
Hasta la Vita, baby. ®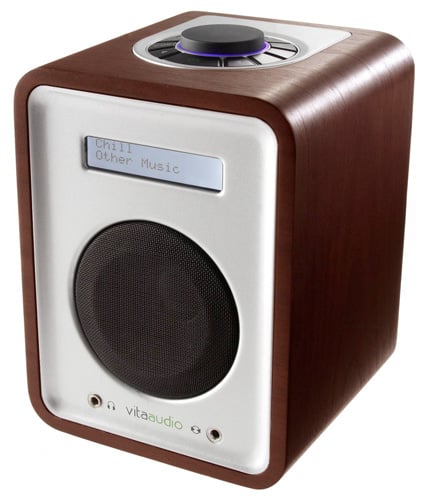 Reg Rating 85%
Price £180
Services DAB, DAB+, FM
More info Vita