Original URL: https://www.theregister.co.uk/2011/05/26/review_htc_wildfire_s/
HTC Wildfire S Android smartphone
For the cost conscious caller
Posted in Personal Tech, 26th May 2011 06:00 GMT
Review With HTC churning out a different handset for seemingly every demographic, the original Wildfire was 'the weeny one'. The recent Wildfire S updates the concept with improved screen and processor, the latest (almost) Android 2.3 Gingerbread, plus GPS, Wi-Fi and 3G, at half the price of a high-end handset.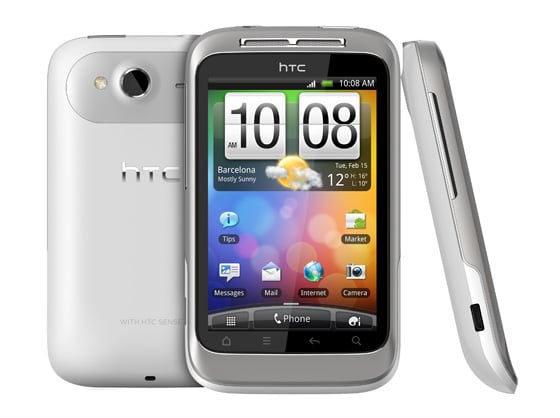 HTC's Wildfire S: offers a speed bump and a higher res screen over the original
The pricier handsets might be fighting each other to see just how big they can make a screen that will still fit the in the average pocket, but the Wildfire S makes a virtue of its petite proportions.
It's ditched the optical navpad and the shortened 101 x 59 x 12mm casing surrounds a 3.2in screen with the traditional four Android buttons on a touch sensitive strip beneath it. There's a long, slim volume rocker and microUSB power/sync slot on the side and on/off/sleep button with 3.5mm headphone jack on top.
The original Wildfire suffered screen envy compared to many of its rivals, delivering a none-too-sharp 240 x 320-pixel resolution. The new version has the same screen size but bumps that up to 320x480. Indeed, it looks much better, though it still suffers way too much glare in sunlight but responds sensitively to touches and presses.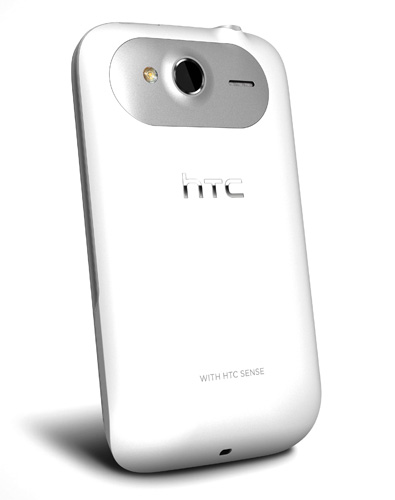 5Mp snapper on the back but no front facing cam
The Wildfire S runs Android 2.3.3 Gingerbread, which has only just been usurped by version 2.3.4, bringing video chat to Google Talk and a few other tweaks. Still, there's no front-facing camera on the Wildfire S to take advantage of it, so that's not an issue.
Speed limits
As for the other enhancements, the software update should be available in the next couple of months. There's no NFC chip either, which would allow you to use Gingerbread's wireless payments capability if and when such things ever become popular in the UK.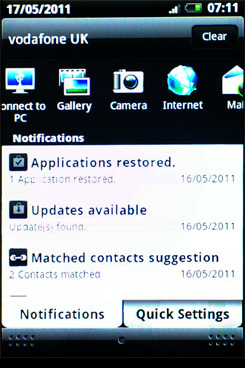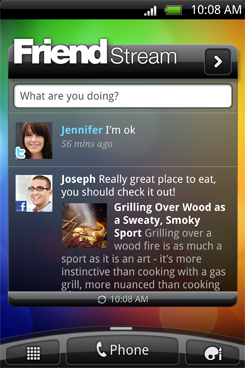 Status menu and Friendstream
The 600MHz processor with 512MB RAM is an improvement on the previous 528MHz model, but still dragging behind the 1GHz powerhouses running the higher end phones. As a result, it's far from nippy, with some noticeable lag when switching between apps, browsing, downloading and playing some of the more intensive games.
However, the latest version of HTC's rightly praised Sense interface is fully engaged, with the FriendStream social networking, People, Media Player and Weather apps all intact. There are a few little extras too, with some extra tabs in the pull-down status menu and the ability to filter your app drawer to highlight apps you've downloaded or recently used.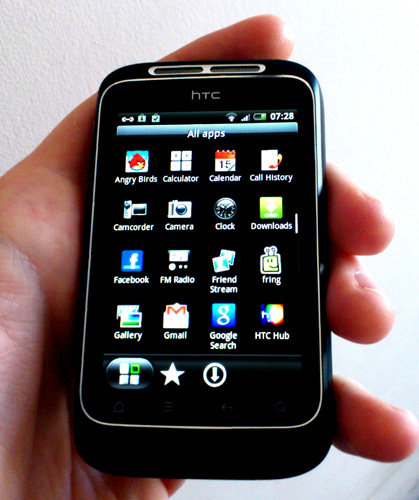 App filters: reveals most used and recently downloaded apps
As usual with HTC, the 5Mp camera offers only middling quality at best, though it does include an LED flash and autofocus. Maximum video resolution is 640x480 pixels, so no HD recording, not even of the 720p variety, though you can upload your vids direct to YouTube if you like.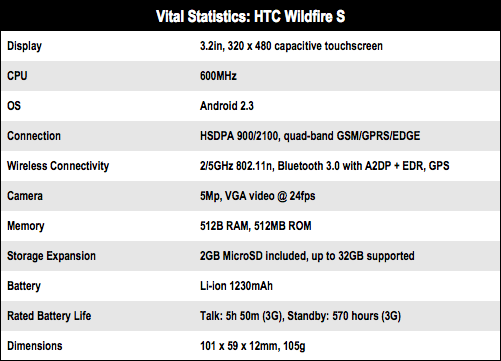 Sample Shots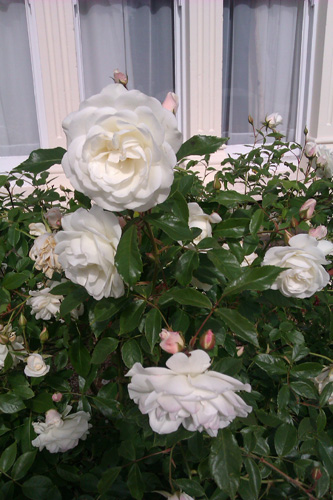 Click for a full-resolution image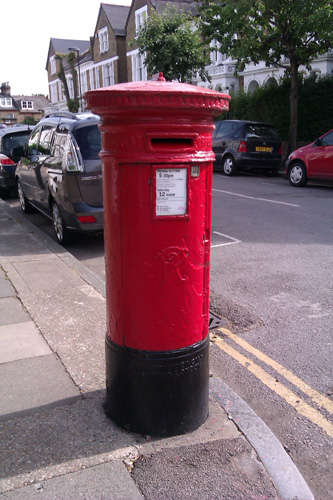 Click for a full-resolution image
Viewing pleasure?
The media player is basic but functional and can handle 3GP, 3G2, MP4 and WMV video files (no DivX or Xvid though) as well as AAC, AMR, OGG, M4A, MOD, MP3, WAV and WMA audio tracks. Films look reasonable on screen, but the still relatively low screen resolution means you'll be unlikely to feel driven to watch often.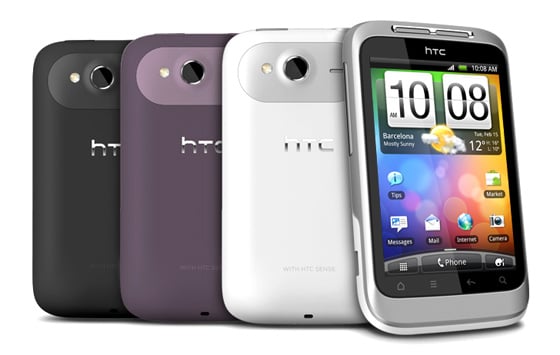 Budget Android smartphone that doesn't cut too many corners
The music player is also basic, with none of those fancy options for searching and identifying music and lyrics using the internet, and you'll probably want to upgrade the rather woolly headphones it comes with. There's an FM radio too, and it comes with a 2GB microSD card to boost the 512MB on board.
Despite its smaller size, the Wildfire S has the same 1230mAh battery as its predecessor, and it delivered just over two days of fairly heavy use – certainly better than you'll get from the higher end smart phones.
Verdict
It's not top of the range but then it's not meant to be, and the HTC Wildfire S makes some very reasonable compromises between flash and cash. It's not that cheap though, and there are a few rival Android handsets offering a similar performance and features that cost less. But it's still a solidly capable little device, with plenty to entice the Android newbie or smart phone fan on a budget, and who's not in too much of a hurry. ®
More Android Smartphone Reviews

Samsung
Galaxy S II
LG
Optimus 2X
HTC
Desire S
Sony Ericsson
Xperia Arc
Motorola
Defy