Original URL: https://www.theregister.co.uk/2011/05/26/ofcom_3g_speeds/
Ofcom awards fastest 3G mobe-data crown to O2
Says coverage is more important: but doesn't measure it
Posted in Networks, 26th May 2011 10:15 GMT
Ofcom's report on mobile broadband shows O2 has the UK's fastest 3G network, and Orange the slowest, but highlights that coverage matters a lot more than speed.
Taking average download speeds over a three-month period, O2 comes in just under 3Mb/sec, while Orange languishes at half that – nearer the overall average speed of 1.5Mb/sec. But the overriding factor in connection speeds is the quality of coverage offered locally, and Ofcom still reckons punters should be buying on that basis.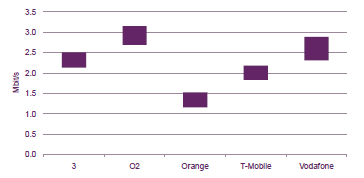 We're told that 17 per cent of households are using wireless broadband these days, with 7 per cent relying on it exclusively. Many of those are people who have recently left home, are living in rented accommodation, and don't want the grief of an immobile contract. But unless they're very fortunate, they aren't getting the broadband speeds they need, at least according to Ofcom's figures.
Ofcom's report (83-page PDF/1.3MB, surprisingly hard to read) is based on detailed analysis from 97 fixed locations, all of which apparently had decent 3G signal on all the networks. Epitiro, which carried out the work, also drove around specific areas to see how the signal strength affected the download speed (but no tests were carried out while moving). A thousand volunteers also installed software that tested connection speed four times a day, if the volunteer's PC was switched on at the time.
That totalled 4.3 million data points, which have been put together into a detailed report which compares everything from HTTP latency to DNS lookup times, though few people will get beyond the headline figures of average download speed by operator.
The report reaches conclusions that some might consider obvious: coverage is more important than speed, mobile broadband isn't as fast as fixed broadband (fixed averages at 6.3Mb/sec), 3G connections are faster in cities than in rural areas, mobile connection speed doesn't vary significantly throughout the day – nothing that one couldn't have deduced, but nice to see it all confirmed.
There are some interesting odds and ends, such as a proper look at the image compression used by operators. Only O2 and T-Mobile were caught compressing images for delivery to a desktop computer (smartphones weren't part of the test), but those two operators were squeezing images by as much as 75 per cent, which made browsing seem much faster (although Epitiro allowed for that when calculating the figures).
The report points out that operators' habit of advertising speeds "of up to xxx" is a mockery – though there's no obvious alternative given the highly variable nature of wireless connections.
Coverage isn't considered by the report, despite being identified as the most important factor in download speed. So, all other factors being equal, you'll probably get a faster broadband connection from O2 than anyone else. But there are still many areas of the UK where two tin cans and a piece of string can outperform O2's 3G network, so best check first. ®