Original URL: https://www.theregister.co.uk/2011/05/26/ballmer_in_peril/
Ballmer: Time up for 'stuck in the past' Microsoft CEO?
Skype was not the answer
Posted in Business, 26th May 2011 11:39 GMT
Analysis A billionaire hedge fund manager is calling for Microsoft's chief executive Steve Ballmer's head. Could it be that the irascible Redmond kingpin's reign is finally drawing to a close?
David Einhorn, president of the $5bn Greenlight Capital group, has reportedly told a conference that Ballmer's "stuck in the past" and should give somebody else a chance at the top.
The moneyman's complaint is the standard grousing about the under performance of Microsoft's stock, which has hovered stubbornly around the $25-mark for a decade – the entirety of Ballmer's reign as CEO, who took over from Bill Gates in January 2000.
According to Reuters, here, Einhorn told the Ira Sohn conference in New York on Wednesday: "His [Ballmer's] continued presence is the biggest overhang on Microsoft's stock."
While the source of the whining is not new, the timing is significant, proceeding the biggest acquisition in Microsoft's history: $8.5bn in cash - not stock - for loss maker Skype.
Counter to what you might suspect, and what Ballmer might have hoped from a deal of such magnitude, Skype gave Microsoft's stock price absolutely no boost in value. That meant Einhorn's colleagues didn't see the deal the same way Ballmer did or buy his justification. Ballmer reckons Microsoft can sell more ads using Bing against Skype.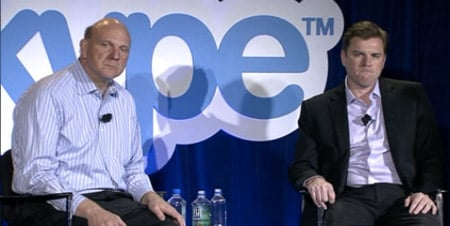 Smiles and handshakes all 'round, not: Ballmer and Skype CEO announce mega buy
Ironically, Wall St has been frantically calling on Ballmer to buy somebody (anybody) for years. Truth is, Microsoft has been buying – just not making the kind of mega deals investors hoped would move the needle on Microsoft's stock and take Microsoft in a fresh direction away from the PC.
Microsoft is a money spinner, thanks to Windows and Office but its online business remains anchored firmly under water despite billions of dollars being showered up on it from above.
The Online Services Division, home to Bing, chalked up its latest loss during Microsoft's third-quarter: $726,000. Bing, meanwhile, has received billions of dollars in expanded R&D for more than two years with little tangible result: Microsoft's share of the search market has expanded from eight to 13 per cent, but this has been greatly helped by an agreement to become the search engine underneath Yahoo!'s properties. Google's market share remains relatively untroubled by Microsoft's efforts. Google is on 65 per cent.
What makes Einhorn's comment unique is that he's the first investor to zero in on Ballmer rather than express general frustration with the performance of Microsoft's stock.
Saved by the Bill, for now
He's also more than some anonymous portfolio jockey or every day stock analyst: Einhorn is feted as the person who rumbled Lehman Bros as being under-capitalized and over exposed.
Is the clock finally ticking on Ballmer?
Earlier this year, the FT reported rumblings on Microsoft's board about Ballmer's leadership. "He is coming under greater pressure [from the board] to raise the company's game," the FT claimed.
Only, it seems, Skype wasn't what the board exactly had in mind and it took Bill Gates, a fellow board member, to swing for Ballmer and help convince the others to approve the deal. Gates' comments reveal Ballmer was alone on the board over Skype, and that it took the considerable influence of Gates to sway people.
Until Skype, Ballmer was reasonably safe. While the stock's not going north, he is CEO of a company that makes more than $60bn a year. At $8.5bn and with a board clearly not 100 per cent behind Skype, Ballmer's now out on an even bigger limb than before when he didn't buy Yahoo! and when he laughed off Apple's iPhone that Microsoft is now trying to copy.
"Spending $8.5bn in cash on a loss making web telco based on a theory of making money will be Ballmer's last role of the dice"
With an online business stuck in the red and with Microsoft spending billions just to catch up in search and on mobile phones, $8.5bn in cash punted on a loss making web telco based on a theory of making money will be Ballmer's last role of the dice.
That said, Einhorn's comments at this stage are more annoyance than problem. Greenlight holds just nine million shares in Microsoft, or 0.11 per cent of outstanding stock, according to Thomson Reuters, a fact that means Greenlight lacks the power to actually oust Ballmer should it wish to.
At Sun Microsystems, when Southeastern Asset Management decided it was time for a change, it increased its ownership stake from 17 per cent to 22 per cent, to become Sun's single biggest shareholder. From there, Southeastern secured the appointment of two new board members to the old 11-man board, and shortly after Sun was put up for sale.
Greenlight could also become active: it could rally other disgruntled shareholders – of which there are many – and they or Greenlight could mobilize to increase their share ownership to force the changes they want – just like Southeastern Asset Management at Sun.
Potential allies are waiting in the wings. The Crandrea Group had attempted a grassroots shareholder activism movement before but that came to nothing. According to Crandera, it's not given up. "We have been engaged in other projects that have consumed time and attention," it said. ®