Original URL: http://www.theregister.co.uk/2011/05/25/games_review_outland/
Outland
Dark matters
Posted in Personal Tech, 25th May 2011 12:00 GMT
Review A quick check of the map confirms the hero's next objective – a mere two levels above him. What the map doesn't reveal are the obstacles standing between him and that adventure-progressing goal.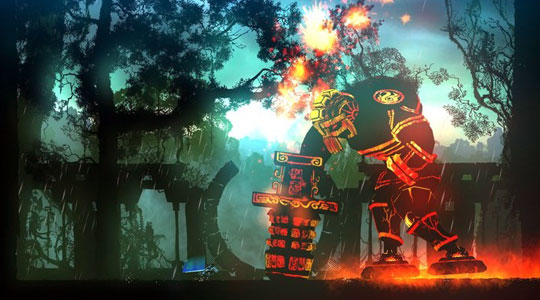 How Inca-pacitiating
Skilfully evading not one, but two spike traps with graceful fleetness of foot, the hero finds himself presented with scaleable ridge, leading to a chain of increasingly levitated platforms.
Obstructing his progress are not only a mixture of dark and light aligned crawlers – enemies which defy gravity as they cling to the sides and underneath of the platforms – but also ever-renewing conflagrations of red and blue projectiles, each polarised toward either the power of light or darkness.
Steadying himself, the hero leaps into the maelstrom; effortlessly switching from light to dark as he breaks through the storm. He momentarily halts in order to dispatch one of the light-aligned crawlers, so providing him clear passage as he ascends once more to his goal: a switch which opens a doorway to an ever-darker expanse of jungle. With a renewed sense of determination he ventures onward to the next challenge.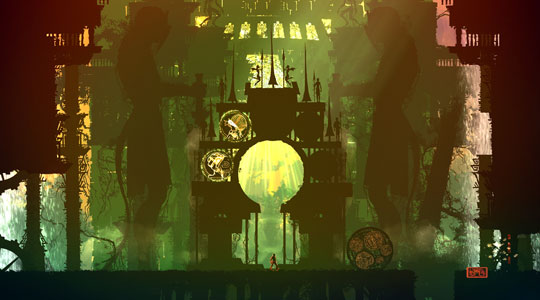 Temple fortune
OK, hopefully you can forgive me the brief foray into the realm of creative writing, it's just that Outland's sparse story – of a hero restoring order to the world – combines with evocative looks and gameplay in such a way that it's easy to build your own narrative. In the same way that a Cormac McCarthy novel, for example, shines but the merest of lights on its characters, challenging the reader to extrapolate and make sense of events for themselves.
Save the story
It's perhaps sheer coincidence on the developers part, that the light narrative blends so well with the minimalist approach of the rest of the game. Regardless, it's a refreshing change to not be spoon-fed unnecessary storyline; a method deployed so successfully in the likes of the similarly subdued Ico & Shadow of the Colossus.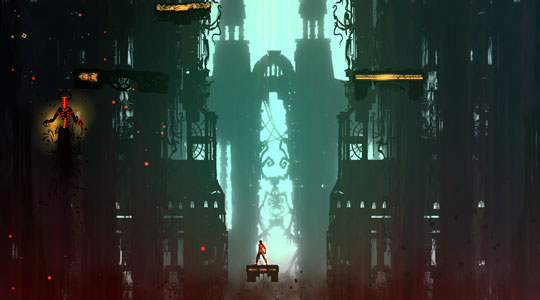 Platform for success
Outland, if you hadn't guessed, is a side-scrolling adventure game in much the same mould as classics such as Metroid and Castlevania, and more recently its fellow XBLA title Shadow Complex, as well as Hudson's quirky Wii title A Shadow's Tale.
Expect to be leaping to distant platforms, battling enemies with both wit and sword, and discovering new abilities in order to facilitate progression, often involving the backtracking through old stages to find new routes.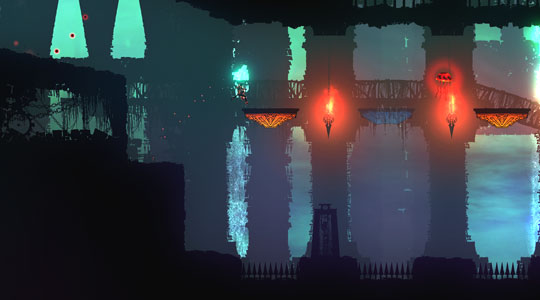 Red light district
The game's hook is the hero's ability to adopt the powers of light and darkness, instantly drawing parallels with shoot-em-up Ikaruga. In Treasure's classic, rapidly switching polarities from white to black ensured protection from same-coloured incoming fire, while maximising damage against oppositely coloured hostiles.
Graphical kaleidoscope
That's a motif continued here, and indeed, as in the opening scenario I described, switching polarities is key to your progression – get it wrong and not only will you lose a heart, Outland's health bar, but often get knocked off whatever ladder or platform you were on. After an initial couple of hours, quickly switching becomes second nature. However, when faced with one of the game's multifaceted traps, getting repeatedly knocked back can prove frustrating – an issue not helped by the wide spacing of checkpoints.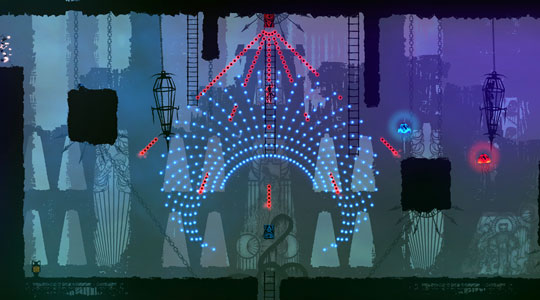 Raving it up
Still, the hero does possess other powers to ease progress – he'll learn to slide, transport, ground stomp and more, thus granting you further skills to assist exploration of the game's huge areas: jungles, cities and even the underworld (all sketched out –including objectives – on a handy quick-glance map). It's the cumulative heightening of powers – as has been done in Metroid, Shadow Complex, et al – but still a system which ensures that the game doesn't give up all its surprises at once.
Graphically Outland is a treat; a real testament to developer Housemarque's expertise when assembling download-only titles – this being the developer who brought us the excellent Super Stardust HD, after all. Every model, be that man or beast, is gracefully animated, while mesmeric backdrops generate plenty of ambience. Even your very path is marked out by a kaleidoscope of shimmering butterflies.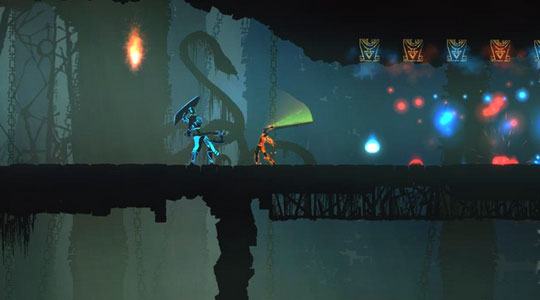 The green swing
The overall feel is one of minimalist elegance with dark and shadow used abundantly, complemented rather beautifully by yellow, green, blue and red hues which dominate the colour scheme. The whole effect evoking lost civilisations, the Mayans or even Persians say, and even the music plays its part, heightening the feeling of intrigue and mysticism.
Bossed around
The bosses are generally of the impressive variety too, an early boss, the giant Golem, requiring dexterity to climb up his club – a nod to Shadow of the Colossus, while later bosses cause headaches with their attacks of red and blue projectiles in elaborate designs.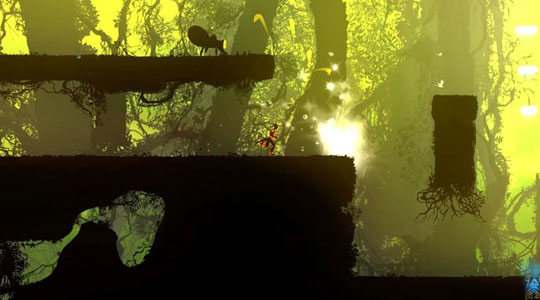 Light the way
In fact, the difficulty levels are perhaps overly ramped up in these battles, with taking damage almost impossible to avoid. Restarting upon death can irritate, but then hasn't that always been the way in the combating of pattern-regular bad guys?
Occasionally you will come across co-op portals too – on-line challenges which can only be beaten with a friend in tow. In these tough set-pieces timing is everything, with players challenged to block incoming fire for one another, or clear paths of obstacles. A well conceived idea decently executed and an added extra to a campaign itself playable with a partner.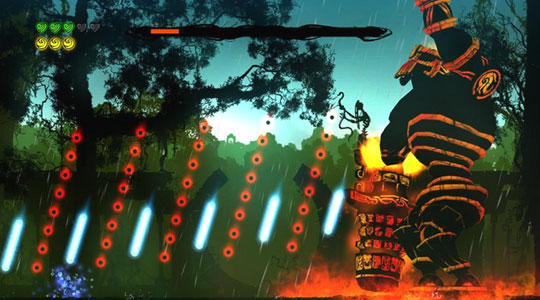 Heavy rain
Verdict
A steep learning curve and the tough negotiation of some truly mind-bending combinations of red and blue projectiles means Outland can frustrate at times; who ever said saving the world was easy? Thankfully, its ambience and visual flair easily compensate for hitting the odd brick wall. While the price is the real deal breaker, marking out the low budget download-only scene as the current hub of risk-taking and cutting-edge design. ®
More Games Reviews

LA Noire
Brink
Darkspore
SOCOM 4
Crysis 2