Original URL: https://www.theregister.co.uk/2011/05/24/wtf_is_4g/
WTF is... 4G
Not LTE, for starters...
Posted in Networks, 24th May 2011 12:02 GMT
The great thing about standards, as some wit once said, is that there are so many to choose from. Mobile phones are afflicted worse than most technology – a multiplicity of standards, nested within one another like a messy set of Russian dolls filled with alphabet soup.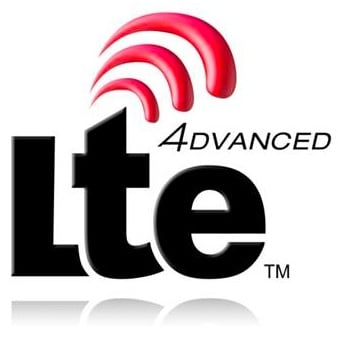 The 'generations' of mobile networks are fairly loose, but appear roughly once a decade: the first, analogue, 1G cellular networks around 1981, then digital 2G in about 1992. The latest, when it's ratified, will be 4G – but to understand where it fits in, you need a bit of context.
At the turn of the century, 3G was defined to mean data speeds of at least 200Kb/s by the International Telecommunication Union's IMT-2000 (International Mobile Telecommunications-2000) specification. However, IMT-2000 didn't specify the "air interface" – the radio link from phone to mast – so two competing standards developed out of the two prevailing 2G systems.
GSM, as used by about 85 per cent of the world, yielded UMTS (Universal Mobile Telecommunications System). UMTS uses the W-CDMA (Wideband Code Division Multiple Access) air interface. It's probably the form of 3G you're used to.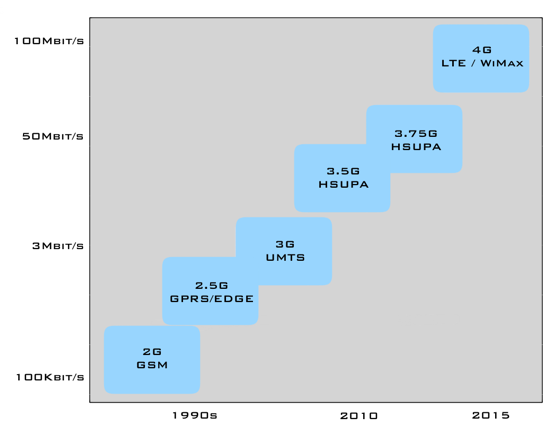 Cellular evolution: the path to 4G
In America, Qualcomm – yes, the old Eudora company – upgraded its IS-95 standard - marketed as cdmaOne - to create CDMA2000. It's used in the US and a few bits of Asia, predominantly South Korea. CDMA2000 phones don't work on UMTS networks and vice versa, although both are 3G because that moniker dictates how fast they can move data, not the air interface they use to do it.
What does '4G' actually mean?
Like 3G, the term 4G primarily specifies a speed requirement. The 2008 successor to the ITU's IMT-2000 specification is IMT-Advanced. In part, this stipulates that 4G should deliver in the region of 100Mb/s (on the move) to 1Gb/s (stationary or pedestrian) data speeds to users, thus exceeding most current wired broadband provision.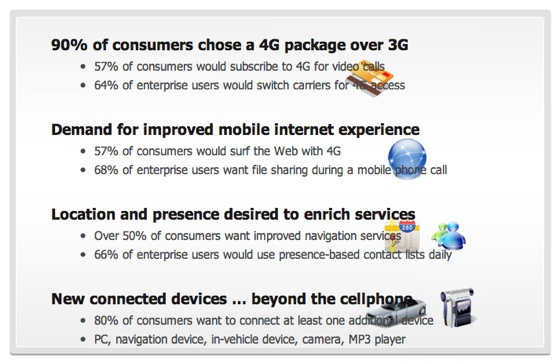 4G isn't just for phones
Source: Alcatel-Lucent
A bigger difference is something quite invisible to users. Existing mobile networks have two, parallel infrastructures: one, circuit-switched, for voice calls, and a separate, packet-switched layer for data traffic. 4G will be different: a pure packet-switched TCP/IP network, running everything over IPv6. Voice becomes VoIP.
By the time the ITU set its specification, two competing systems were already under development. A group called 3GPP (Third-Generation Partnership Project) developed LTE (Long Term Evolution), a successor to UMTS. Meanwhile, the totally separate 3GPP2 was working on UMB (Ultra Mobile Broadband), an upgrade to Qualcomm's CDMA2000.
Fortunately, in late 2008, Qualcomm ended work on UMB and switched its efforts to LTE. Since Qualcomm was its main supporter, UMB is now effectively dead.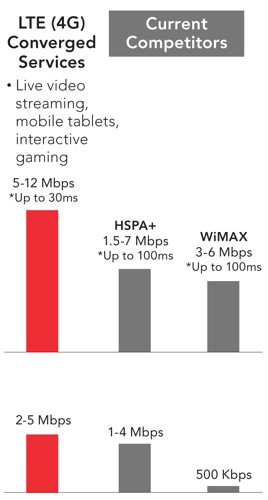 LTE vs HSPA vs WiMax - according to Verizon
Cue harmony: everyone going with LTE. Alas, it was never going to be as easy as that. Firstly, LTE itself doesn't meet the requirements of 4G – it's not fast enough. Then, to further muddy the waters, the ITU has allowed WiMax to be called a 4G technology too.
From Wi-Fi to WiMax
Although the ITU has blessed it as a form of 4G, WiMax is a high-speed wireless networking system, not a form of mobile phone network. More formally known as IEEE 802.16, WiMax is a medium-range wireless data network akin to Wi-Fi – aka IEEE 802.11.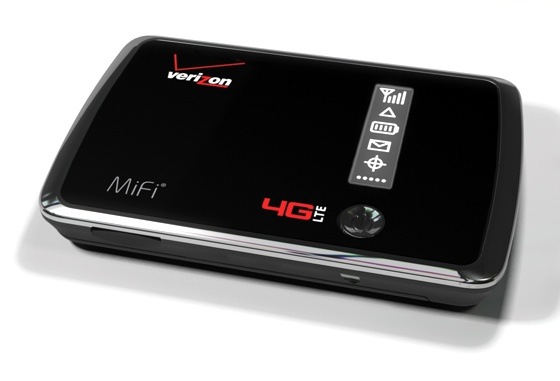 MiFi gadgets - mini Wi-Fi hotspots with LTE net connectivity - are already appearing
But whereas Wi-Fi is a short-range network for use inside buildings, 802.16 was originally intended as a wireless alternative to DSL for 'last-mile' broadband delivery. WiMax networks can span up to 50km (31 miles) in direct line-of-sight operation with directional antennæ, or 6-10km (4-6 miles) with no line of sight mode and non-directional antennæ. Theoretical speeds range from 40 to 70Mb/s, although typical user speeds tend to be around 3-11Mb/s.
Originally, WiMax 1 (802.16-2004) limited client devices to a single basestation. WiMax 1.5, "Mobile WiMax" (802.16e-2005), enhanced this to allow devices to roam from one base station to another, and the forthcoming WiMax 2 standard (802.16m) boosts speeds up to 120Mb/s down and 60Mb/s upstream.
It's fair to say that WiMax hasn't been a hit. It is out there, in a few areas, chiefly where it would be difficult or expensive to reach people with cables or fibre. For instance, one of the first WiMax rollouts in Europe was on Mount Athos, an isolated mountainous peninsula in Greece populated solely by monks. There are also some urban networks in the US and in less-urbanised areas such as Pakistan, and it's being used to provide wireless "backhaul" for 3G phone networks in Africa.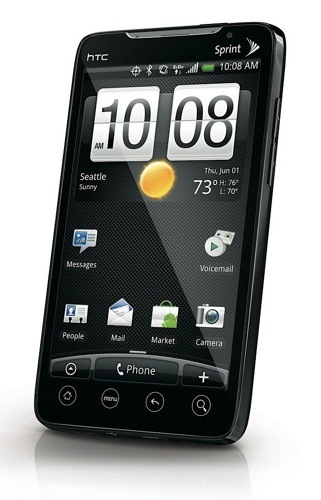 HTC's Evo 4G: actually 3G plus WiMax, not 4G
Many of the current generation of 4G-branded phones in the US are not actually 4G, whatever their names may suggest. Some, such as HTC's Evo 4G, are actually CDMA2000 3G phones with an additional WiMAX transceiver. Others, such as Samsung's Droid Charge and HTC's ThunderBolt, are LTE devices.
Better LTE than never
LTE is "3GPP Release 8" to its friends. Rollout started in some places at the end of 2009, but it's not 4G, whatever the telcos' marketing departments say: it maxes out at a trifling 100Mb/s down and 50Mb/s upstream. If anything, it's 3.9G.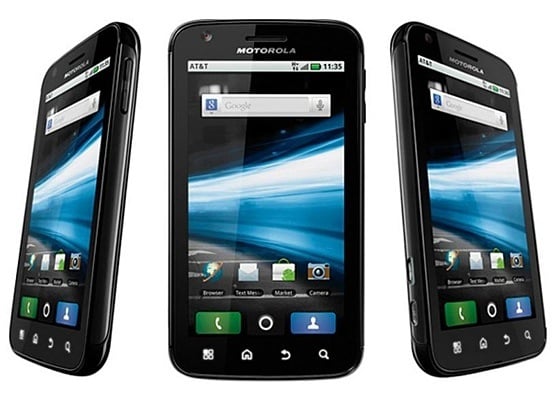 Motorola's Atrix: the 4G model will take a few more years to arrive here
LTE replaces UMTS' two layers with one: "System Architecture Evolution." This delivers a lot of 4G's planned key benefits: it's a simplified, all-IP network; access speeds have gone up and latency has gone down; and phones can in theory switch between more different Radio Access Networks. Where a current UMTS phone can switch seamlessly between GPRS – that is, 2G GSM – and UMTS (3G GSM), SAE also, in theory, enables a phone to hand off between cdmaOne and CDMA2000 networks as well – and if the phone is suitably equipped, between WiMax ones, too.
Another benefit of LTE is that it can cope with different sized slices of radio spectrum, scaling from 1.25MHz up to 20MHz. If it's given a pair of channels, LTE can use Frequency-Division Duplexing (FDD), but it can also cope with a single channel using Time-Division Duplexing (TDD). Physically, like 802.11n, it supports multiple antennæ – MIMO – for greater robustness and resistance to interference.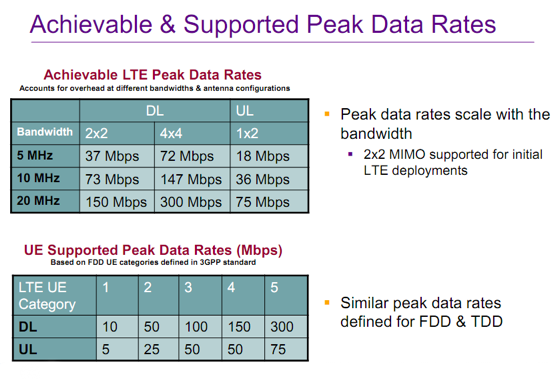 The single most important characteristic of true 4G is that it doesn't exist yet. What will become the 4G mobile standard for the whole world is 3GPP Release 10: LTE Advanced. It's a compatible enhancement of LTE to bring it up to the ITU stipulations, with upgrades in several areas in the pursuit of greater speed.
What next?
LTE Advanced can aggregate up to five LTE radio channels into one – so if given 20MHz-wide channels, it could treat them as a single 100MHz-wide channel. LTE Advanced also opens up more possibilities for changing cell infrastructure, such as subdividing cells, and supports more antennæ in MIMO configurations – eight downstream and four up, as opposed to four down and one up. Devices can be used while moving at higher speeds – right up to 500km/h.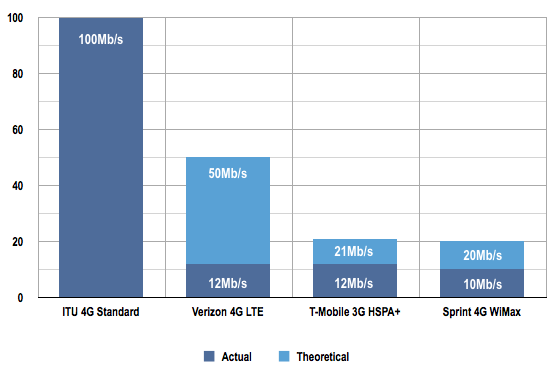 Some way to go before we get true 4G
But at the same time, LTE Advanced includes some of the advantages of CDMA. While it can use large chunks of spectrum for high speeds when required, it can also efficiently scale down to much smaller slices for better bandwidth efficiency – a strength of IS-95 and CDMA2000.
Suitably-equipped phones will be able to talk to both LTE Advanced and CDMA2000 networks – and conceivably WiMax as well, with which LTE Advanced shares its OFDMA multiplexing algorithm.
It's more or less inconceivable that anything else will replace LTE Advanced as the official standard for 4G mobile phones now, although WiMax 2 will have a role too. Which only leaves one big question: what will be the basis of 5G? ®
4G in the UK
Ofcom will be auctioning the LTE spectrum – 800MHz and 2.6GHz – next year, later than originally anticipated. The reason for the delay: UK operators were keen to see how much they can squeeze out of 3G networks before deciding how much to spend on 4G spectrum.
But punters – expecting better performance from 4G phones and seeing how many, more advanced handsets are appearing in other parts of the world – will demand 4G handsets here. Competition-sensitive carriers will eventually supply that demand.
But not until 2015, some analysts believe, at which point the operators hope to have reached the limits of 3G technology - especially now Ofcom has allowed the use of 2G spectrum for 3G applications - and for 4G equipment to be rather cheaper than it is now.