Original URL: http://www.theregister.co.uk/2011/05/24/skylon_esa_report/
ESA: British Skylon spaceplane seems perfectly possible
Wizzo robot runway rocketplane cleared to proceed
Posted in Science, 24th May 2011 12:50 GMT
Good news for spaceplane fanciers today, as a new report issued by the European Space Agency (ESA) says that "no impediments or critical items have been identified" which could block continuing development of the radical British-designed "Skylon" orbital craft.
Many Reg readers will be familiar with the Skylon, modern-day successor to the HOTOL proposal of the 1980s. The idea is to build a huge, superjumbo-sized robot aeroplane which would mainly be filled with fuel tanks containing cryogenic liquid hydrogen and oxygen. Fitted with radical SABRE engines, the Skylon would make a rolling takeoff from a runway, leaving its oxygen tanks untouched to begin with and using the surrounding air to burn its fuel.
As the aerospacecraft accelerated through Mach 6, it would have climbed to such heights that the air could no longer supply oxidiser and the SABREs would switch into rocket mode using onboard oxygen. The Skylon could achieve a low orbit above Earth without any need to throw away expensive fuel tanks or boosters, delivering as much as ten tonnes of cargo into space.
Having completed delivery, Skylon would then re-enter the atmosphere, its novel huge-but-lightweight aeroshell resisting the heat, and come in to land on a runway just as the space shuttle does. But getting it ready for another mission would be comparatively trivial: it wouldn't need to be lifted and hoisted into a vertical position and strapped onto an enormous disposable launch stack of tanks and boosters before being moved to a launch pad very slowly on a mighty crawler vehicle. Rather the Skylon would simply be refuelled, reloaded and rolled back out onto the runway - taking off again in just two days, according to designers Reaction Engines Ltd.
The new UK Space Agency last year asked the European Space Agency to "provide an independent assessment of the feasibility of the proposed design as well as to assess any areas of concern and provide recommendations for the future", and it is this ESA report which has now been released.
According to the Propulsion Engineering and Structures specialists of the ESA, there's nothing about the Skylon design as it stands which is impossible. The ESA report (pdf) says:
No impediments or critical items have been identified for either the SKYLON vehicle or the SABRE engine that are a block to further development.
But the report adds, in italics:
It is clear that the SABRE engine is critical for the successful development of the SKYLON vehicle.
The back end of the SABRE is a relatively conventional hydrogen-oxygen rocket, the most powerful type of chemically fuelled propulsion kit that can be built. If that were all SABRE was, however, Skylon could never work as it would have to carry much more liquid oxygen than it can.
The clever part of SABRE is its ability to use oxygen from the air and burn it in a normal rocket back end. This is achieved by taking air at the front and chilling it down incredibly fast using very, very powerful refrigeration gear running on a closed loop of liquid helium, which dumps the resulting heat into the cryogenic liquid-hydrogen fuel.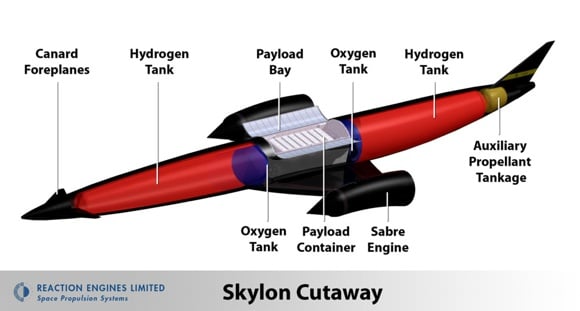 Haul stuff by donkey, after a while you're mainly carrying food for the donkeys. It's somewhat the same with orbital launchers - but at least you get the donkeys back with this one.
The trouble with this is that air contains water vapour, and in the normal course of events chilling it down like this would soon block up the SABRE with ice. Preventing frost buildup is one of Reaction Engines' main special sauces, and they have demonstrated that they can do it in the lab to the ESA engineers' satisfaction:
As part of the ESA technical evaluation of the SABRE engine, the design and operating principles of the frost control mechanism were explained to ESA. In addition a number of tests were performed at laboratory scale on request of ESA to demonstrate the repeatability of the frost control. ESA can confirm that the frost control mechanism of the SABRE engine, (at laboratory scale), works and is repeatable. In addition ESA expects these positive results to be repeated on the planned tests of the heat exchanger when it is tested on a VIPER jet engine.
These larger-scale ground tests are planned for this summer, as the Reg previously reported.
Assuming that a SABRE nacelle can be successfully built and flight tested aboard the proposed Nacelle Test Vehicle aeroplane - the ESA endorses this plan - Skylon isn't out of the woods yet. It will still be necessary to build the huge main fuselage and wings, which need to be light, strong, able to resist massive heating, and able to hold hundreds of tonnes of explosive cryogenic-liquid fuel.
The ESA structures team think that Reaction Engines have a decent shot at doing this, however:
Structural design work undertaken by REL does not demonstrate any areas of implausibility, given the relatively benign environment of the flight trajectory.
According to the ESA, the cigar-shaped main fuselage of Skylon is "more akin to that of an Airship than a conventional launcher or aircraft". This makes sense as its designers are facing similar problems to those that the long-ago engineers who built the great rigid airships of the 1930s had to tackle.
Like their illustrious predecessors, the Reaction Engines team need to enclose as much volume as possible with as little weight and internal structure as possible. The old-timers were even - mostly - trying to enclose the same stuff, hydrogen, though in their case in gaseous form rather than liquid.
Overall the ESA can't see right off any reason that a Skylon-style aeroshell, wings etc can't be built.
So we can expect excellent reusable spaceplanes in the reasonably near future, then?
Perhaps. The Skylon is intended to be a commercial design - the reality is, as has long been acknowledged by Reaction Engines, that no European government or assortment of governments is going to stump up the $12bn it will take to get ships into operation.
It gets you into orbit, but not big-payola orbit
This means that Skylon needs not only to cover its operating costs but pay back its development costs reasonably swiftly. This would mean that such things as the suggested two-day turnaround time and the number of flights a SABRE engine could endure before needing major maintenance would become very important - and these things are as yet unconfirmed. The costs of safely handling and storing large tonnages of explosive liquid hydrogen on the ground could be a major issue, as they have been in ordinary rocket programmes to date.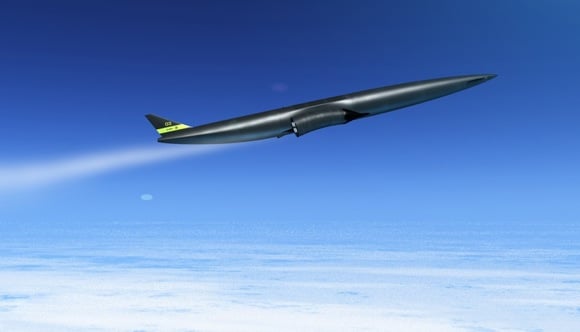 It's definitely got class.
Then, Reaction Engines has its sight set firmly on the lucrative commsat market, where most commercial space money is to be made. Unfortunately communications satellites mainly need to go into a high geostationary orbit: and Skylon itself cannot get to geostationary orbit.
Possible solutions to this include a "Skylon Upper Stage", in which a Skylon would deploy a geostationary satellite attached to a small rocket which would take it to its destination orbit. Reaction Engines nowadays prefers to discuss its proposed Fluyt vehicle, a small reusable robot ship which would remain in space, ferrying many Skylon-delivered satellites from low to geostationary orbit and also refuelling from Skylons as required.
The ESA analysts considered that the low-to-geostationary problem will have to be sorted out one way or another, as Skylon alone may never pay its way:
ESA considers that the SKYLON Upper Stage (SUS) which is potentially required for GTO missions may need to be included in the overall development costs. This is because if telecoms spacecraft customers have to pay to develop a GTO stage on top of the launch price then this may push the cost to orbit to a point where the SKYLON becomes less competitive. ESA recommends that the development cost model of the vehicle be re-assessed to account for the additional cost of developing the SUS.
Based on the existing satellite market, Reaction Engines thinks that a Skylon flight might have a true cost of $40m - comfortably beating the cheapest commercial launch provider right now, famous rocket company SpaceX, which quotes $54-60m per launch for its Falcon 9 vehicle.
But Falcon 9 is flying now, and it can carry nearly five tonnes to geosynchronous orbit already - it doesn't need extra upper stage equipment to get there.
Reaction Engines notes, however, that true costs don't normally bear much relation to prices charged in the space launch business. The company would argue that unseen subsidies to existing rocket firms, coming in large part from military missile infrastructure and other national sources, enable companies like SpaceX and its US and European competitors to charge unrealistically low amounts compared to what their technology actually costs to operate.
Assuming that Skylon benefited from the same kind of help - as have previous European megaprojects of the same kind of size, for instance Concorde, the Airbus A380, Ariane V - a Skylon launch might cost less than $10m. This could represent a serious shift in the costs of going to space, to the point where a tourist visiting an orbiting station could pay as little as $100k for a return flight - as opposed to north of $20m as has been seen in recent times. Whether this view of the hidden subsidies of space launch would apply to Skylon (much more different from a nuclear missile than most launchers are) is unclear.
What is also a bit worrying about Skylon is that weight growth of just a few per cent as it moved off the drawing board and into reality - not at all unlikely, especially with a very radical design in which weight has already been squeezed hard - would wipe out its ability to carry payload altogether.
For now though, as the ESA says, the primary concern is surely to see if the engines will really work. It's also true that such engines would be a new thing in the world, potentially very useful even if Skylon itself can never be built (for instance modified versions might offer hypersonic airliners or military aircraft).
Thus the next thing to focus on is the ongoing SABRE ground tests, and down the road, possible flights of the Nacelle Test Vehicle. And today's positive assessment of Skylon from the ESA is cheerful news for the company and its many fans no matter what. ®