Original URL: https://www.theregister.co.uk/2011/05/23/review_exhibitions_british_library_out_of_this_world/
Out of this World science fiction exhibition
Sci-Fi at the Brit Li
Posted in Personal Tech, 23rd May 2011 06:00 GMT
Review Christmas 1977, my parents bought me a copy of Pan Books' The Visual Encyclopedia of Science Fiction.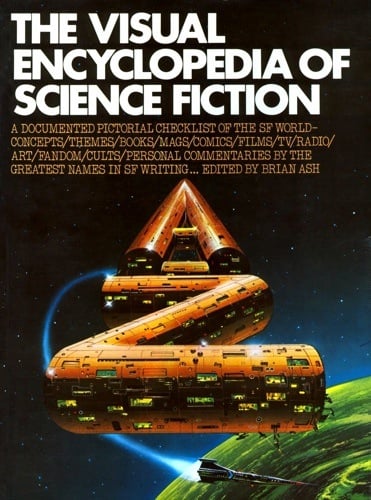 The progenitor?
I'd been reading 2000AD since April - from issue eight, since you ask - and was soon devouring secondhand paperbacks by John Christopher, John Wyndham, Arthur C Clarke and such, and eagerly devouring anything I could find about a new movie called Star Wars.
'My, the boy's keen,' Mum and Dad thought, and decided that the said reference work would introduce me to new authors and ideas.
They didn't look at it, I suspect - at least not thoroughly. Had they done so, they might not have thought a book with a section entitled 'Sex and Taboos' - introduced by the criminally underrated British writer Keith Roberts - suitable reading matter for a ten-year-old.
Looking at it now, that is clearly the most thumbed section of the book, but I lapped up the whole Encyclopedia and its huge selection of art cribbed from book covers and magazine illustrations.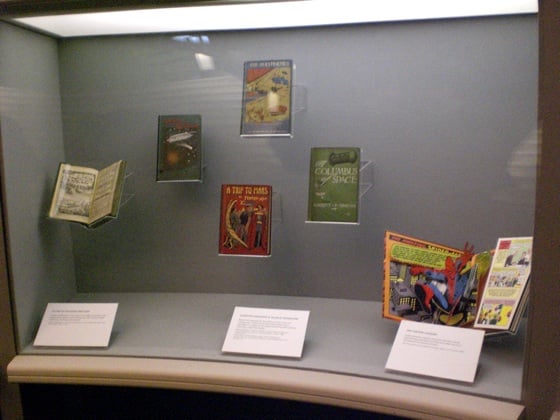 Tome machine: Out of this World looks to back in time, to books
The Encyclopedia was prefaced with a historical timeline, charting the publication of seminal works of science fiction right back beyond the 19th Century, but its main approach was to tackle SF's abiding themes: 'Spacecraft and Star Drives', 'Galactic Empires', 'Time and Nth Dimensions', 'Robots and Androids', 'Telepathy, Psionics and ESP', and such.
Lit Crit vs lightsabres
And this is why the British Library's Out of this World exhibition was so immediately familiar to me: that's how it's arranged too. The exhibits could all be pictures from the Encyclopedia. And both book and exhibition are equally at pains to stress the serious, speculative side of SF.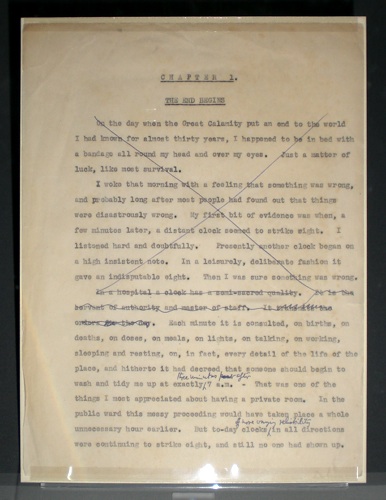 John Wyndham didn't get Day of the Triffids' opening right at first
With sections entitled Alien Worlds, Future Worlds, Parallel Worlds, Virtual Worlds and The End of the World, and the tagline, 'Science Fiction but not as you know it', the exhibition is an attempt to show that sci-fi isn't all lightsabres and warp drives.
It's a more literary world on display here - natural, perhaps, given it's presented by a library - and one more interested in SF's speculative qualities than its escapist pleasures. It can't ignore 20th Century Science Fiction's pulp roots - they reach too deeply - but it clearly wants visitors to come away with the understanding that this isn't a genre bounded by Hollywood.
The Library has had to acknowledge the popular conception of SF, of course, but it has gone for gentler, more thoughtful popular fantasy: there's the inevitable Police Box, an unnecessary steampunk incarnation of K9, a model of Marty McFly's time-hopping DeLorean, and even a display quote from Groundhog Day.
But the moving image itself is represented, on a handful of video terminals, by monochrome movie clips: the BBC's 1984 and Fritz Lang's Metropolis, for example - respectively, SF as literature, as art. Authorial and scientific talking heads toss their orbs too.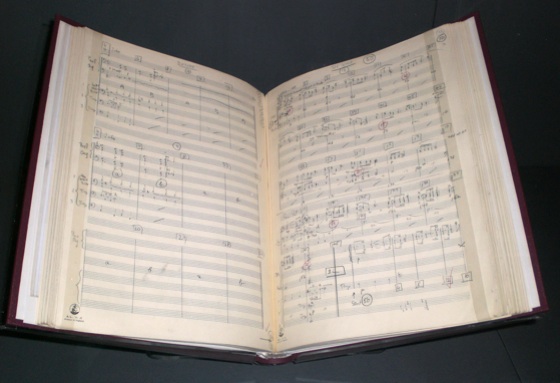 Ooo-weee-ooooooo: Ron Grainer's Doctor Who theme score
SF may be a forward-looking genre, but Out of this World seems tugged by a consistent gravitational pull to the past.
Who Goes There?
Maybe, in the era of the word processor, there isn't enough modern material to show, or SF's commercial nature has now diminished its literary dimension. Even the British Library is taken: witness the huge selection of merchandise available to buy when you leave.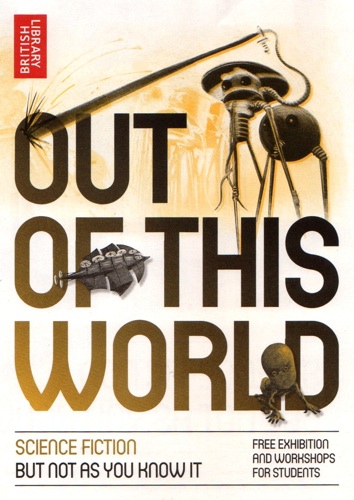 Science fiction: take it seriously
It's also an oddly clinical exhibition - all these references to authors, illustrators, composers and film-makers, all working in a genre ultimately concerned with what the future holds for humanity, and not a picture, not a biography of a one of them.
Alongside the video screens are some interactives that will keep the kids occupied but not for long, and they're unlikely to be engaged by the static displays. My advice: don't take the offspring when you visit.
Out of this World is not without its gems: Ron Grainer's handwritten Doctor Who theme score, and a (small) number of typed or handwritten manuscripts by J G Ballard, Philip Pullman and others provide an all-too-brief glimpse into the creative process.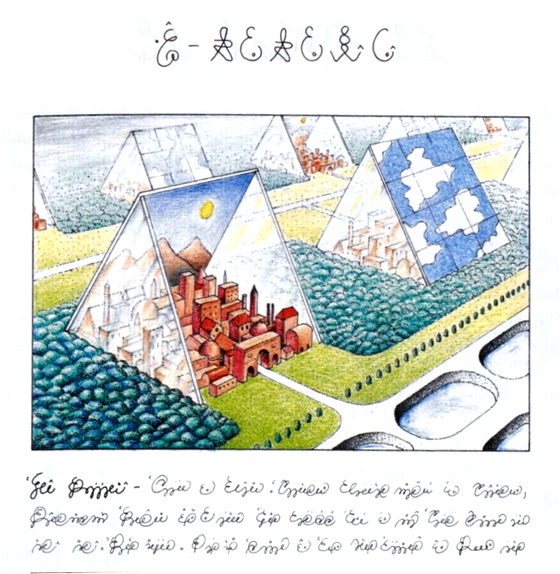 Fantastic planet: Luigi Serafini's Euro-utopia
I'd never seen or heard of Italian designer Luigi Serafini's Codex Seraphinianus, a painted compendium of futuristic cities and landscapes, all annotated in a made-up language, bizarre in that way 1970s European SF - think Fantastic Planet and French comic art from the period - could be. To its credit, Out of this World isn't as anglocentric as many SF shows tend to be.
Verdict
With is emphasis on the literary - the exhibition is notably keen to highlight mainstream writers' forays into the genre - Out of this World seems aimed more at the Eng Lit crowd than sci-fi fans. Yes, it does convey the notion that SF can and has been a genre of ideas as much as brute escapism. But for all us long-time fans - particularly those of us who've read the encyclopaedias - among the novels there's little here that's novel. ®