Original URL: http://www.theregister.co.uk/2011/05/23/review_archos_70/
Archos 70 Android 7in tablet
Affordable fondleslab worth touching?
Posted in Laptops and Tablets, 23rd May 2011 11:47 GMT
Review Whenever I ask people what they want in a tablet, I usually get the following answers in descending order of importance: a price tag south of £200, a 7in screen to keep things compact and the ability to play any video or music files you care to mention out of the box plus the option to play them out from HDMI. The Archos 70 fits that bill to a tee, if you shop around.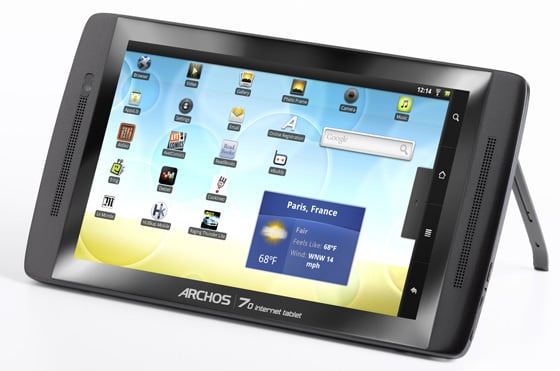 The Archos 70: available as an HDD version too
Put your hand down the front of its trousers and the 70 is much the same as the 101 I looked at a few months ago, but after my recent experience with the Archos 32, which makes rather more sense than the 43, I thought it wise to see if the same was true of the relationship between the 70 and the 101.
In short, it is. Though the 70 and 101 both have capacitive screens, the 70's is the more user-friendly by being just a wee bit faster, more fluid and more reactive.
The underlying hardware and software are the same - a 1GHz CPU with 256MB of RAM running Android 2.2 and, so I suspect, is the screen hardware. But just as the 32 was more slick than the 43 for no overt technical reason, likewise the 70 shades the 101.
With a physically smaller screen than the 101 comes a lower 480 x 800 resolution, but the 70's dots-per-inch count is higher - 135dpi compared to the 101's 120. Even so, that's still a fair bit shy of the Samsung Galaxy Tab's 169dpi.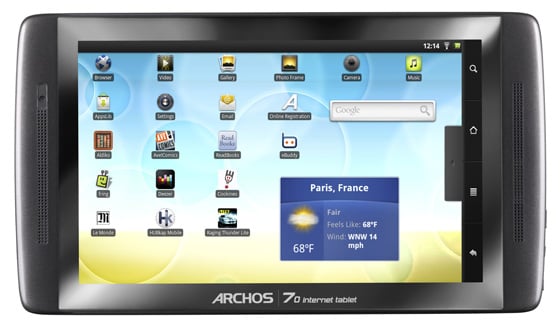 A handy size with enough space for viewing and typing
The drop in screen real estate really isn't that big a deal, as 7in is more than enough space to watch a video or read a book. Moreover, you can happily type something up on the virtual keyboard and still see what it is that you are typing.
Drive options
Weighing only 300g with 8GB of Flash storage - the 250GB HDD model tips the scales at 400g - and measuring up at 201 x 114 x 10mm the 70 is a lot easier to throw in a bag as you head out of the door than a 101.

Fairly slim and robust too
It also feels less vulnerable - I doubt it actually is any more difficult to snap in two, but it feels like it would be, and that's what counts. Not being as long as the 101 the 70 also appears a little more stable when propped up on its fold-away stand.
Though only 2mm thinner than the 101, the 70 loses the larger device's full-sized USB port, which is a disappointment, and leaves you with just MicroUSB, mini HDMI and MicroSD card slots. No change on the wireless front though with 2.4GHz 802.11n Wi-Fi and 2.1 Bluetooth both present and correct.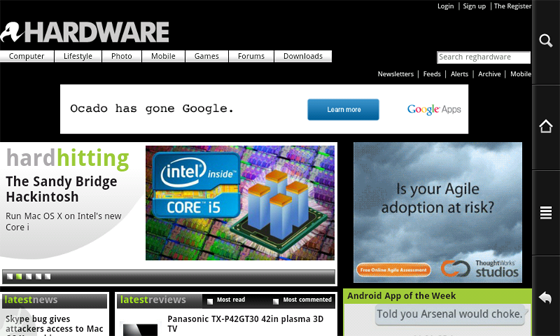 Web browser
Like all Archos tablets there are no Google apps or Android Market, but these can all be installed easily after a visit to Archos Fans to snaffle the relevant apk file.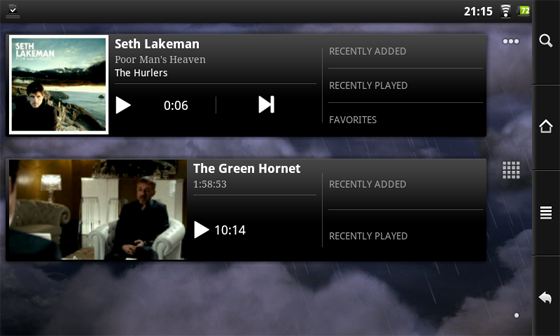 Widgets
As a media player - and I suspect this is how most 70s will spend their time - the 70 has all the usual Archos strengths and weaknesses - excellent sound quality, comprehensive audio and video codec support up to 720p resolutions but no DRM support for BBC iPlayer downloads and no ability to sync playlists from desktop MTP media players.
Phoning it in
With only 256MB of RAM available, performance is acceptable rather than dazzling with the Quadrant Standard benchmark turning in an average score of 1110 which is about would you could expect from a Nexus One running Froyo. In practical terms, this means that screen reorientation isn't iPad-instant and you will need to shut down any running apps before you fire up games like Angry Birds.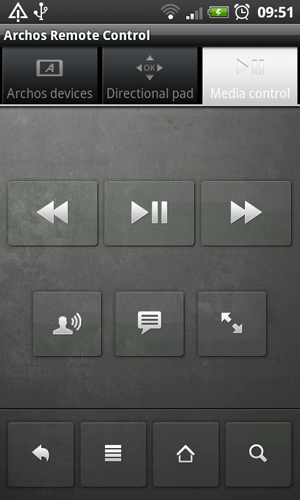 Archos remote app for your Android phone
Download Archos' free Remote Control from the Market and you can operate your tablet from any other Android device connected to the same Wi-Fi network. Handy if you have your tablet hooked to your home entertainment system.
The speakers that sit each side of the screen deserve a quick mention in dispatches - the sound they produce is loud, clear and punchy so you can easily enjoy a movie without using headphones.
For your communication needs a VGA web cam sits above the left hand speaker, where it's just little too easy to inadvertently cover with your thumb. There's also a built-in mic for headset-free Skyping.
Quibbles? Well, the surface of the screen is made of plastic rather than glass, so it's ultimately not as nice to stroke and fondle as an iPad. There's no GPS either, so you can't press it into service as a satnav, and the headphones and power jacks are exactly the same diameter and on the same side which can cause confusion. I'd also like to see an HDMI adapter bundled.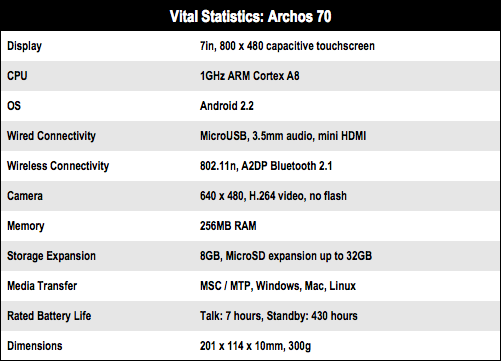 Charge coupled device
Archos quotes identical battery life times for the 101 and 70 but I found the 70 to be a little heavier on the juice - or maybe it has a smaller battery pack. Looping a standard definition H.264 video turned in a figure of just over five and a half hours – 90 minutes shy of Archos' claims. And irritatingly you have to recharge using the bundled mains adapter, since the 70 won't suckle at a USB teat.

A tidy tablet at a tidy price
Verdict
While there are no plans from Archos to enable Android OS upgrades, if you want a tablet primarily to watch video, listen to music, read e-Books and keep on top of your e-mail and social networks, then the Archos 70 is probably all the tablet you will ever need. It's small, light, has a decent battery life and, after a quick trip to Archos Fans, will do most of the things a tablet costing twice the price will do. Hunt around and you can find one for around £195. ®
More Tablet Reviews

RIM
BlackBerry PlayBook
Motorola
Xoom
Acer
Iconia Tab
W500
Apple
iPad 2
Creative
Ziio