Original URL: http://www.theregister.co.uk/2011/05/19/review_sony_vaio_vpcf21z1e/
Sony Vaio VPCF21Z1E 16in laptop
Plastic paving slab offers 3D fun
Posted in Personal Tech, 19th May 2011 06:00 GMT
Review Imagine my joy when asked to try out a 3D entertainment centre built into a Sony Vaio notebook. Imagine my disappointment, then, when I discover that the notebook in question is actually too big to fit in my notebook bag.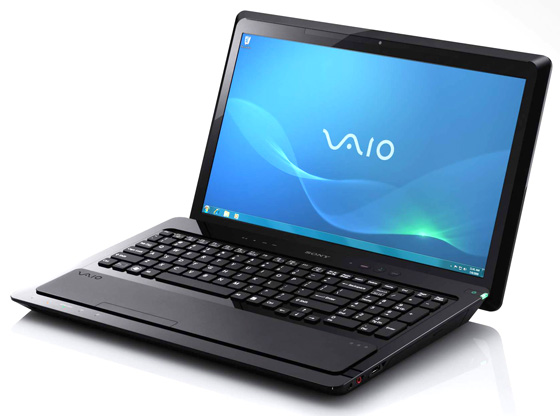 Sony's Vaio VPCF21Z1E: don't think of it as an overgrown notebook but as a very portable gaming PC.
Less a notebook than a 1,000-page grimoire with oak covers, the nattily named VPCF21Z1E/BI is one of those portable computers probably intended to replace a desktop computer. This is true, in the sense that it's about the same size as my desktop computer.
The computer makes no pretentions about portability, however. The shiny black clamshell design is a non-flush, uneven, wedge-shaped paving slab with all of its ports open to the elements, and there isn't even a clasp to keep it closed. This is a computer that expects to stay indoors – occasionally lugged from one room to another – rather than rushed around town tucked under an executive's armpit.
Hinging open the computer reveals a full keyboard with numeric keypad which has well-spaced, shiny black keycaps and is comfortable to use. An automatic light sensor triggers a white backlight to illuminate the keys when it thinks you are in a dark room. I couldn't find a way to switch the backlight on or off manually but that's hardly a showstopper.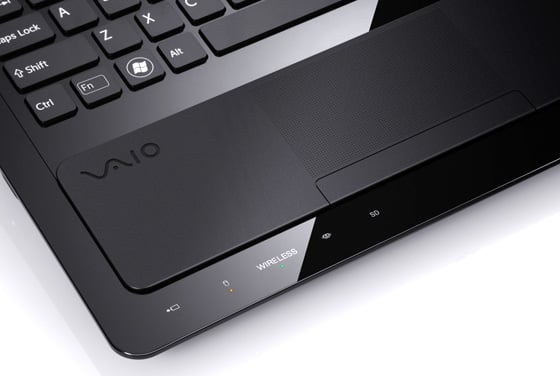 The textured trackpad is flush and not always easy to er, keep track of
The touchpad area in front of the keys is marked by a lightly textured rectangle, otherwise it is flush with a curiously unnecessary band of matte black plastic running across the full width of the computer. It supports basic multitouch gestures for scrolling, paging, pan and zoom.
Through a glass darkly
However, I didn't like it at all: despite the texturing, the lack of any obvious visual demarcation or tactile 'well' for the touchpad meant that I kept touching and swiping in the wrong place on the matte plastic strip.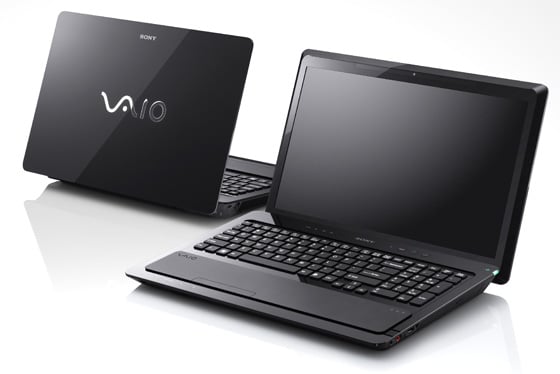 Can't get away from that shiny black stylee thang
You get a decent range of connectivity options on either side and the front edge of the case, including both VGA and HDMI out, and two of the three USB ports support USB 3.0 devices – for the nine of you out there reading this that have any. At the other extreme, for those who collect old kit for a laugh, there's a legacy i.Link port.
A useful Memory Stick and SD card combo slot is located at the front, although I found it a bit tricky to access because it's hidden under the upper lip of the wedge-shaped case.
The computer boots up into Windows 7 in under a minute, and the 1920 x 1080-pixel screen is bright and crisp. I liked it very much. Of course, the big attraction with the VPCF21Z1E/BI is its 3D capability. This works for 3D images and videos in a variety of formats, using the alternating left-right full-screen display approach in conjunction with a supplied set of Sony-branded 3D active shutter glasses.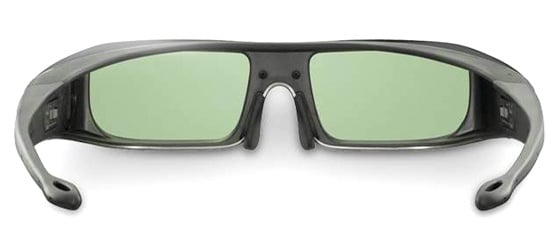 See life through grey-tinted glasses: 3D makes everything darker and duller.
The glasses are bulky, and wearing them feels like you've put on snorkelling goggles. I was pleasantly surprised that they fit neatly over my own spectacles. This came as a great relief since all other 3D specs I have worn, whether polarised or shutter, rest precariously at the end of my nose, constricting my breathing and eventually sliding off and swinging into my teeth with a crack.
Eyes wide shut
That's not to say these particular 3D shutter glasses are comfortable. After 20 minutes of wearing these chunky beasts in conjunction with stereo headphones, I had to tear them off and go for a walk. I won't be taking part in any sensory deprivation experiments any time soon.
Benchmark Tests
PCMark Vantage Results

Longer bars are better
Battery Life Results

Battery life in minutes
Longer bars are better
Browsing 3D pictures and watching videos is delightful, though, once you can get them to work. I had trouble finding the right software program and applying the right settings, depending on what files I wanted to look at. You get a heap of utilities supplied with the computer but double-clicking on a 3D-format image or video never once resulted in the most appropriate viewer being launched.
The exception was games, which always ran in 3D mode automatically and looked frankly brilliant every time. I experienced much less ergonomic irritation during a couple of hours blasting 3D aliens to shit than sitting through 10 minutes of James Cameron's bloody blue monkeys again.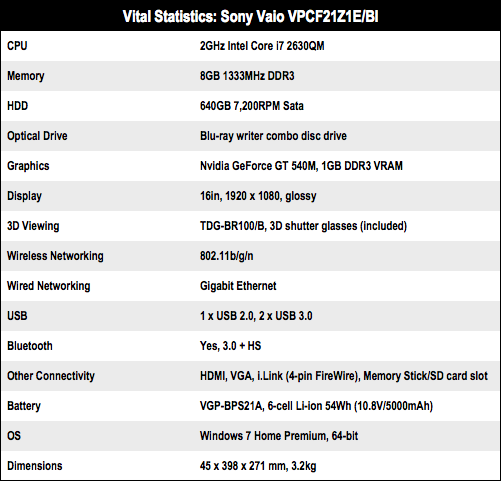 Gaming on the go
One thing to note: once activated, 3D mode noticeably darkens everything. Images shot on a sunny day using your 3D camera or camcorder look fine in 2D preview mode but seem to lose their zing in 3D.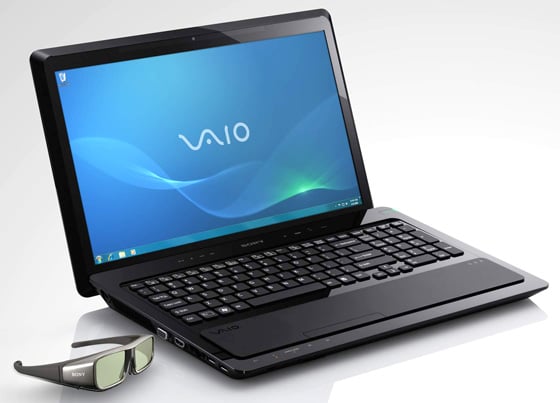 Yes, it's a big'un: those large electronic spectacles should give you an idea of relative size.
The VPCF21Z1E/BI also offers the ability to artificially render 2D movies into 3D by pressing the subtly labelled '3D' button above the keyboard. This is cute, if gimmicky, and it even does some pretty clever things to 2D anime, but I could only get it to work with DVDs. Sony's documentation says it can be applied to Blu-ray movies too but all my attempts produced a 'Cannot switch to 3D display' error, no matter which Blu-ray player software I tried.
On a more positive note, the optical drive can read and write to Blu-ray, as well as all the usual DVD and CD formats.
Verdict
Overall, I was happy with performance of the Sony Vaio VPCF21Z1E/BI, it's pretty damn good but not great. Yet compared to others in this class that Reg Hardware has tested lately, it seems Sony makes you pay for that extra performance.
Tech specs aside, the proof is in the playing, and Vaio's frame rate seemed to be best for new games and worst for the oldest. In the cut-and-thrust of 3D gameplaying, as well as 3D movie-watching and 3D picture fun, the VPCF21Z1E/BI is not just great, but terrific. Whether it's £1,799-worth of terrific, compared to a 3D-enabled tower system, depends on how much value you put on its luggable portability. ®
More Notebooks Reviews...

Asus
NX90Jq
Acer
Aspire 5940G
Apple
MacBook Pro
17in
Asus
N73SV
Toshiba
Satellite
A660