Original URL: https://www.theregister.co.uk/2011/05/18/review_samsung_galaxy_s_2_android_smartphone/
Samsung Galaxy S II dual core Android smartphone
Speed dialler
Posted in Personal Tech, 18th May 2011 12:00 GMT
Review Sometimes the Mark II versions of phones feel like they've had little more than a light skim with the update brush. Yet with the Samsung Galaxy S II, this is certainly not the case. While, the original Galaxy S was a fine handset, this latest refit includes dual core processor, stunning AMOLED screen, a fine 8Mp camera, over-air syncing and more, all packed within one of the slimmest enclosures you're likely to come across.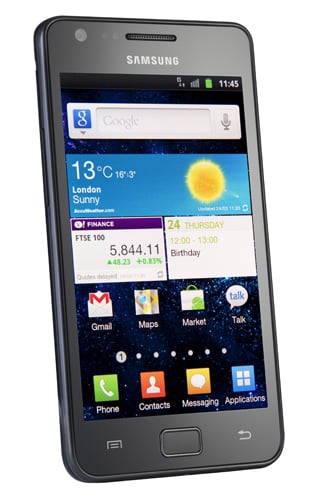 Second coming: Samsung Galaxy S II
The handset measures 125 x 66 x 8.5mm, which almost makes it feel more like a stretched out playing card than a top-of-the-range Android smartphone. Not only is it very slim, at 115g it's very light too, though part of that can be attributed to the rather flimsy plastic back panel.
The front mostly consists of a single sheet of glass, surrounded by a thin metal rim, with a single hard home button at the bottom. Pressing it kicks the screen into life and reveals a touch sensitive button on either side: back and menu, but no Android search button.
On the sides are a slimline volume rocker and power button, with a 3.5mm headphone jack on top and a micro USB power/sync slot on the bottom. Indeed, everything is where it should be, although there's no hard camera shutter button.
Technically speaking, the 4.3in screen's 480 x 800-pixel resolution may not be quite as sharp as the iPhone's 640 x 960, but in use, you'd hardly notice. It looks great, with extremely vibrant colours and very bright too, which helps when you're looking at it in sunlight, along with its very wide viewing angle too. The screen's not just a pretty face either, since it's admirably sensitive, distinguishing between brushes and presses with ease.

Slim, for sure
The Galaxy S II is one of the growing band of dual core handsets, intended to deliver ultra-fast processing leading to more complex gaming, super smooth hi-res film viewing and advanced multi-tasking, despite the potential to exact a heavy toll on the battery life.
Background tasks
Sure enough, the handset feels very fast, with virtually no sign of lag when switching between apps. There are still occasional signs of slowness when browsing the web, of course, but that's more to do with the quality of internet connection rather than processing power.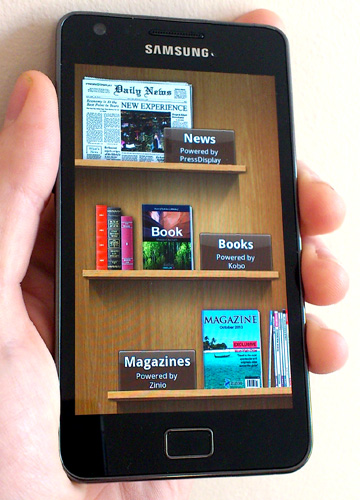 Readers' Hub
But as with LG's Optimus 2X, while the Galaxy S II's 1.2GHz processor is fast, it's not shockingly faster than its 1GHz single core predecessor. Until you realise that you haven't had to shut any apps down for a while and you've still got several whizzing away in the background without any sign of slowing down. Only then does it become abundantly clear that something different is going on, no doubt helped by its 1GB RAM.
There was no problem with call quality, which always came through with crystal clarity. It's running Android 2.3 Gingerbread – strictly speaking it's 2.3.3 rather than 2.3.4 – so it's lacking native video chat for now, though an update is likely. And, as usual, Samsung has introduced a few interface tweaks to make it its own. The latest TouchWiz 4.0 has the distinctive Samsung look, but also adds some extra apps, including four 'Hubs' which group linked apps and functions together for convenience: Social, Music, Game and Reader.
The social hub pulls all your networking updates (Facebook, Twitter, LinkedIn) together into a single feed – something no smartphone can do without these days, and it does a perfectly good job of it too.
The Game Hub features some extra games but it needs a bit of development to mark it out as an improvement on what you can get from the standard Android Market. The Reader Hub, meanwhile, gives you access to books from Kobo, newspapers from PressDisplay and magazines from Zinio, which is a decent offering overall, as well as the option to download e-Book apps, such as Amazon's Kindle, from the Market. PIC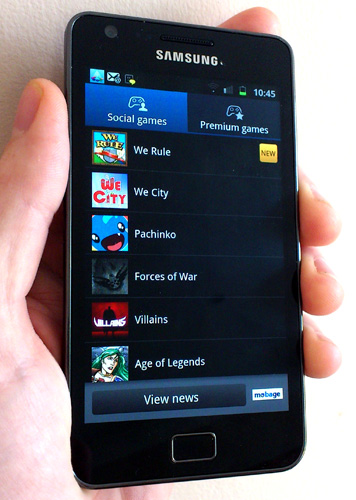 Games Hub
The Music Hub powered by 7digital gives you quick access to MP3 downloads, which is fine, but it's not connected directly to the Android music player – so if you want to play your own stored music, you'll have to come out of it and load up a different player. There's plenty of room for tracks though, with 8GB of memory on board which you can boost by another 32GB using the microSD memory card.
Photo call
Samsung has shown in the past that it can make a decent camera, and such is the case with the 8Mp snapper here offering a good range of shooting and scene modes, including macro and action shot, plus handy features like face and blink detection and anti-shake.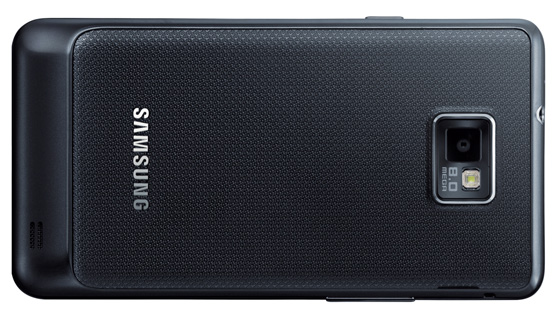 Android photography woes of old are a thing of the past with this 8Mp camera
Picture quality is generally good, with nice sharp edges and good colour balance. Colours can look a little over-emphasised on screen but never appear washed out. When you're viewing your gallery it throws up some random pics in the background – a nice touch, and a gentle nod of the head to Windows Phone 7.
It can record HD video too at up to 1920 x 1080, which you'll only find on dual core handsets, which looks crisp and generally smooth. There's also a 2Mp camera on the front in preparation for video chat, when it becomes available with the next operating system update.
Web pages render well with text flowing neatly. Besides, the now standard pinch to zoom there's a new trick to browsing too – with the motion sensor on, you can hold two points on the screen and then simply tilt back or forwards to zoom in or out. Incidentally, you can use the motion sensor when adding widgets and shortcuts to each of the seven home pages too – press and hold on an icon, then tilt left or right to find the page you want to put it on.
Syncing is performed with Samsung's Kies software which works fine once you get the hang of its iTunes-style structure, although its Windows-only. There's also Kies Air, which allows you to sync using a Wi-Fi link. Slightly awkwardly, this involves getting an IP address from the app, then typing it into a browser, which then gives you the option to swap media, stream music from your phone and send text messages.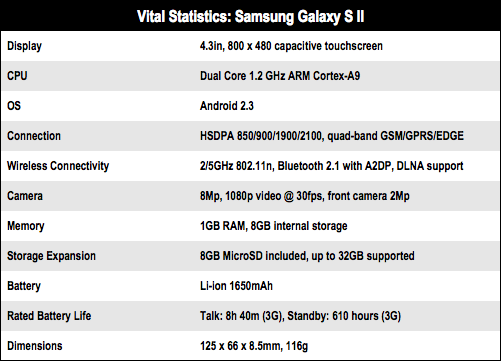 Sample Shots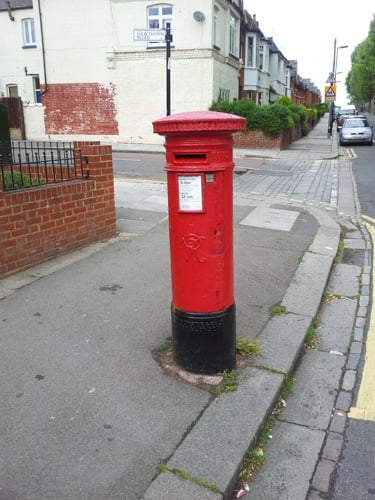 Click for a full-resolution crop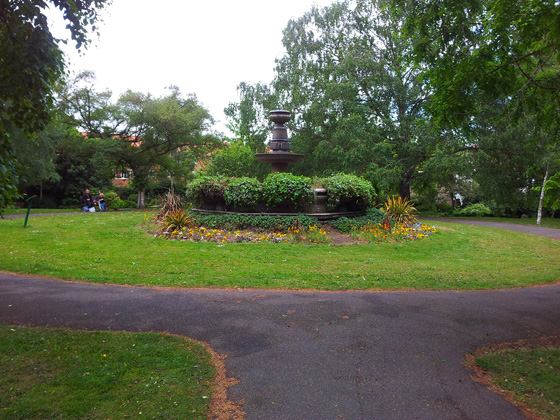 Click for a full-resolution crop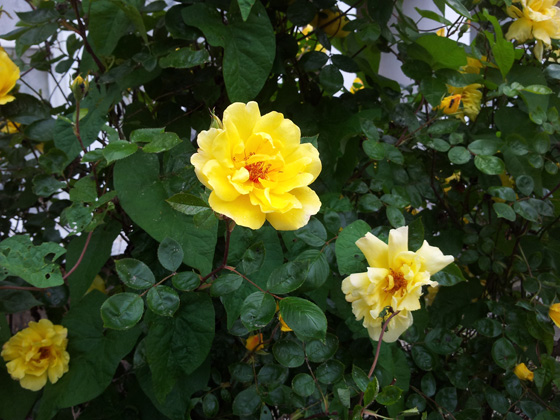 Click for a full-resolution crop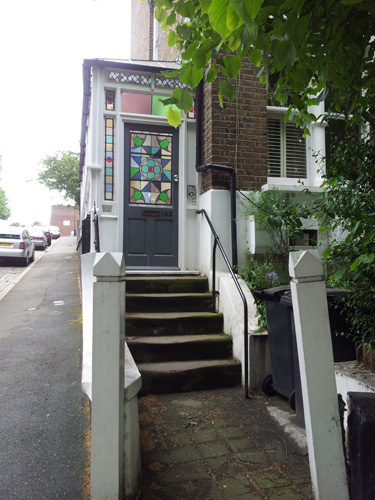 Click for a full-resolution crop
Daylight savings
There's no separate HDMI slot for direct digital connection to your TV, although Samsung's optional MHL micro USB adapter performs this task. However, out of the box, you can use the DLNA capability allows you to connect wirelessly to your home network and stream your pics and vids that way.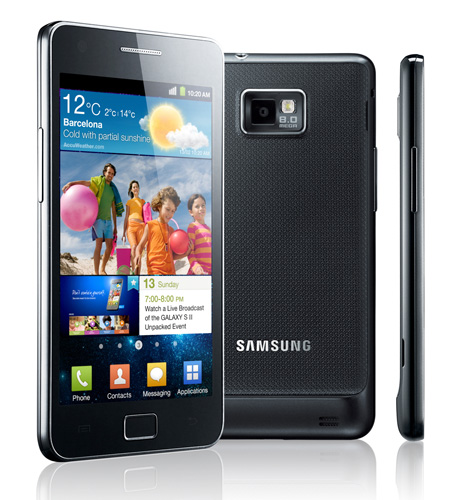 Niftiness comes at a price: dual core handsets inevitably drain battery power more quickly
Other useful apps include the Task Manager, which gives you extra control of what apps you're running so you can preserve battery life. With Polaris Office you can create and edit Word, Excel and PowerPoint documents, and while it's not quite the full Microsoft Office shilling, it gets the job done.
Talking of which, the powerful processor and the temptation to keep apps running does tend to hit the battery, and I never managed to get a full day of, admittedly, heavy use out of it. More diligent use of the Task Manager would no doubt make a difference though.
Verdict
The Samsung Galaxy S II is a significant improvement on its predecessor and a terrific Android phone. While the battery life isn't the greatest, its slim profile, powerful processor, 8Mp camera and (almost) all the latest treats Android has to offer, make it the top dog in its field. ®
Thanks to Clove Technology for the loan of the review sample.
More Android Smartphone Reviews

LG
Optimus 2X
HTC
Desire S
Sony Ericsson
Xperia Arc
Motorola
Defy
Google
Nexus S