Original URL: https://www.theregister.co.uk/2011/05/18/review_igamer_icontrolpad/
iControlPad Bluetooth controller for mobile devices
Finger clickin' good
Posted in Personal Tech, 18th May 2011 06:00 GMT
iGamer Ever tried a bout of Quake III on your Android tablet or a few laps of Super Mario Kart on your iPhone? Chances are, you spent the first few seconds smiling with nostalgia and the rest of the time hurling expletives at the poor controls. Even simple platformers, such as Super Mario World, although translating well onto touchscreens, are often spoiled by fingers obscuring most of the action.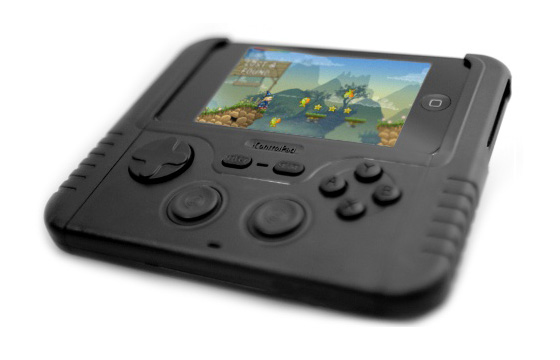 The iControlPad avoids the screen obscuring swipes of touchscreen gaming
Until now, retro gamers wanting more authentic, unobscured gaming have either had to pair a Wiimote with their device or use one of two half-baked controllers, the Zeemote GSI or MSI BGP100.
Like the Zeemote and BGP100, the iControlPad is a custom made Bluetooth gamepad that works with all Android, iOS and WebOS devices. But unlike those controllers and the Wiimote, the iControlPad offers a more comprehensive range of gaming controls.
About the size of your average smartphone, the iControlPad combines a D-pad with twin analogue nubs, Start, Select, face buttons and shoulder buttons. It's also available with two side clamps, which lock around smartphones to create a surprisingly decent looking, if a tad bulky, handheld console.
The side clamps were tested with an iPhone 4, but the developer lists numerous other compatible smartphones on its website here. Once locked into place, the iPhone is incredibly secure and, unless you've opted for the dandy new white iPhone, the unit looks convincingly homogeneous. But while the physical love affair proves instantaneous, the intellectual matchmaking takes a touch more effort.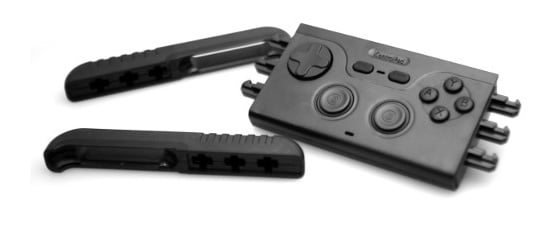 With sideclamps
This is not a gadget you grab off the shelf of PC World, pop home and fire up. A little more patience and geekery are required to get the device working. And, thanks to Apple's closed-shop policy, it's a great deal more involved on iOS – the iControlPad only works with jailbroken iOS devices.
Cracking games
Even after you've cracked your device, you've then got to access the iOS Bluetooth, which I did using the Wiimote BTStack app from Cydia. At that stage, you're ready to play games and emulators, which support a Bluetooth keyboard.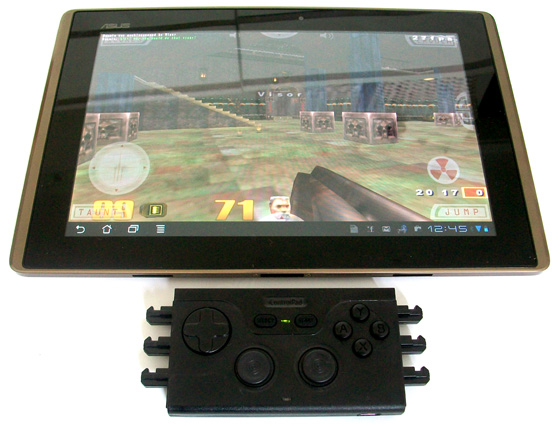 Works at treat on Android tablets
However, if you want to play the best emulators by Robert Broglia, including SNES9x, you'll need to update the iControlPad's firmware. This is available on the iControlPad website, but flashing the controller can only be performed using Bluetooth.
Naturally, the process is a lot simpler in Android. Just pair the iControlPad and download the Bluez IME or GamePro apps from Market and you're away – Bluez IME is recommended as it's free. Yongzh's emulators offer native iControlPad support, for which you'll again need to flash the controller to the latest firmware, but there's little reason to do so once you're accustomed to using Bluez IME or GamePro.
Okay, tutorial over, how does the iControlPad perform. Well, pretty good actually. Although the construction's a little on the hobbyist side, the analogue nubs and face buttons work extremely well. PC players will always prefer to pair a keyboard and mouse for fraggers like Quake III, but console players will feel immediately at home.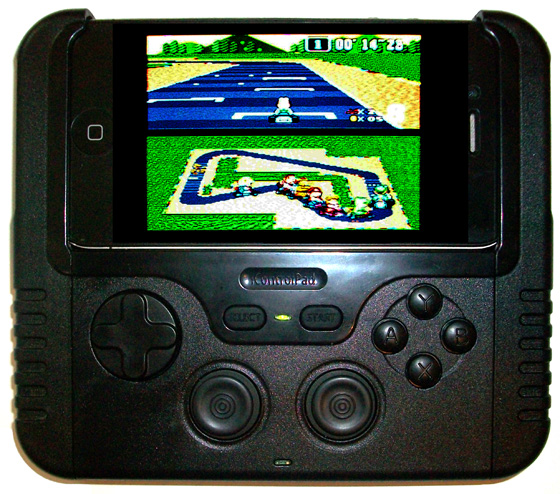 Snug fit
Personally, I preferred customising one of the analogue nubs for side-scrolling games such as Gradius III and Super Metroid on the SNES, as the D-pad doesn't quite match the responsiveness of original pads. When it came to 3D movement in N64 and PSOne games, the analogue nubs proved superior to the originals, nowhere more so than in Goldeneye 007, which benefited hugely from dual-analogue controls.
Buttoned up
If there is one minor complaint, it's that the shoulder buttons on the rear of the unit are placed too low. It's difficult to see where else they could be placed, with the top of the controller inaccessible when clamped onto a smartphone, but if raised just a few centimetres higher, then they would be within more comfortable reach. Conversely, when used without the clamps, for pairing with a tablet, say, the exposed clamping rods – three on each side – mean the iControlPad isn't quite as ergonomic as you'd hope.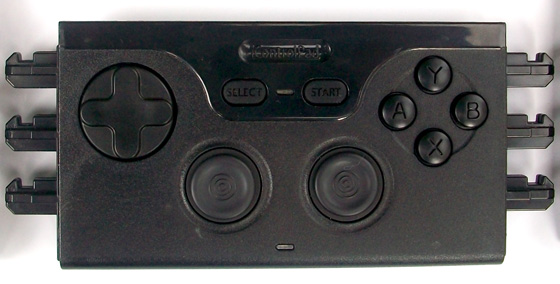 A tad inelegant, but available for a few quid less without the sidebars
The only other drawback is price. Although understandable given the iControlPad is not mass produced, at £38 for the gamepad alone, and nearly £47 when bundled with the side clamps, no doubt many will consider it to be too expensive.
Verdict
The iControlPad is a nifty little device that almost perfectly solves the touchscreen game control conundrum, albeit a bit of a faff for iOS users. With news of developers working on wrappers to simulate touchscreen presses and motion senses, it also looks ideally placed to bring improved controls to mainstream App Store and Market games. ®
iOS and Android – Reg Hardware's resident game guru, Andrew Bailey, will be making his pick from all the key mobile gaming platforms every month.