Original URL: http://www.theregister.co.uk/2011/05/17/review_networking_netgear_xav5001/
Netgear XAV5001 500Mb/s powerline Ethernet adaptor
The mains event?
Posted in Personal Tech, 17th May 2011 06:00 GMT
Review The quest for faster home networks continues, and with 802.11n Wi-Fi failing to deliver promised 300-450Mb/s peak speeds to a lot of people - blame sneaky manufacturers slipping cheap, single-antenna, 72Mb/s adaptors into their devices - some punters, even those without wireless blackspots in their homes, are looking to technologies like powerline networking.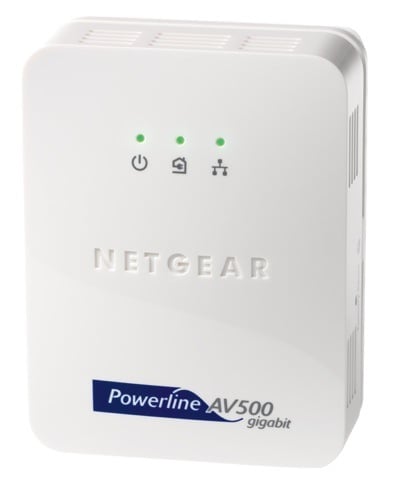 Netgear's XAV5001: the centre light changes colour to reflect the link strength
A year or so back, Belkin introduced its Gigabit powerline Ethernet adaptor, but it was the only mainstream brand to deliver products based on proprietary technology from Gigle, now owned by network chip giant Broadcom.
Gigle's tech established a separate powerline link for its higher speed data transfers but fell back to the 200Mb/s HomePlug AV for compatibility with other devices.
Netgear's latest adaptor, the XAV5001, pitched as 500Mb/s product, is also compatible with HomePlug AV, but it uses not-quite-standard technology to ramp it up to a speed beyond AV's capability.
I should clarify. The adaptor uses IEEE 1901, which is a standard. But it's not one that - yet - has become the subject of device interoperability testing. IEEE 1901 will become part of the HomePlug standard, but it hasn't yet. Until it does, Netgear can't claim its kit works with other vendors' 1901-based offerings, and vice versa.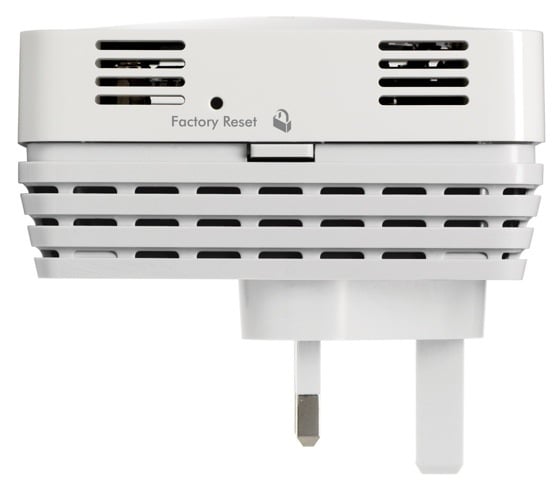 Push-button security
That probably doesn't matter for most folk, who are likely to buy these things in packs of two, one for each end of the link. You'll have to stick with the same supplier should you buy a third unit.
Gigabit performance? Not quite
Each XAV5001 is about the same size as any 200Mb/s HomePlug adaptor without a pass-through power port. There's the customary Ethernet port on the bottom edge - this time it's a Gigabit Ethernet socket - and the now-standard network encryption button on the right side.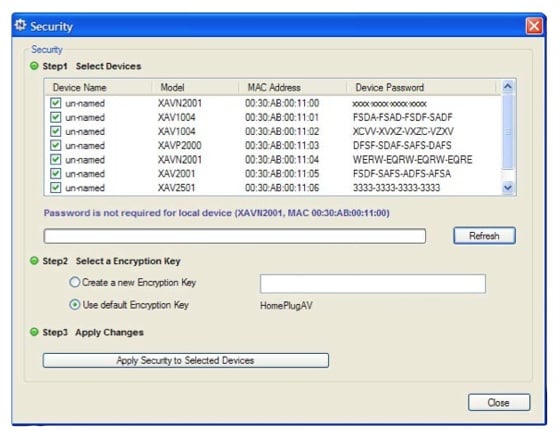 Set your own password
This gives you two minutes to press the equivalent button on all your other adaptors, at which point they'll jointly negotiate and share a 128-bit AES encryption key, handy to protect data in properties that share their electrics with others in the building.
If you've used any other powerline adaptor, you can use these ones.
I plugged one into the wall linked to one of my router's Gigabit ports. The other adaptor, I cabled to a laptop's Gigabit port. Transferring a 2.15GB file from a Nas drive took, averaged over three, very similar runs, 215.9 seconds - a mean speed of 9.96MB/s or 79.67Mb/s.
That's rather better than the 48.39Mb/s I've measured in the past with 200Mb/s adaptors, but less than the 102.11Mb/s I got from the Belkin units.
Data Transfer Speed Results

Average file copy speed in Mb/s
Longer bars are better
Belkin's Gigabit adaptor was more susceptible to noise than 200Mb/s adaptors, and that's true of the Netgear 500Mb/s adaptors too. One run produced an average data transfer speed of just 49.03Mb/s - back to 200Mb/s level, effectively.
Noises off
Of course, it's all relative. Netgear's website cheekily talks about a "Gigabit-fast wired connections". Just because the adaptor has a Gigabit port doesn't mean it's "Gigabit-fast". If it was, it would deliver a rate of at least 389Mb/s, which is what I measured for the transfer when I casually hooked up the laptop direct to the router.
So yes, the ideal solution is to plumb in Cat 5 cable throughout your home. Though, before a reader suggests exactly that, don't forget such a move isn't always practical or even feasible for many folk - people who rent their properties, for instance.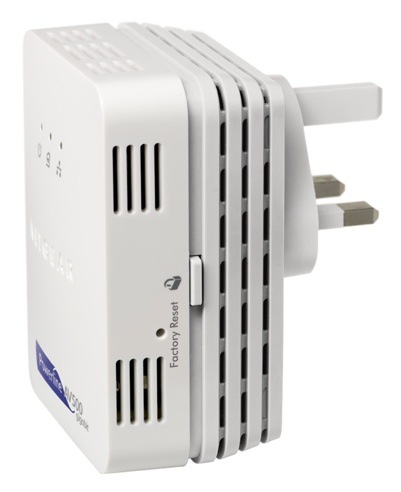 Gigabit? Not half
Some other curmudgeon will grumble about the radio noise some, badly behaved powerline adaptors emit. For what it's worth, I didn't pick up any audible interference on on an FM radio tuned to the lowest possible station. That said, if you only get a weak signal where you live, your signal may not be sufficient to mask the powerline noise, as BBC engineers recently found.
The Beeb's engineers didn't say which adaptors they used, but the photos show what appears to be the Belkin Gigle-based adaptor, which has been claimed by some to be more noisy than the rest thanks to its use of higher frequencies to up the bit rate.
Verdict
At £60 a pop and around £100 for two, Netgear's XAV5001 delivers a speed boost over 200Mb/s powerline adaptors, which aren't a great deal cheaper. New to powerline? Then 500Mb/s is the way to go, but if you already use it, there's no compelling reason to upgrade unless you're finding existing bandwidth insufficient. ®
More Powerline Ethernet Adaptor Reviews

WD
Livewire
D-Link
DHP-306AV
Devolo
dLan
AVplus
Belkin
Powerline HD
Gigabit
Solwise
Piggy 6