Original URL: http://www.theregister.co.uk/2011/05/17/game_reviews_brink/
Brink
Edge of existence
Posted in Personal Tech, 17th May 2011 12:15 GMT
Review "Save the Ark, or escape it?" The choice initially offered to players upon loading up Brink, Splash Damage's latest first-person shooter. What's the Ark you ask? A last bastion of humanity, following worldwide flooding caused by the rising of the oceans – darned global warming!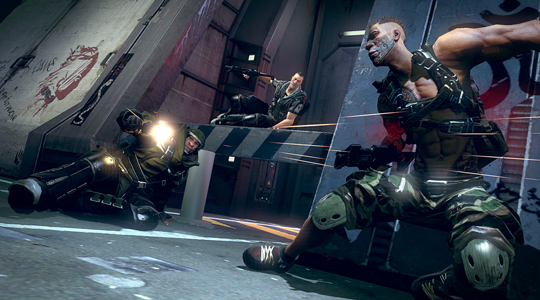 Hit and miss
After a period of peace the Ark has split into factions, a result of the rich living in their ivory towers, high above the slums of the poor. Before you can mutter the word 'uprising' the Resistance has formed, vowing to escape the Ark in the belief that not all of humanity has perished in the flood after all. The Founders, those in charge of the Ark, don't fancy losing the cheap labour which so cushions their hedonistic lifestyle, and so battle lines are drawn.
Not the most original plot then, but Brink is a game of action and strategy rather than allegory; most aptly demonstrated by the fact that this is a multiplayer game only, without even a hint of a single-player campaign. Sure, it's possible to practice against bots offline, but it's online where the game is meant to be played – if you've never bothered to network your console, this isn't the game for you.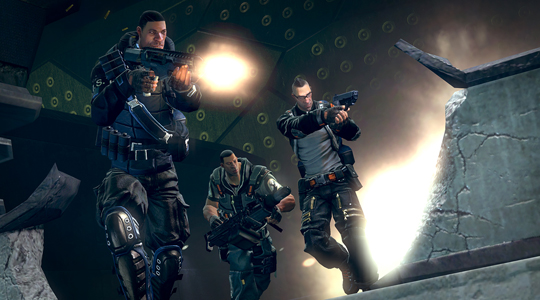 Crack shot
Once you've picked which side you want to be on – don't worry you're free to swap sides at your leisure – you're faced with the character creation screen. Given Brink's cartoon style it's actually quite fun to mix and match styles, with progress unlocking ever more crazy clothes, hair styles, etc., too. Right now, my avatar looks like something out of Swamp Thing, decked out with green dreads and matching mask; striking I think you'll find.
Suits you sir
Next you'll choose a primary and a secondary weapon from a choice of a whole range of rifles, SMGs, pistols, shotguns, grenade launchers and more; before finally spending the experience points you're initially allotted – so expanding your character's abilities and making him harder, better, faster, stronger as Daft Punk might put it.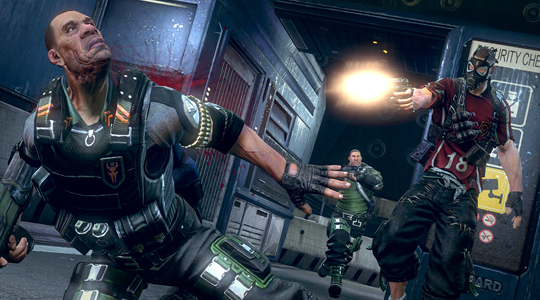 Take it on the chin
While the more devil-may-care players might head straight on to the on-line servers at this point, the cautious can instead elect to play the game solo, using either the Campaign or Challenge modes. Campaign mode presents the player with the same maps and missions you will encounter in multiplayer, with preceding cutscenes just about stringing together the overarching plot before pitting you in a pitched battle between reasonably programmed bots.
Challenge mode, meanwhile, playable by a team of four human players with bots filling in the other roles, drops the pretence of story. Instead, players are presented with mini-objectives which act as tutorials of sorts as classes, movement, objective types and so on are introduced. Each carries three difficulty levels and rewards the player with upgrades for all kinds of weapons. Alas, the harder difficulties are nigh on impossible for a single player and still very hard with fellow human players in tow, such is the accuracy of the AI.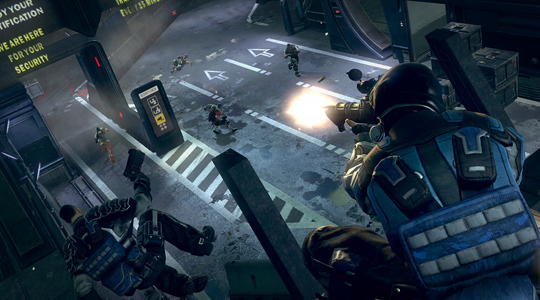 What happens if you don't pay the toll
Suitably warmed up, there's really no reason not to jump into the on-line maelstrom and that is exactly what I did. Other than a troubling degree of texture blurring (which Splash Damage has promised to patch), the first thing to strike you is the SMART movement system. This is not too dissimilar from the movement of Mirror's Edge – with leaping, climbing and sliding aplenty. It's a cool system, which advances standard FPS locomotion; leaving lighter classes to clambering up obstacles on their way to completing objectives.
It's all objective
Indeed, you can swap between light, medium and heavy builds between missions – with the ubiquitous movement versus heavy weaponry trade-off – while you can also switch classes (from a choice of soldier, engineer, operative and medic) mid-mission. It's a praiseworthy attempt at diversity, but can lead to confusion; particularly as none of the classes 'feel' distinct from one another, meaning it's often easy to forget quite what class you are in a given moment.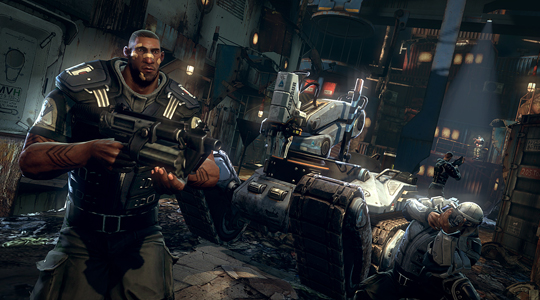 Bot your back
Pressing up on your controller's D-pad reveals the objective wheel, a useful device which goes someway to providing structure and direction to the chaos. The objective at 12 o'clock is always your side's chief goal, while those at other sections of the wheel (destroy a barricade, build a turret, capture a health station) are non-essential side-objectives designed to make your team's main goal more readily achievable. Usefully, the wheel also tells you which class you need to be to achieve those side-objectives, with players able to change class at command posts.
Objectives range from the destruction of a strategically key piece of infrastructure, to the springing of prisoners and encourage the coming together of forces. The resulting firefights are fairly bland though, with weapons suffering from what's best described as a lack of "oomph". The knockdown system is at least a little different – with KO'd players able to lay prone indefinitely as they wait for a medic – but that depends on the medics actually bothering to throw a revive syringe your way.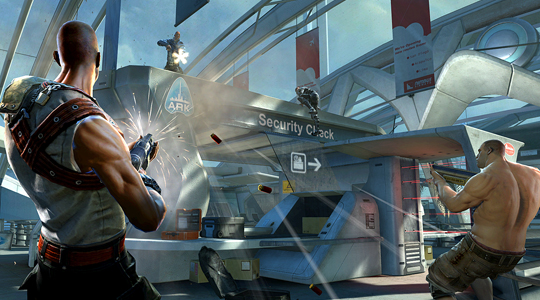 You wanna search my bags? Check out my mags!
Aesthetically, Brink is perhaps most reminiscent of Team Fortress 2 with its big, bold characters. But, where Valve's class system ensured each class was distinct by limiting their size – scouts, thin and fast, for example – Brink's is much more freeform. Theoretically, that's great. Yet in practice, matches have a tendency to degenerate into little more than deathmatch, as "teams" wage uncoordinated attacks – a particular issue if you're part of the advancing team. Get eight mates on your team and the experience improves dramatically, of course. Still, that's not ideal when you just want a couple of quick games.
Experienced lag
Another inconsistency is the matter of character and weapon upgrades; experience points are constantly accrued and can be spent on anything from increasingly deadly turrets, to bullet-proof armour. It means that your character is gaining ever more elaborate abilities – which is fine, if hard to keep track of – but is another annoyance for newcomers, in a game already complicated to get to grips with. There is a matchmaking system in there, but that's a further limit on finding a game with acceptable connection speeds.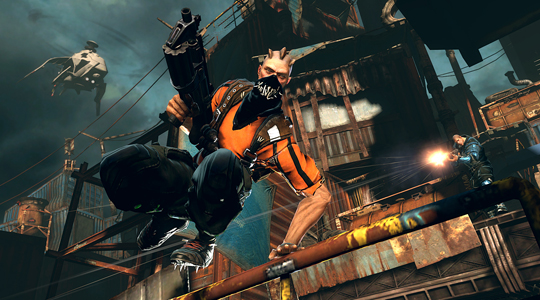 A man went over a bar
On the subject of lag, many of the matches I played (both before and after the game's general release) were blighted by the stop-start condition which plagues so many titles in their early days. I've been playing the Gears of War 3 beta lately and Brink would have surely benefited from its dedicated (and lag-free) servers.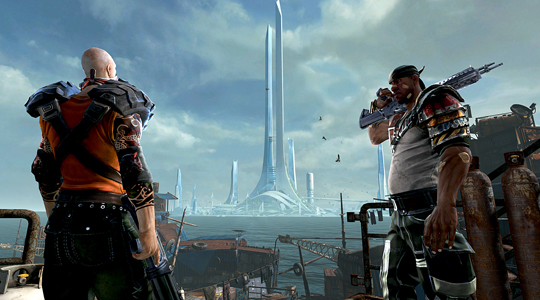 Shard times
Verdict
Brink earns kudos for being a different take on the team based on-line shooter, with its keen focus on speed and movement. What it lacks is a feeling of focus, with its classes strangely muddied, repetitive objectives across maps and exchanges of fire which just don't quite cut it. It's a shame as Brink certainly has its moments, but there are one too many issues to whole heartedly recommend it. That said, if you're looking for a more up-to-date Team Fortress 2, it might just be for you – at least once that lag gets sorted. ®
More Shoot-em-up Reviews

Operation Flashpoint 2:
Red River
SOCOM 4
Crysis 2
Killzone 3
Bulletstorm