Original URL: https://www.theregister.co.uk/2011/05/17/app_of_the_week_android_my_tracks/
My Tracks travel tracker
Every journey begins with a single app?
Posted in Personal Tech, 17th May 2011 08:00 GMT
Android App of the Week My Tracks is a GPS tracker app and a must-have for any Android user who wants to record where they have been, how fast they got there and just about any other details of their trips, walks, bike rides and assorted wanderings.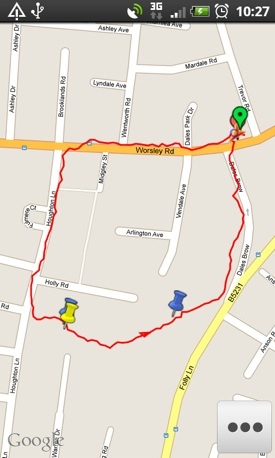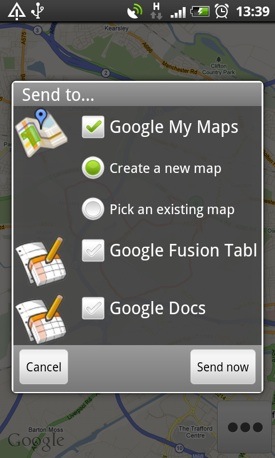 Track your trip - with waypoints (left) and then upload to Google etc (right)
Recorded data can be exported as either GPX, KML, TCX or CSV files but most of us will just use the Send to Google function that automatically uploads journey details to your Google account where it appears in the My Maps folder.
Being a more-or-less official Google app - it's run by Google staffers in their "20 per cent time", as well as volunteers - My Tracks integrates seamlessly with Google Maps. To borrow from the Cupertino lexicon, it just works.
Scroll right from the main map view and can see all the key trip data such as your average speed and distance covered in chart form. Scroll to the left and you can see distance or time data set against elevation, speed and so forth in graph form.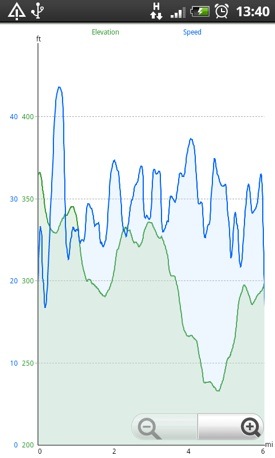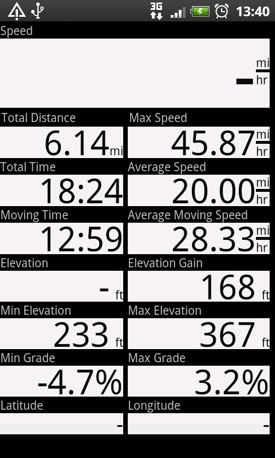 See your speed and elevation (left) - and other stats (right)
The app can be set to announce your progress at certain intervals from once a minute minute to every hour so you can keep a track on how far you have gone without actually having to look at your phone.
Pilgrim's progress
This is a setting option worth keeping an eye on: my phone started blurting out journey details while I was standing in a queue at the Post Office.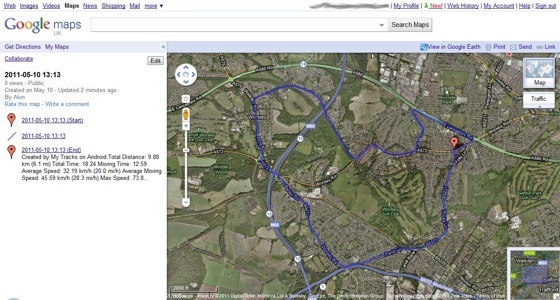 View on desktop with one click
If you come across something interesting on your meanderings you can add waypoints and statistic markers directly into the app. There are also a host of options to change the accuracy and frequency of datum points with an eye to less than ideal GPS reception, long journeys and handset battery life.
My Tracks supports data collection from Zephys' HxM Bluetooth heart-rate monitor as well as ANT heart-rate monitors, and SRM power meters, speed and cadence sensors, assuming your phone supports the ANT communications protocol to start with.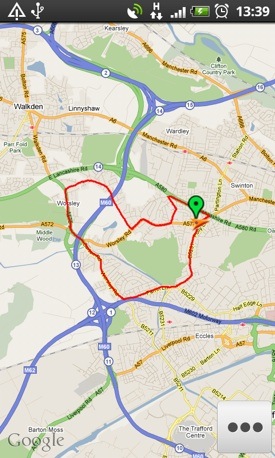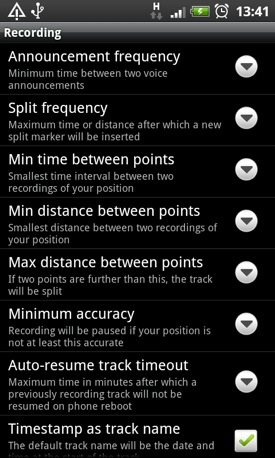 View car trips on Google Maps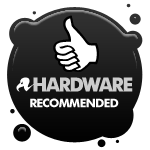 All the journeys I ventured out on - either on foot or by car - were recorded with near faultless accuracy, distances can be displayed in imperial or metric, the app is a paltry 2.8MB when installed and you can move it to your SD card if space is tight. ®
We'll be making our selection of the best Android smartphone and tablet downloads every Tuesday. It you think there's an app we should be considering, please let us know.
iDevice fans, iOS App of the Week is published on Thursday.
My Tracks QR

More Android App of the Week Winners

Google
Docs
Go SMS Pro
Communicate
Touch
Calendar
PowerAmp